Possibly Possessed Keyboard Player: A Case Study Examination of Virality and the Drum Corps International CommunityShow full item record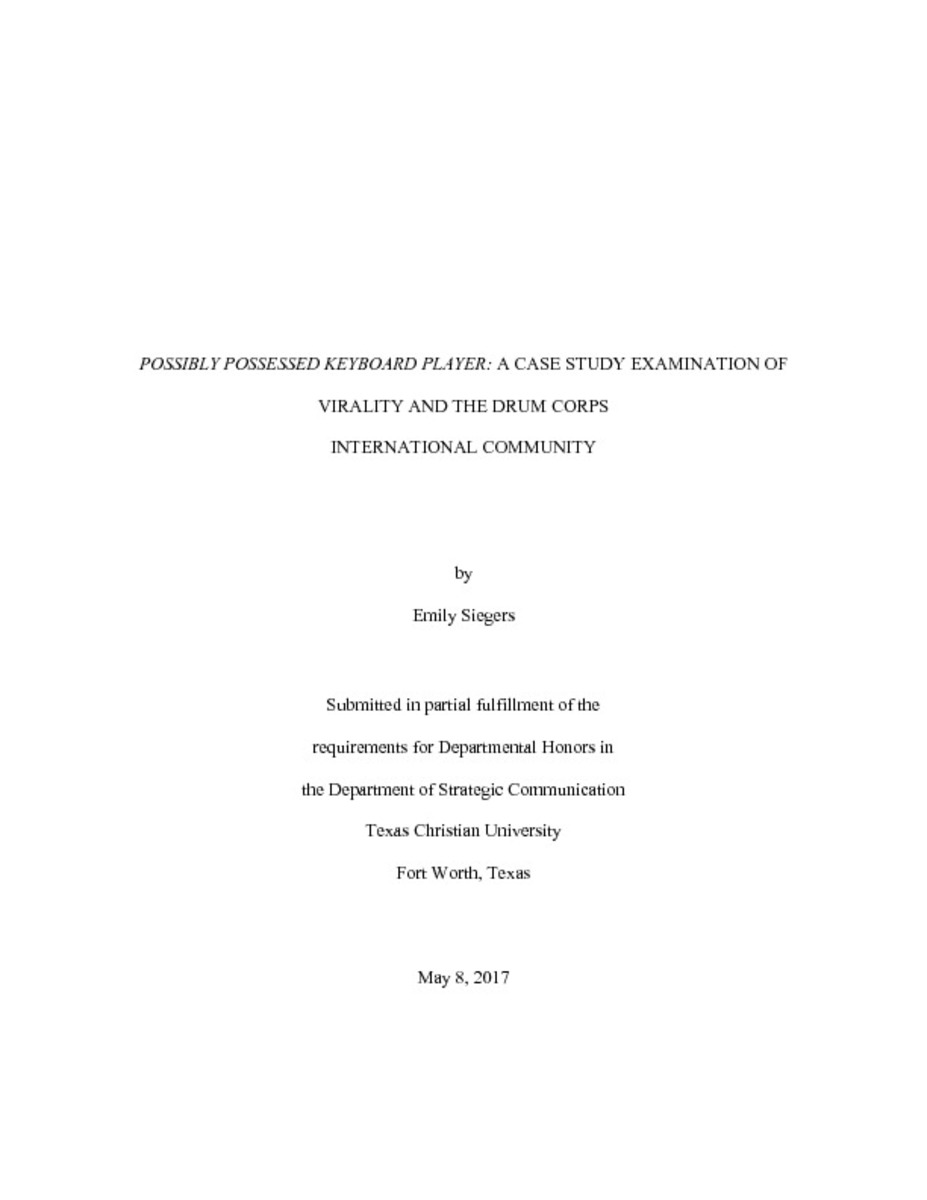 Title
Possibly Possessed Keyboard Player: A Case Study Examination of Virality and the Drum Corps International Community
Author

Siegers, Emily

Abstract
Viral Internet content has dramatically changed the way information is shared and provides new opportunities for marketing exposure. The Boston Crusaders Drum and Bugle Corps experienced this opportunity during their 2016 tour when their keyboard player became the unexpected focus of a video that garnered over 3 million views. The video was audience- generated content so it was not part of the Boston Crusaders? communications plan for their 2016 tour and the organization could not have predicted its virality. Because drum corps is an activity that traditionally exists outside of public awareness, this level of attention provided a unique case study of viral content. This paper will analyze the characteristics of the viral video that attributed to its popularity and the response of the Boston Crusaders media team. Based on this analysis, this thesis will then provide recommendations for future responses by media teams with similar organizations hoping to capitalize on a viral video.
Link
https://repository.tcu.edu/handle/116099117/19875
Date
2017-05-19
Subject
Drum Corps International

---

Drum Corps

---

Viral Videos

---

Viral
This item appears in the following Collection(s)
Related items
Showing a few items related by title, author, creator and subject.
Pinky, Lubna; Dobrovolny, Hana M.

(

Public Library of Science

,

2016-05-19

)

Pinky, Lubna

(

[Fort Worth, Tex.] : Texas Christian University,

,

2016

)

Studies have shown that simultaneous infection of the respiratory tract with at least two viruses is common in hospitalized patients, although it is not clear whether these infections are more or less severe than single ...

The ALS Ice Bucket Challenge and KONY 2012 video campaigns exemplify the extensive amounts of potential that social media marketing can bring to a nonprofit organization. This study explores various elements of social media ...