Becoming American: A Defense Of Identity And ImmigrationShow full item record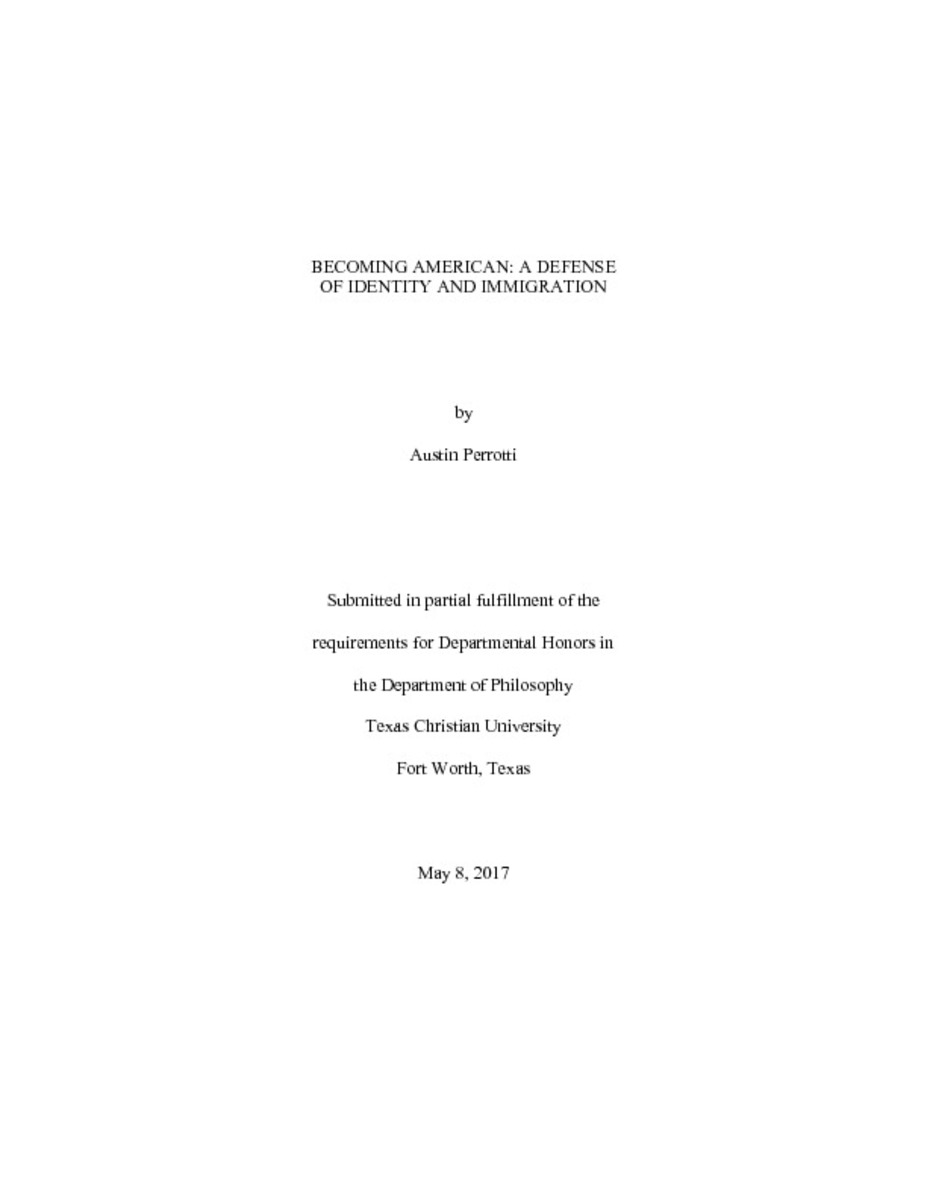 | | |
| --- | --- |
| Title | Becoming American: A Defense Of Identity And Immigration |
| Author | Perrotti, Austin |
| Date | 2017 |
| Abstract | This thesis explores the concept of becoming American-- literally. First, the paper details the costs of building America and how our country has been built on the backs of slavery and the denying of equal treatment of various groups: such as Native Americans, blacks, women, and immigrants and refugees. Then, the paper turns to exploring the political controversy surrounding the issue of immigration in the United States before turning to what requirements are necessary for an immigrant or refugee to transition into becoming and American. Four such criteria exist: desire, gratitude, respect and civility, and legal standing. Lastly, the paper turns to a full defense of America being more accepting and open to immigrants and refugees starting with what a government's duties are to both groups, and how a consequentialist, deontologist, and Christian should respond to the issue of immigrants and refugees. Two objections are discussed in the later part of the essay before finally turning to a self-reflective question-- what does the future of identity look like globally with the current refugee crisis challenging our notions of what constitutes a person's national identity. |
| Link | https://repository.tcu.edu/handle/116099117/19904 |
| Department | Philosophy |
| Advisor | Galvin, Richard |
| Additional Date(s) | 2017-05-19 |
This item appears in the following Collection(s)
Related items
Showing a few items related by title, author, creator and subject.
The Laguna Pueblo has evolved as an enduring symbol of Pueblo cultural identity, an identity in which history, storytelling, religion, and art production remain central and inseparable. During the past three centuries, the ...

How do chaplains and pastoral counselors form their identities as "pastoral" caregivers in challenging clinical contexts such as institutional, interdisciplinary, postmodern, inter-cultural, and multi-faith work environments? ...