The Construct Of Hope: Effects Of Hope On Integration Of Immigrants Into The United StatesShow full item record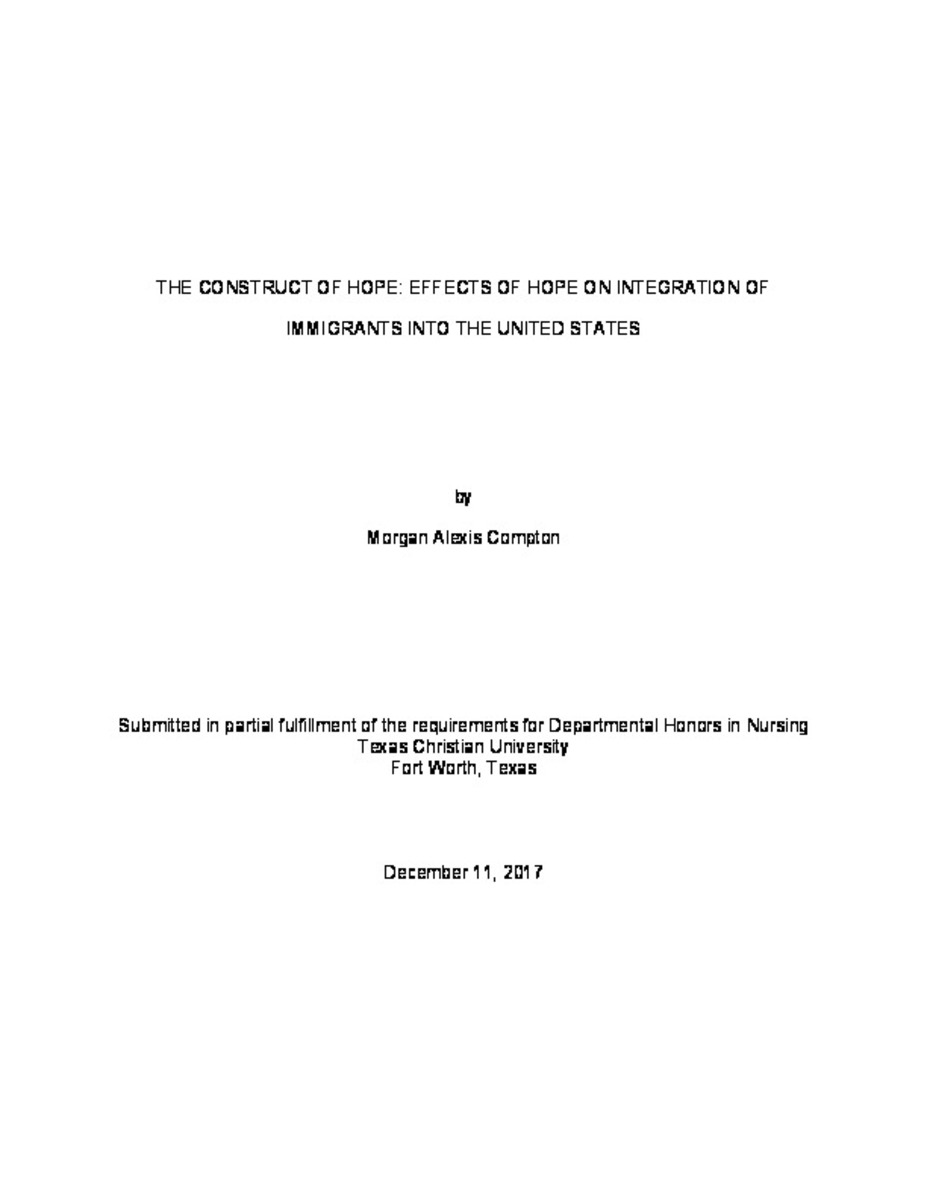 | | |
| --- | --- |
| Title | The Construct Of Hope: Effects Of Hope On Integration Of Immigrants Into The United States |
| Author | Compton, Morgan |
| Date | 2017 |
| Abstract | Purpose: The purpose of this integrative review was to examine the construct of hope relative to integration of immigrants into the United States. Methods: Following best practice guidelines for developing integrative reviews, the authors synthesized quantitative and qualitative evidence to describe the background and significance of hope in fostering success of immigrants in the United States. Abstracts were collected using 13 search terms (hope, health, health status, public health, holistic health, health promotion, healthcare, nursing, immigrant, immigrant experience, acculturation, integration, and assimilation) within seven databases. Two authors independently screened the results and mutually selected references that met inclusion criteria. Three authors read and analyzed the eligible literature to extract key findings. Findings: Findings address what has been reported on hope and the role of hope in successful integration. Clinical Implications: Nurses should be aware of hope's role in the healthy integration of immigrants into the United States. |
| Link | https://repository.tcu.edu/handle/116099117/21691 |
| Department | Nursing |
| Advisor | Frable, Pamela |
| Additional Date(s) | 2017-12-18 |
This item appears in the following Collection(s)
Related items
Showing a few items related by title, author, creator and subject.
This paper examines how a state's public discourse affects the assimilation process of immigrant groups with a significantly different cultural identity from the host society. The examination of the relationship of these ...

A contradiction exists between Tea Party members' ideological principles and their preference for active government responses to increased immigration. While the Tea Party professes to favor stricter immigration policies ...