The Democratic Potential Of Dance: Proposing Public Dance As A Cultivator Of Civic VirtuesShow full item record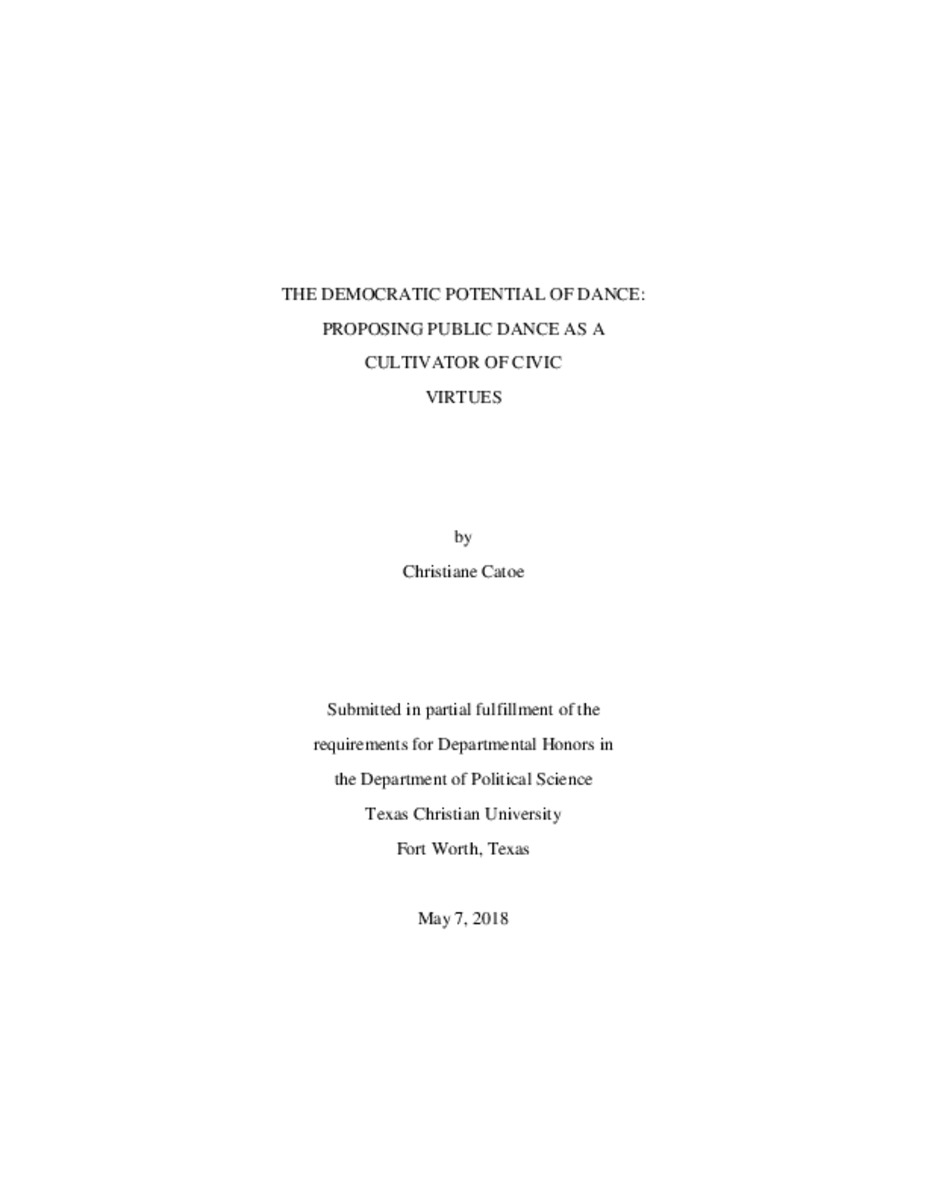 | | |
| --- | --- |
| Title | The Democratic Potential Of Dance: Proposing Public Dance As A Cultivator Of Civic Virtues |
| Author | Catoe, Christiane |
| Date | 2018 |
| Abstract | Drawing upon citizenship theory, this paper proposes that certain conditions enhance dance's capacity to foster a democratically virtuous citizenry. This paper argues under certain conditions dance can be an implement of citizen development and used to combat civic indifference, a prominent obstacle to a virtuous citizenry. Historical examples of politicized dance and phenomenological evidence provide support for the claim that dance can serve formative political ends. Finally, this paper assesses elements of dance that impact the realization of its democratizing potential. |
| Link | https://repository.tcu.edu/handle/116099117/22466 |
| Department | Political Science |
| Advisor | Arnold, Samuel |
| Additional Date(s) | 2018-05-19 |
This item appears in the following Collection(s)
Related items
Showing a few items related by title, author, creator and subject.
Mullone, Tina Nicole

(

2004

)

The Four Quartets of T. S. Eliot represents in many respects the culmination of the poet's journey through the spiritual aridity of his age; these poems demonstrate Eliot's mature awareness and acceptance of Christianity ...

Based upon citizenship theory, that within a deliberative democracy citizens must have certain civic virtues, I explored the development of these virtues within an ensemble of dancers. Displacing ourselves from the studio ...