The Democratic Potential Of Dance: Proposing Public Dance As A Cultivator Of Civic VirtuesShow full item record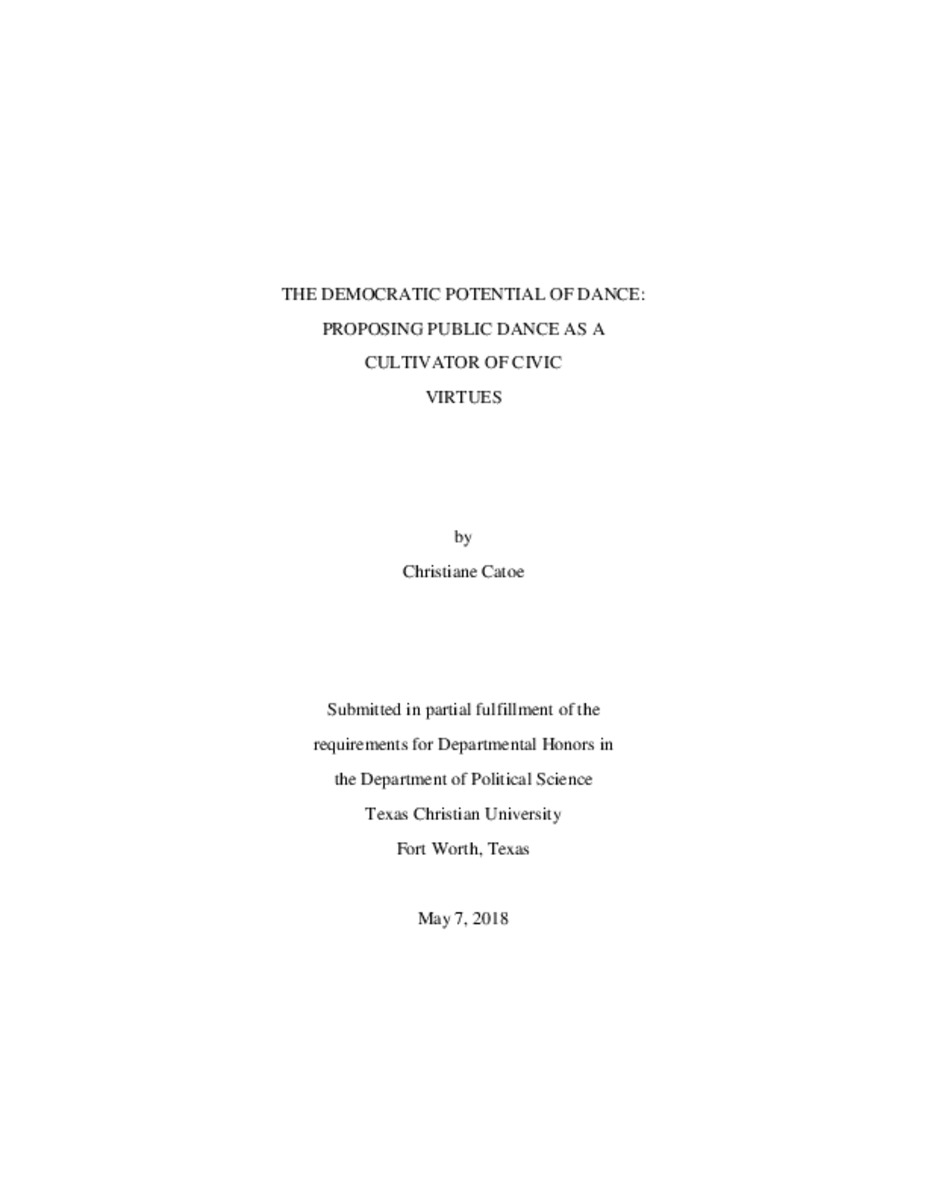 Title
The Democratic Potential Of Dance: Proposing Public Dance As A Cultivator Of Civic Virtues
Author

Catoe, Christiane

Abstract
Drawing upon citizenship theory, this paper proposes that certain conditions enhance dance?s capacity to foster a democratically virtuous citizenry. This paper argues under certain conditions dance can be an implement of citizen development and used to combat civic indifference, a prominent obstacle to a virtuous citizenry. Historical examples of politicized dance and phenomenological evidence provide support for the claim that dance can serve formative political ends. Finally, this paper assesses elements of dance that impact the realization of its democratizing potential.
Link
https://repository.tcu.edu/handle/116099117/22466
Date
2018-05-19
Subject
Democracy

---

theory

---

dance

---

citizenship theory
This item appears in the following Collection(s)
Related items
Showing a few items related by title, author, creator and subject.
Karigan, Alexandra Katherine

(

[Fort Worth, Tex.] : Texas Christian University,

,

2016

)

University dance departments seek to prepare their students for the demands and realities of a variety of dance professions. The National Association of Schools of Dance (NASD) recognizes the Bachelor of Fine Arts (BFA) ...

Badar, Allison

(

2016-05-19

)

Since Israel became an independent state in 1948, the country needed to foster a cultural identity and establish a greater scope of allies with countries outside of the Middle East. Using the United States as a model for ...

Catoe, Christiane

(

2018-05-19

)

Based upon citizenship theory, that within a deliberative democracy citizens must have certain civic virtues, I explored the development of these virtues within an ensemble of dancers. Displacing ourselves from the studio ...