Stochastic Modeling Of Intracellular Influenza ProductionShow full item record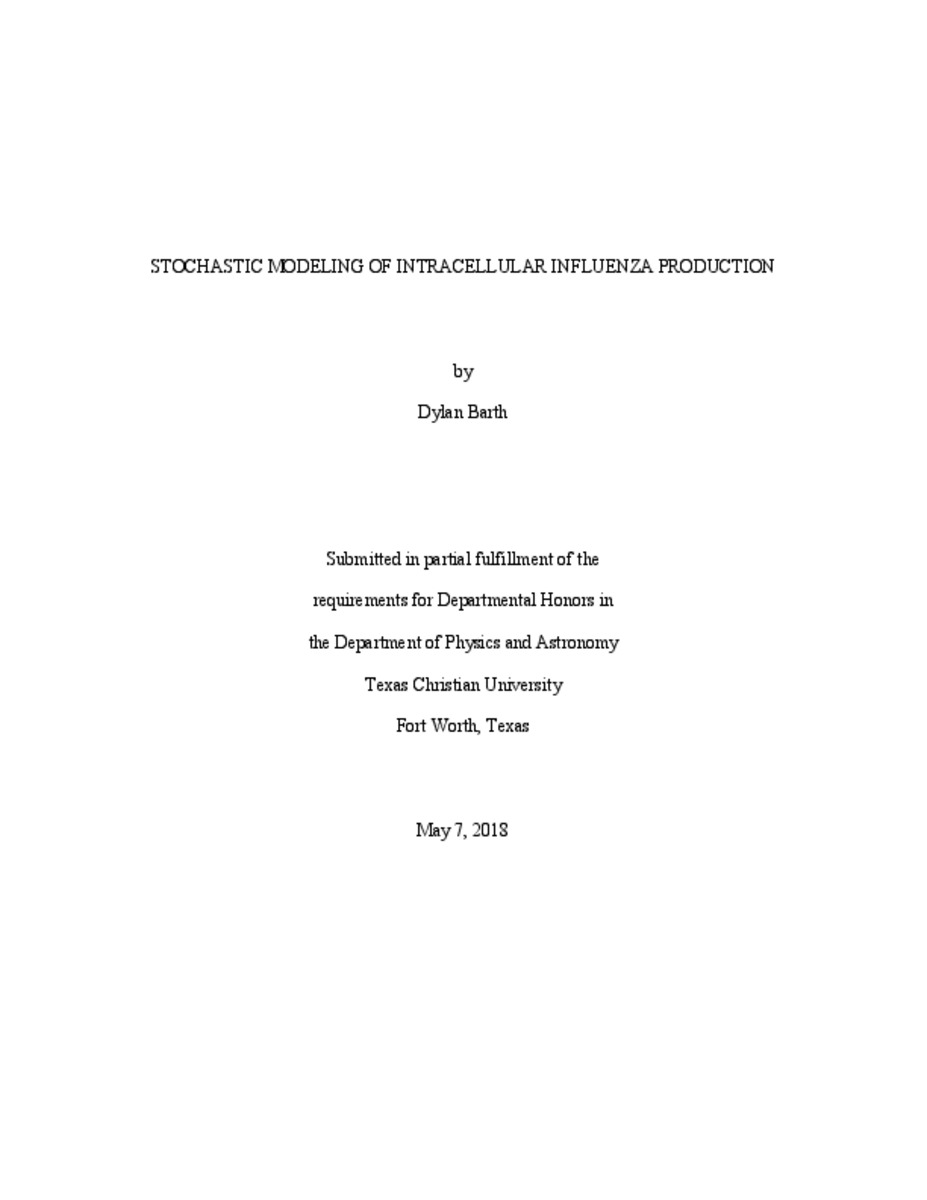 | | |
| --- | --- |
| Title | Stochastic Modeling Of Intracellular Influenza Production |
| Author | Barth, Dylan |
| Date | 2018 |
| Abstract | Influenza is a ubiquitous virus that has a high rate of mutation. Vaccinations and antiviral medications must change with a similarly rapid pace to be effective against this capricious infection. At the inception of the mutation, influenza may produce some combinations of wild type surface proteins, wild type RNA, and mutated versions of both. To better aid understanding of these mutations and pave a path for combating mutated virions, we modify a mathematical model of intracellular replication dynamics created by Heldt et al. to include genetic mutations at varying times. We then measure the effect of the mutation time on the combination of wild type and mutated surface proteins and RNA. |
| Link | https://repository.tcu.edu/handle/116099117/22471 |
| Department | Physics and Astronomy |
| Additional Date(s) | 2018-05-19 |
This item appears in the following Collection(s)
Related items
Showing a few items related by title, author, creator and subject.
Carpenter, Kenneth Halsey

(

1966

)

The spherical model in lattice statistics is obtained by replacement of occupation numbers n_j =0,.1 assigned to lattice sites by a continuous range -infinity < n_j < infinity but subject to the spherical constraint Summation ...

Doyle, Kahler

(

2022-05-19

)

Emerging evidence suggests that the immune system is vulnerable to disruption in response to a wide variety of chemical contaminants; thus, there is a need to test chemicals for immunotoxicity. To understand how chemicals ...