Big data analysis for evaluating bioinvasion riskShow full item record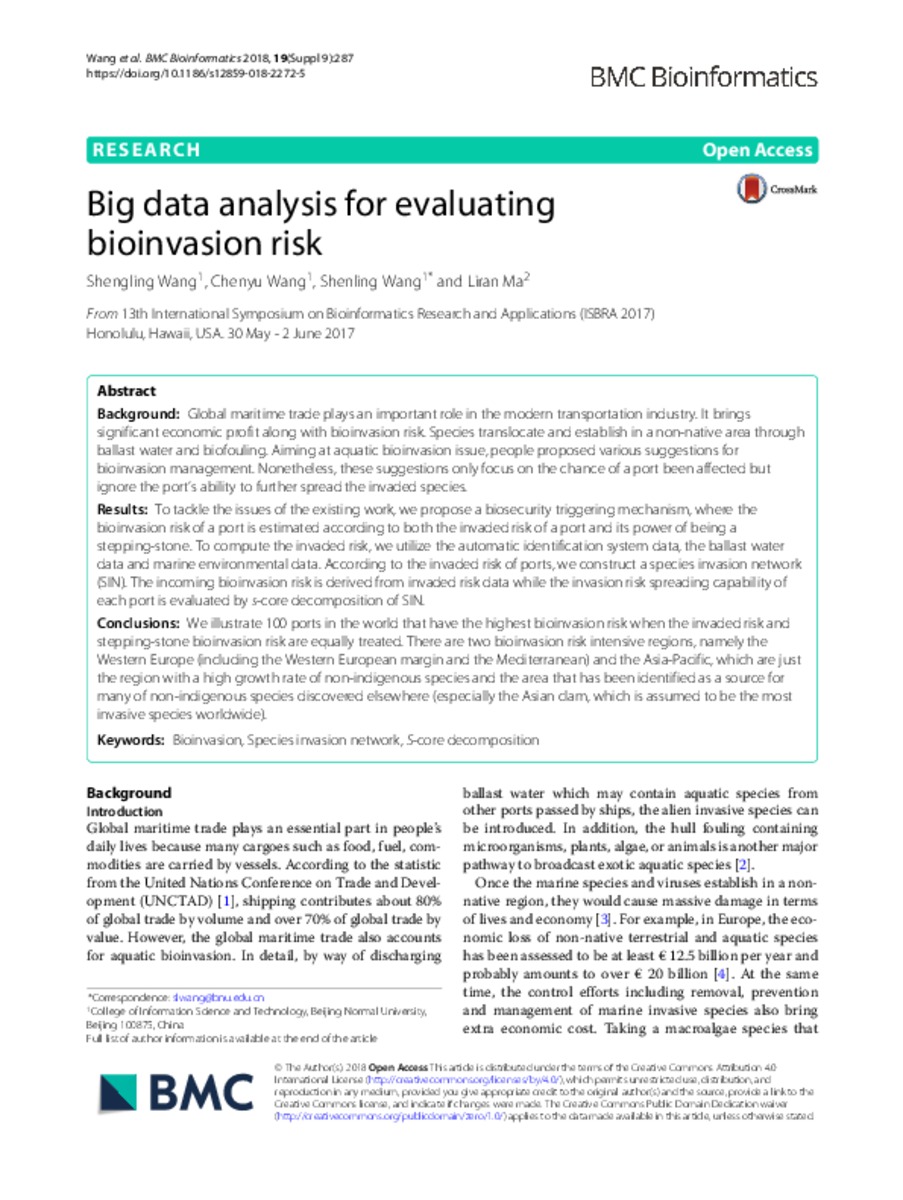 Title
Big data analysis for evaluating bioinvasion risk
Author
Wang, Shengling; Wang, Chenyu; Wang, Shenling; Ma, Liran
Abstract
Background Global maritime trade plays an important role in the modern transportation industry. It brings significant economic profit along with bioinvasion risk. Species translocate and establish in a non-native area through ballast water and biofouling. Aiming at aquatic bioinvasion issue, people proposed various suggestions for bioinvasion management. Nonetheless, these suggestions only focus on the chance of a port been affected but ignore the port's ability to further spread the invaded species. Results To tackle the issues of the existing work, we propose a biosecurity triggering mechanism, where the bioinvasion risk of a port is estimated according to both the invaded risk of a port and its power of being a stepping-stone. To compute the invaded risk, we utilize the automatic identification system data, the ballast water data and marine environmental data. According to the invaded risk of ports, we construct a species invasion network (SIN). The incoming bioinvasion risk is derived from invaded risk data while the invasion risk spreading capability of each port is evaluated by s-core decomposition of SIN. Conclusions We illustrate 100 ports in the world that have the highest bioinvasion risk when the invaded risk and stepping-stone bioinvasion risk are equally treated. There are two bioinvasion risk intensive regions, namely the Western Europe (including the Western European margin and the Mediterranean) and the Asia-Pacific, which are just the region with a high growth rate of non-indigenous species and the area that has been identified as a source for many of non-indigenous species discovered elsewhere (especially the Asian clam, which is assumed to be the most invasive species worldwide).
Link
https://doi.org/10.1186/s12859-018-2272-5
https://repository.tcu.edu/handle/116099117/26430
https://bmcbioinformatics.biomedcentral.com/articles/10.1186/s12859-018-2272-5
Date
2018-08-13
Subject
Bioinvasion

---

Species invasion network

---

S-core decomposition
This item appears in the following Collection(s)
Related items
Showing a few items related by title, author, creator and subject.
Jia, Peng; Yu, Chao; Remais, Justin V.; Stein, Alfred; Liu, Yu; Brownson, Ross C.; Lakerveld, Jeroen; Wu, Tong; Yang, Lijian; Smith, Melody; Amer, Sherif; Pearce, Jamie; Kestens, Yan; Kwan, Mei-Po; Lai, Shengjie; Xu, Fei; Chen, Xi; Rundle, Andrew; Xiao, Qian; Xue, Hong; Luo, Miyang; Zhao, Li; Cheng, Guo; Yang, Shujuan; Zhou, Xiaolu; Li, Yan; Panter, Jenna; Kingham, Simon; Jones, Andy; Johnson, Blair T.; Shi, Xun; Zhang, Lin; Wang, Limin; Wu, Jianguo; Mavoa, Suzanne; Toivonen, Tuuli; Mwenda, Kevin M.; Wang, Youfa; Verschuren, W.M. Monique; Vermeulen, Roel; James, Peter

(

Elsevier

,

2020-01-01

)

Spatial lifecourse epidemiology is an interdisciplinary field that utilizes advanced spatial, location-based, and artificial intelligence technologies to investigate the long-term effects of environmental, behavioural, ...

Wang, Degao; Wang, Ying; Brady, Matthew D.; Sheridan, Matthew V.; Sherman, Benjamin D.; Farnum, Byron H.; Liu, Yanming; Marquard, Seth L.; Meyer, Gerald J.; Dares, Christopher J.; Meyer, Thomas J.

(

The Royal Society of Chemistry

,

2019-03-14

)

We describe here the preparation and characterization of a photocathode assembly for CO2 reduction to CO in 0.1 M LiClO4 acetonitrile. The assembly was formed on 1.0 µm thick mesoporous films of NiO using a layer-by-layer ...

Nicolas, Kervins; Wang, Yi; Giakos, George C.; Wei, Bingyang; Shen, Hongda

(

IEEE

,

2020-12-25

)

Blockchain is a technology that ensures data security by verifying database of records established in a decentralized and distributed network. Blockchain-based approaches have been applied to secure data in the fields of ...