Big data analysis for evaluating bioinvasion riskShow full item record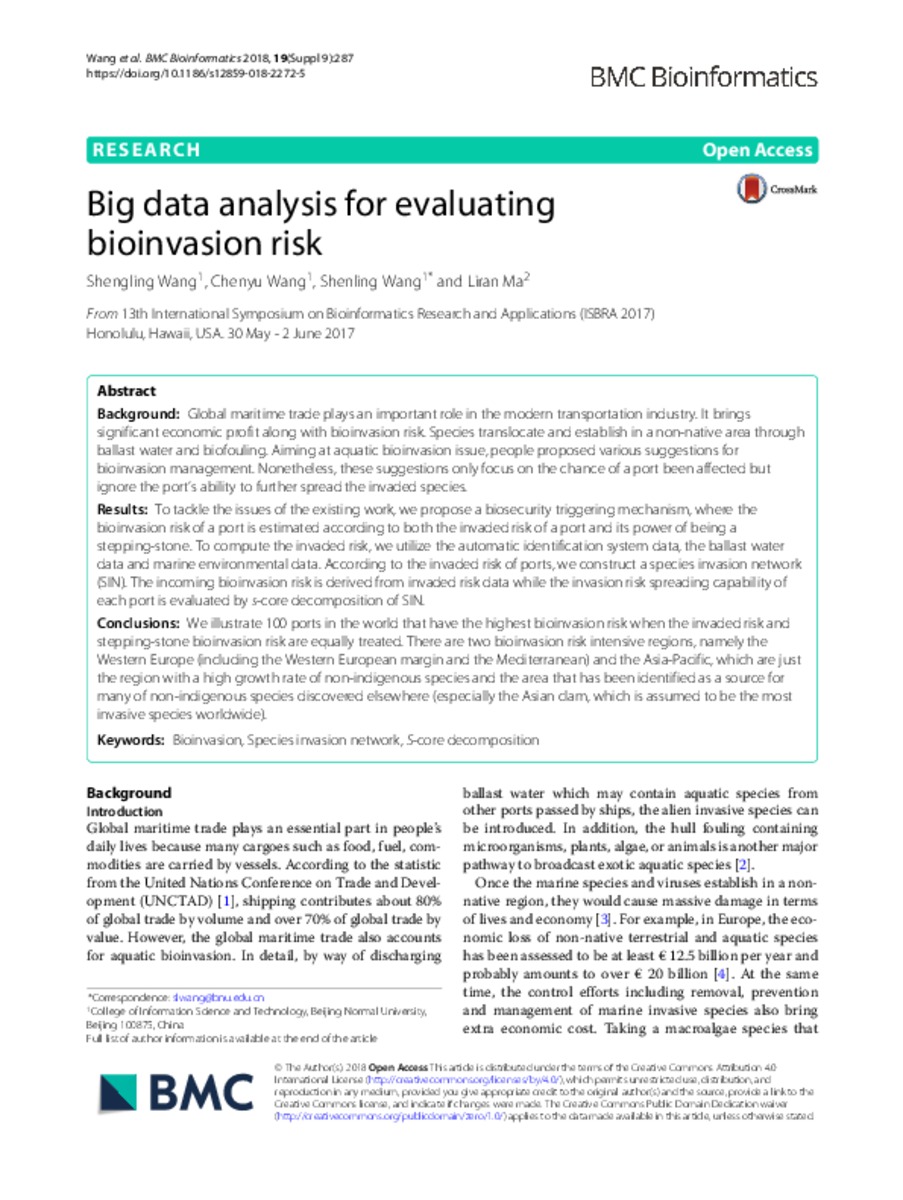 Title
Big data analysis for evaluating bioinvasion risk
Author
Wang, Shengling; Wang, Chenyu; Wang, Shenling; Ma, Liran
Date
2018-08-13
Abstract
Background Global maritime trade plays an important role in the modern transportation industry. It brings significant economic profit along with bioinvasion risk. Species translocate and establish in a non-native area through ballast water and biofouling. Aiming at aquatic bioinvasion issue, people proposed various suggestions for bioinvasion management. Nonetheless, these suggestions only focus on the chance of a port been affected but ignore the port's ability to further spread the invaded species. Results To tackle the issues of the existing work, we propose a biosecurity triggering mechanism, where the bioinvasion risk of a port is estimated according to both the invaded risk of a port and its power of being a stepping-stone. To compute the invaded risk, we utilize the automatic identification system data, the ballast water data and marine environmental data. According to the invaded risk of ports, we construct a species invasion network (SIN). The incoming bioinvasion risk is derived from invaded risk data while the invasion risk spreading capability of each port is evaluated by s-core decomposition of SIN. Conclusions We illustrate 100 ports in the world that have the highest bioinvasion risk when the invaded risk and stepping-stone bioinvasion risk are equally treated. There are two bioinvasion risk intensive regions, namely the Western Europe (including the Western European margin and the Mediterranean) and the Asia-Pacific, which are just the region with a high growth rate of non-indigenous species and the area that has been identified as a source for many of non-indigenous species discovered elsewhere (especially the Asian clam, which is assumed to be the most invasive species worldwide).
Link
https://doi.org/10.1186/s12859-018-2272-5
https://repository.tcu.edu/handle/116099117/26430
https://bmcbioinformatics.biomedcentral.com/articles/10.1186/s12859-018-2272-5
Department
Computer Science
Subject
Bioinvasion

---

Species invasion network

---

S-core decomposition
This item appears in the following Collection(s)
Related items
Showing a few items related by title, author, creator and subject.
Controlled delivery of antibacterial agents remains a topic of widespread significance, given the need for sustained release of therapeutically relevant concentrations. Porous Si (PSi), and the mesoporous form in particular, ...

Image reconstruction by stimulated backscattering is discussed systematically, theoretically, and experimentally in this paper. The theoretical basis of the real-time holographic model given by Ferrier et al. was discussed ...

This dissertation investigates mechanisms associated with very low and high power optical phase conjugation. The first part is a study of low power wave-front reconstructions produced by the surface reshaping through ...