A Model for Implementing a Food Recovery Program at the University LevelShow full item record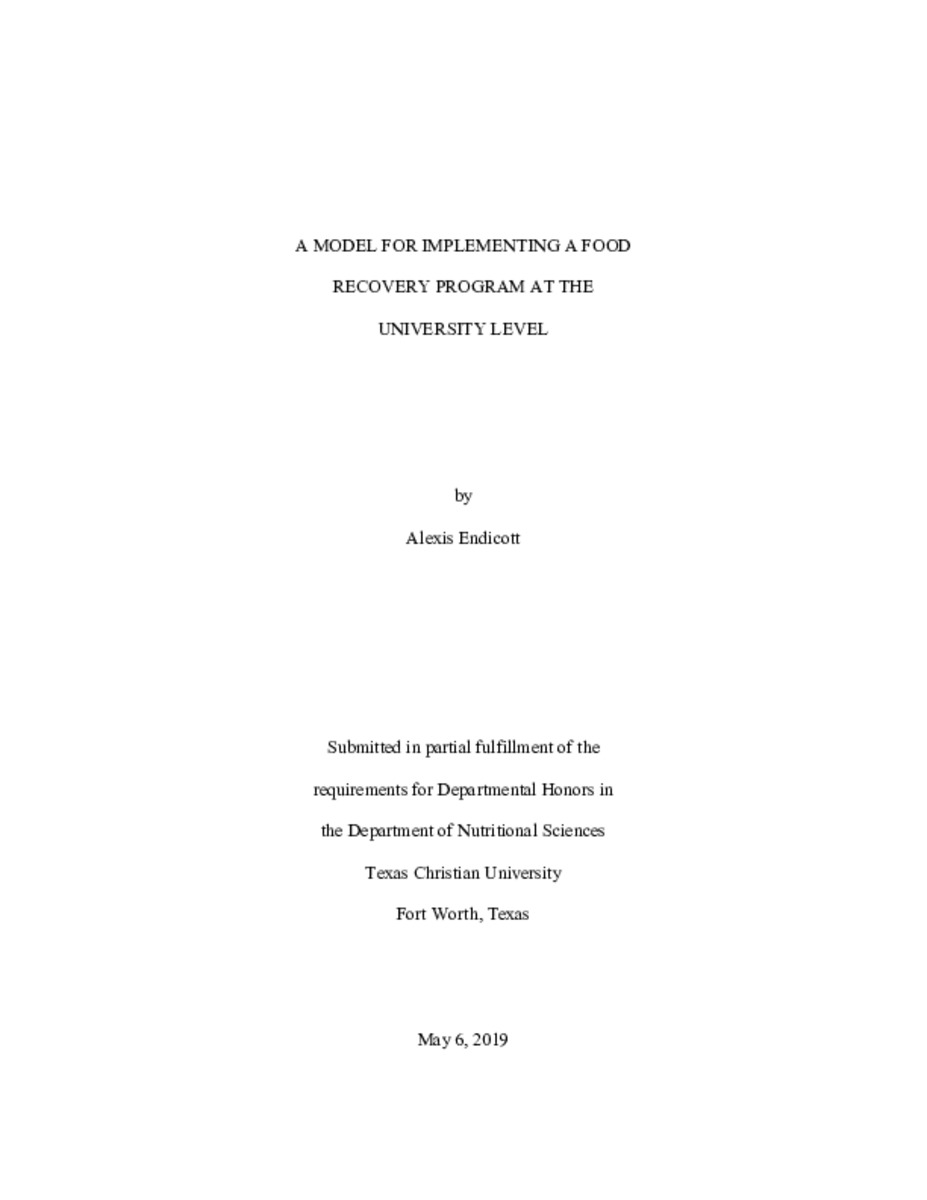 | | |
| --- | --- |
| Title | A Model for Implementing a Food Recovery Program at the University Level |
| Author | Endicott, Lexi |
| Date | 2019 |
| Abstract | Background: Over 42 million Americans face food insecurity (FI). Simultaneously, approximately 40% of food produced in the United States is wasted. Where FI and food waste (FW) coexist, it is necessary to develop and implement programs to decrease the negative consequences of these issues. Objective: The primary objective of this study was to design a model for implementing a food recovery program (FRP) at the university level for other universities to access and utilize. The secondary objective was to measure the effectiveness of the FRP at Texas Christian University (TCU). Further, researchers hypothesized that by incorporating the FRP into the university's dietetics curriculum, the FRP would achieve program sustainability and enhance dietetic students' knowledge of FW and FI. Methods: This study utilized a mixed-methods study design. Over three academic semesters, researchers observed the operations of the FRP at TCU. Researchers collected quantitative data on food types (i.e. vegetables, grains, proteins, mixed), quantities (pounds), and raw food costs ($). Researchers conducted semi-structured interviews with dietetics students, foodservice personnel, and faculty and analyzed interview transcriptions for prevalent theme codes. A codebook was created based on frequently identified phrases, and themes were extracted. Results: Over 12,500 pounds of food were recovered through the FRP at TCU during the study period. By weight, protein-containing foods were the most recovered food type (~4900 lbs.), followed by mixed foods (~2960 lbs.), grains (~2590 lbs.), and vegetables (~2100 lbs.). Five major themes were extracted from interviews; all respondents identified the FRP as a meaningful and practical program. Conclusion: FRPs offer a sustainable solution for benefitting the environment, combating FI, and providing dietetics students with experience working with FI and FW. Efforts should be made to incorporate a FRP at the university level, and a dietetics program may offer an effective means to achieve this integration. |
| Link | https://repository.tcu.edu/handle/116099117/27033 |
| Department | Nutritional Sciences |
| Additional Date(s) | 2019-05-19 |
This item appears in the following Collection(s)
Related items
Showing a few items related by title, author, creator and subject.
Wilson, Carol Bakker

(

2012

)

The first-century Roman East experienced endemic food shortages that left 25 per cent of the population below subsistence level and another 30 per cent at risk of slipping below subsistence. In addition to endemic shortages, ...

One roadblock to healthy eating is the belief that healthy foods are more expensive than foods with added fats and sugars. However, much evidence suggests that healthy eating is actually less expensive (Carlson & Frazoa, ...

Background: Approximately one-third of all food produced in America is wasted each year due to lack of infrastructure and support in waste-saving efforts. With over 49 million Americans food insecure, more attention needs ...