How do Students and Educators Interpret Student Evaluations of Teaching?Show full item record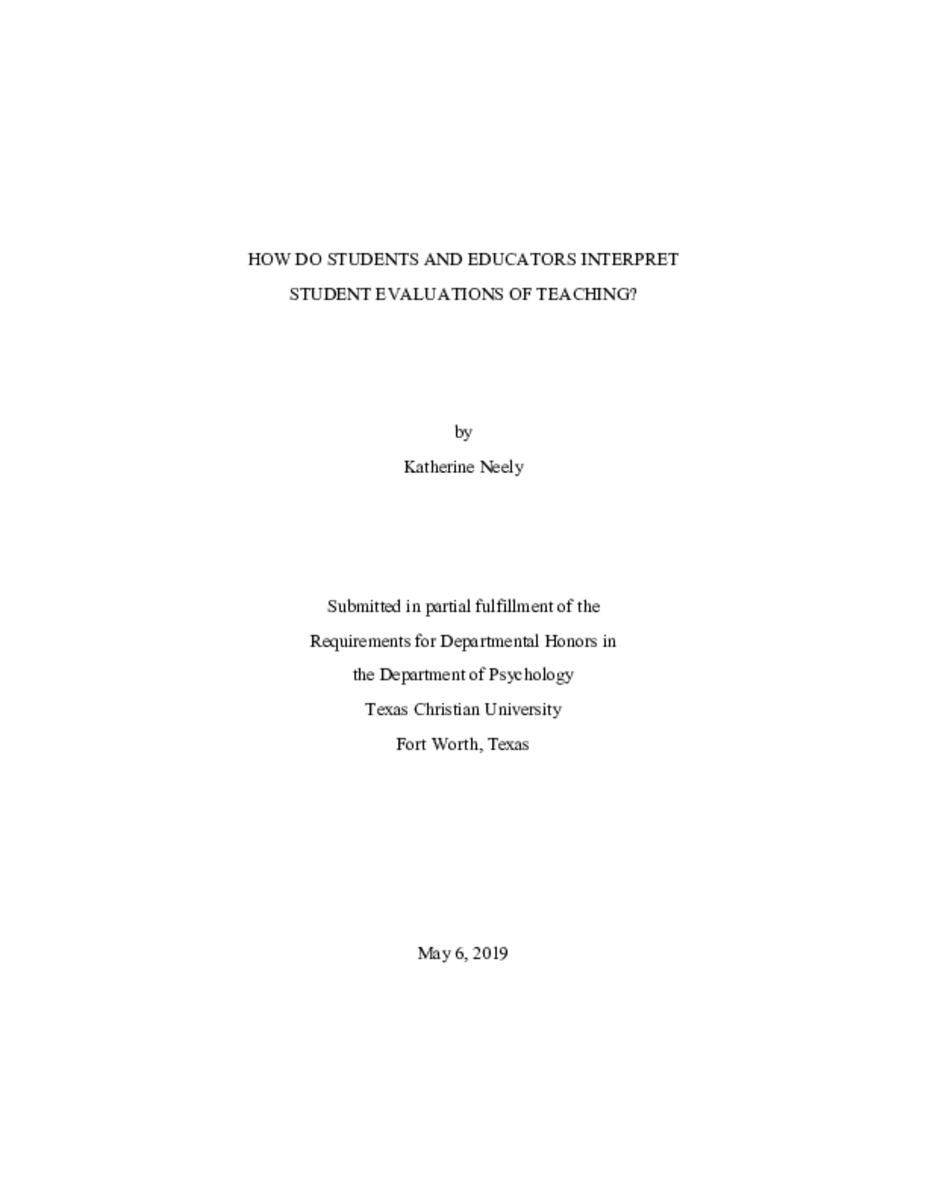 | | |
| --- | --- |
| Title | How do Students and Educators Interpret Student Evaluations of Teaching? |
| Author | Neely, Katherine |
| Date | 2019 |
| Abstract | Student evaluations of teaching (SETs) are a tool commonly employed at universities for assessing faculty members' teaching performance and eligibility for promotions. Survey items often ask students to make judgments about the professor's knowledgeability, teaching style, and class difficulty. Fair and consistent review of SETs is critical for faculty members as they seek to improve their teaching and gain professional recognition. The present study investigates the novel question of how SETs are interpreted. Undergraduate students and faculty participants were shown and asked to make judgments about a SET for a fictional professor. The four conditions varied in whether the fictional professor was rated lower or higher than the departmental average, and whether or not the professor gave daily in-class quizzes. There were no differences between student and faculty member responses overall, and the magnitude of the fictional professor's ratings had a significant impact on participants' judgments. Quizzing did not cause a significant difference in participants' ratings of the professor despite students and faculty both rating quizzing as beneficial for learning and increasing class difficulty. |
| Link | https://repository.tcu.edu/handle/116099117/27047 |
| Department | Psychology |
| Advisor | Tauber, Uma |
| Additional Date(s) | 2019-05-19 |
This item appears in the following Collection(s)
Related items
Showing a few items related by title, author, creator and subject.
Jernberg, Kodiane Alia

(

2008

)

The purpose of this study was twofold: (1) to examine the interaction effect of nonverbal immediacy and expected instructional technology use on students? perceptions of learner empowerment and student involvement, and (2) ...