An Overview Of The History If Graphical User Interfaces And Considerations For Implementation In The Construction Industry To Improve User ExperienceShow full item record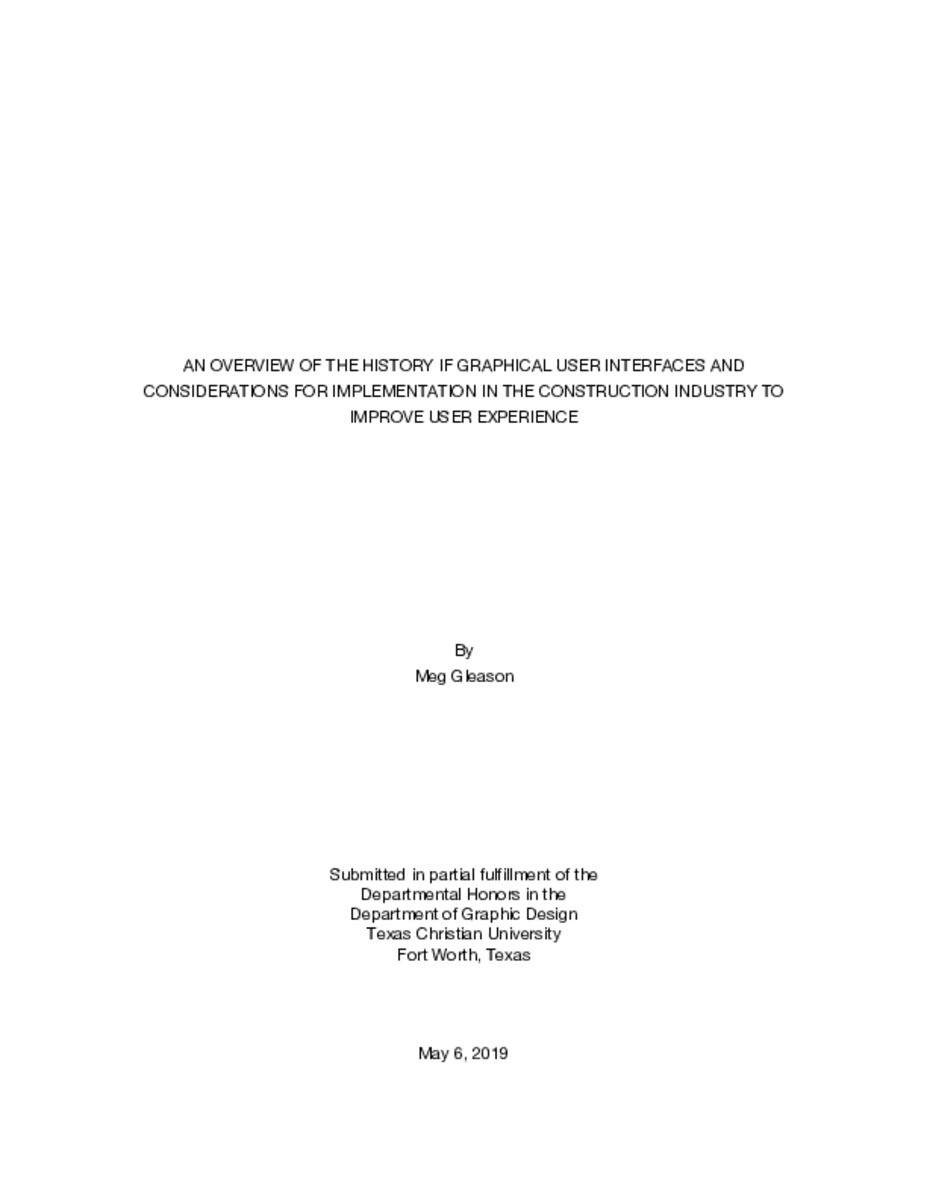 | | |
| --- | --- |
| Title | An Overview Of The History If Graphical User Interfaces And Considerations For Implementation In The Construction Industry To Improve User Experience |
| Author | Gleason, Meg |
| Date | 2019 |
| Abstract | This paper involves the research into the considerations for design when developing an application for the custom home building process. This was accomplished through research of the history of graphical user interfaces, UX best practices, UI basic principles, along with the current construction industry to understand how new technologies may be developed to bridge the communication gap between home owners and custom home builders. The final results include a list of suggested principles for consideration. |
| Link | https://repository.tcu.edu/handle/116099117/27061 |
| Department | Graphic Design |
| Additional Date(s) | 2019-05-19 |
This item appears in the following Collection(s)
Related items
Showing a few items related by title, author, creator and subject.
Corsi, Karen F.; Lehman, Wayne E. K.; Min, Sung-Joon; Lance, Shannon P.; Speer, Nicole; Booth, Robert E.; Shoptaw, Steve

(

2012-06-04

)

This paper reports on a feasibility study that examined contingency management among out-of-treatment, heterosexual methamphetamine users and the reduction of drug use and HIV risk. Fifty-eight ...

Contributions and further research suggestions for a project focused on creating a three-dimensional reconfigurable surface for the creation of custom fit orthotics are outlined. The functionality and feasibility of solenoids ...