Life History, Fertility, and Short-Term Mating MotivationShow full item record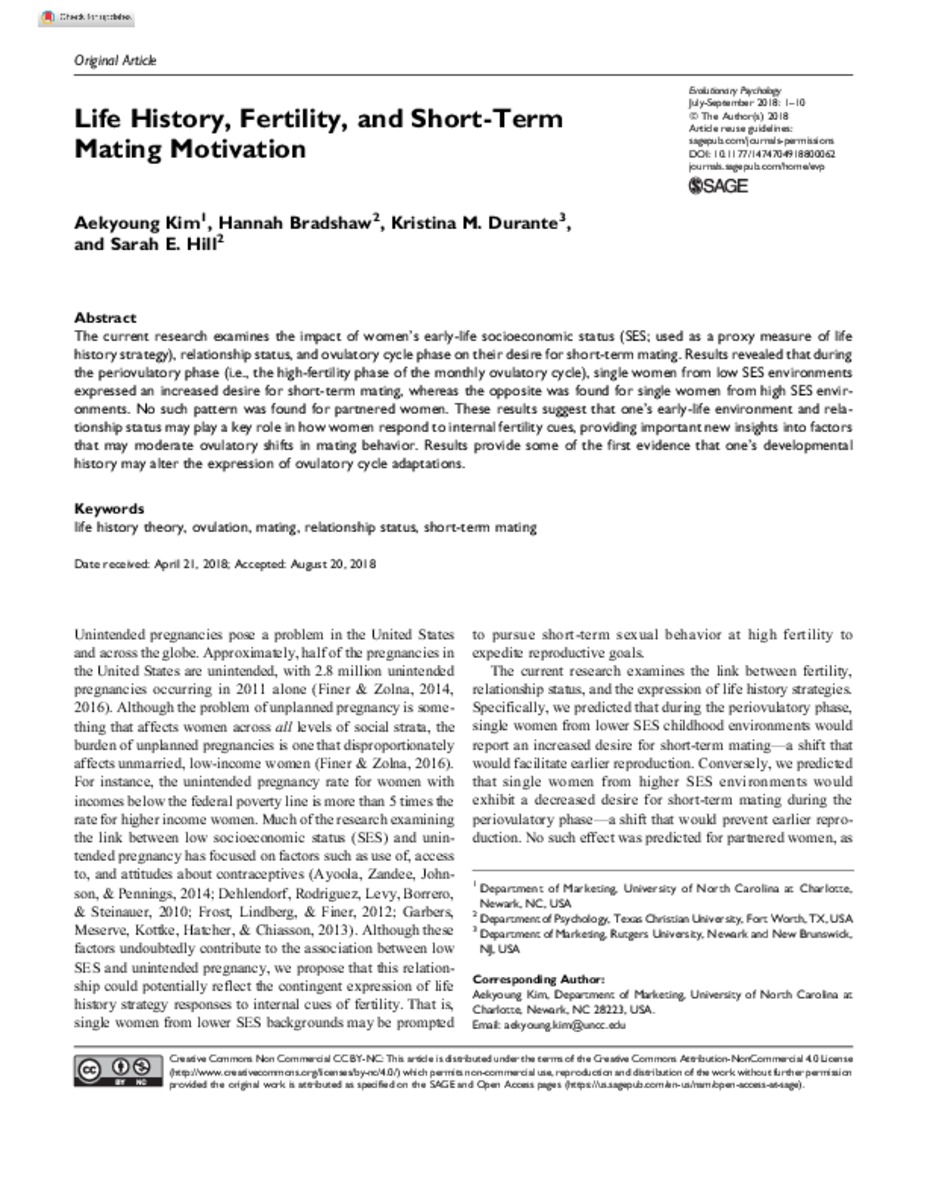 Title
Life History, Fertility, and Short-Term Mating Motivation
Author
Kim, Aekyoung; Bradshaw, Hannah K.; Durante, Kristina M.; Hill, Sarah E.
Date
2018-09-19
Abstract
The current research examines the impact of women's early-life socioeconomic status (SES; used as a proxy measure of life history strategy), relationship status, and ovulatory cycle phase on their desire for short-term mating. Results revealed that during the periovulatory phase (i.e., the high-fertility phase of the monthly ovulatory cycle), single women from low SES environments expressed an increased desire for short-term mating, whereas the opposite was found for single women from high SES environments. No such pattern was found for partnered women. These results suggest that one's early-life environment and relationship status may play a key role in how women respond to internal fertility cues, providing important new insights into factors that may moderate ovulatory shifts in mating behavior. Results provide some of the first evidence that one's developmental history may alter the expression of ovulatory cycle adaptations.
Link
https://doi.org/10.1177/1474704918800062
https://repository.tcu.edu/handle/116099117/35795
https://journals.sagepub.com/doi/10.1177/1474704918800062
Department
Psychology
Subject
life history theory

---

ovulation

---

mating

---

relationship status

---

short-term mating
This item appears in the following Collection(s)
Related items
Showing a few items related by title, author, creator and subject.
Bradshaw, Hannah Kristine,author.

(

2017

)

Appearance derogation is a commonly-observed female intrasexual competition strategy. Accordingly, women may interpret appearance-related feedback differently depending on whether it is coming from a man or another woman. ...

In recent years, an achievement gap has emerged between the sexes, with women attending college, earning college degrees, and obtaining high-level jobs significantly more than men (Autor & Wasserman, 2013). The current ...

Previous research has highlighted the link between low-quality paternal investment and risky sexual activities, permissive sexual attitudes, and disinterest in long-term relationships amongst daughters. However, the specific ...