Examining the Relationship Between an Individual's Childhood Environmental Factors and Motivation to Expend Energy Later in LifeShow full item record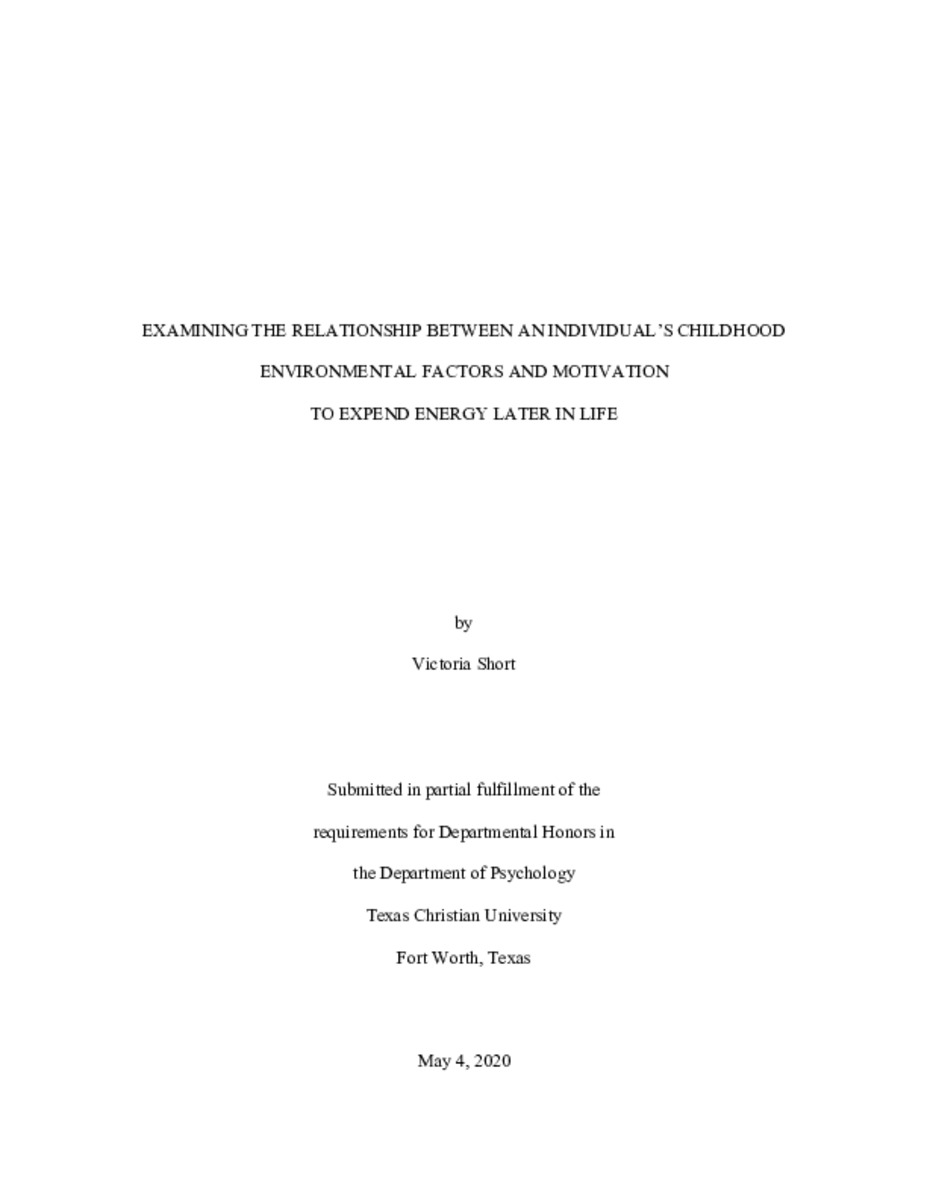 | | |
| --- | --- |
| Title | Examining the Relationship Between an Individual's Childhood Environmental Factors and Motivation to Expend Energy Later in Life |
| Author | Short, Tori |
| Date | 2020 |
| Abstract | Environmental factors during childhood, such as environmental unpredictability, have previously shown to predict eating in the absence of hunger in adulthood, even when there is a lack of environmental pressure to do so. While this is historically an adaptive trait to promote survival in environments with limited and unpredictable resources, the behavior can become maladaptive if individuals are put in contexts where resources are no longer restricted. Previous research has also illustrated that individuals from unpredictable environments are more susceptible to changes in behavior when reminded of scarce resource conditions. If childhood environments can affect how adults choose to secure calories, I predict that it may also affect how adults spend their calories. The current research aims to investigate whether the same energy-maximizing pattern exists between childhood unpredictability and energy expenditure later in life. Participants were primed to think of resource scarcity or a control condition in addition to completing pre- and post-manipulation grip strength tests to measure their effort. Results revealed that priming individuals with resource scarcity did not seem to predict their effort, however childhood unpredictability was associated with how many hours that participants reported exercising each week as well as their attitudes towards exercise. |
| Link | https://repository.tcu.edu/handle/116099117/40301 |
| Department | Psychology |
| Additional Date(s) | 2020-05-19 |
This item appears in the following Collection(s)
Related items
Showing a few items related by title, author, creator and subject.
Gassen, Jeffrey; White, Jordon D.; Peterman, Julia L.; Mengelkoch, Summer; Leyva, Randi P. Proffitt; Prokosch, Marjorie L.; Eimerbrink, Micah J.; Brice, Kelly; Cheek, Dennis J.; Boehm, Gary W.; Hill, Sarah E.

(

2021

)

Early life stress increases one's risk for health problems later in life, and many studies find that these effects are sex-differentiated. Here, we examined relationships between multiple sources of early life stress and ...

Wilson, Mary Street

(

2020

)

Childhood sexual abuse is pervasive and debilitating for the victim. Silence and fear become its hallmark features. Spiritual and religious beliefs are called into question as survivors navigate a recovery process. I contend ...

Bryant, Elissa.author.

(

2019

)

Over the last several decades, teachers, parents, and education researchers have implemented a wide variety of school-wide interventions among children and adolescents in an attempt to address the pervasive and serious ...