Talking Trump: How The Trump Rally Effectively Secured Donald J. Trump The PresidencyShow full item record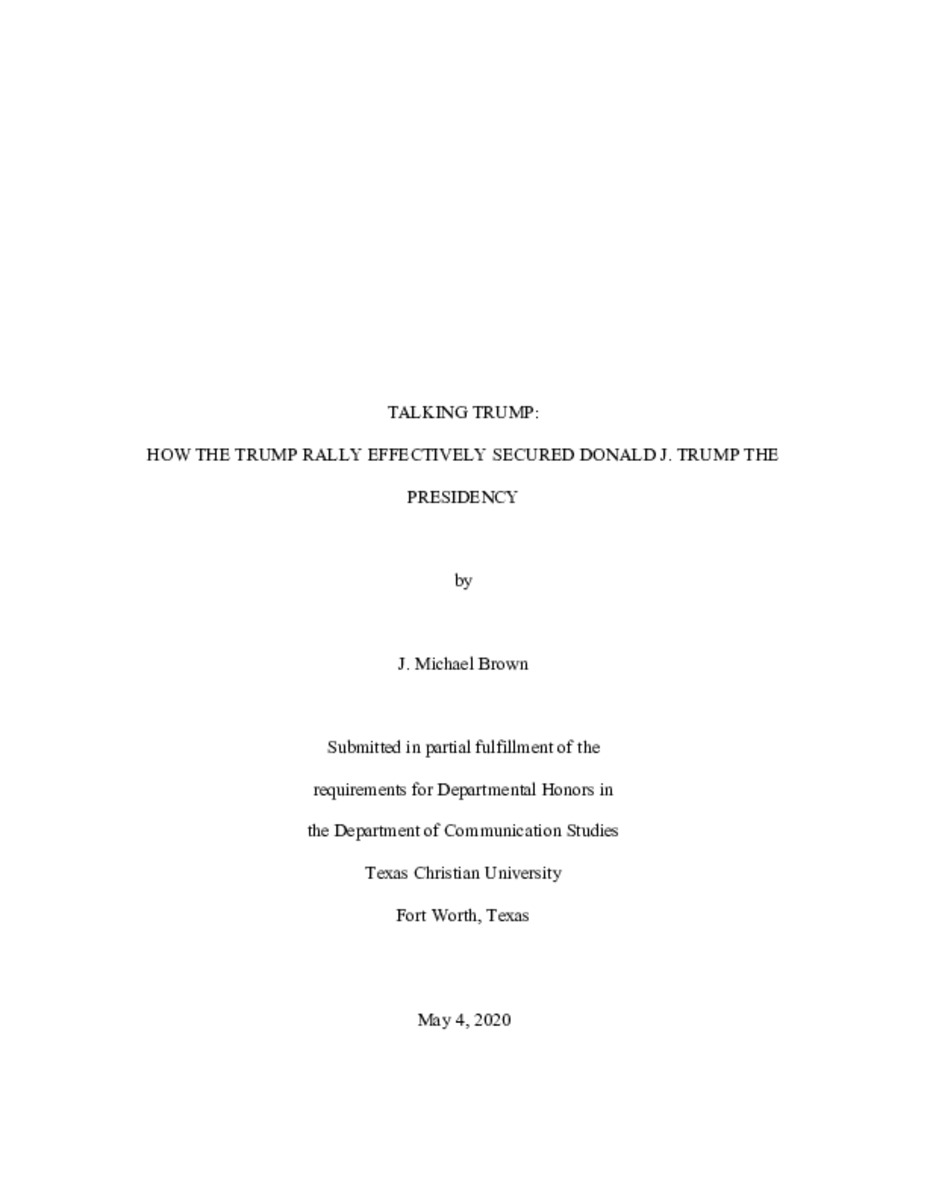 | | |
| --- | --- |
| Title | Talking Trump: How The Trump Rally Effectively Secured Donald J. Trump The Presidency |
| Author | Brown, Michael |
| Date | 2020 |
| Abstract | Research question: Was candidate Donald J. Trump's rhetoric an effective factor in securing him the 2016 Presidency? In 2016 the world was stunned as the political outsider, Donald J. Trump, secured the White House in a stunning victory over Hillary Clinton. This victory was particularly unsettling for those in the Communication Studies field. Trump by no means embraced conventional public address etiquette, yet he still won. How? This research sought to answer if his brash rhetoric was an effective method for securing him the Presidency. Ultimately research focused on three elements: 1) Trump's use of rhetorical devices, 2) Trump's use of nonverbal communication, and 3) Trump's repeated themes and frequency of messages. A delimited data set of 14 hours of Trump speeches was reviewed on multiple passes. This study resulted in two conclusions: that Trump's rhetoric, in the form of the "Trump Rally" was effective because it excited his audience base and rallied voters to the polls. |
| Link | https://repository.tcu.edu/handle/116099117/40333 |
| Department | Communication Studies |
| Advisor | Moore, Carrie |
| Additional Date(s) | 2020-05-19 |
This item appears in the following Collection(s)
Related items
Showing a few items related by title, author, creator and subject.
During the 2016 election, journalists and political pundits dramatized the "deepening political divide" at every given opportunity, but the conversations I had with the communities around me exposed much more nuanced ...

This project looks at the relationship between Republican presidential candidate Donald Trump and fact-checking journalism. Despite widespread fact-checking amidst the 2016 presidential election, Trump continues to dominate ...

Dastgeer, Shugofa; Onyebadi, Uche T.

(

2020

)

This study examined President Donald J. Trump's "tweetosphere". It was a multimethod functional analysis of Trump's ego network (him and the people he follows, mentions, retweets, and replies to) of 741 tweets and retweets ...