Communication Processes that Mediate Parents' Nonaccommodation and Their Sexual Minority Children's Mental Well-beingShow full item record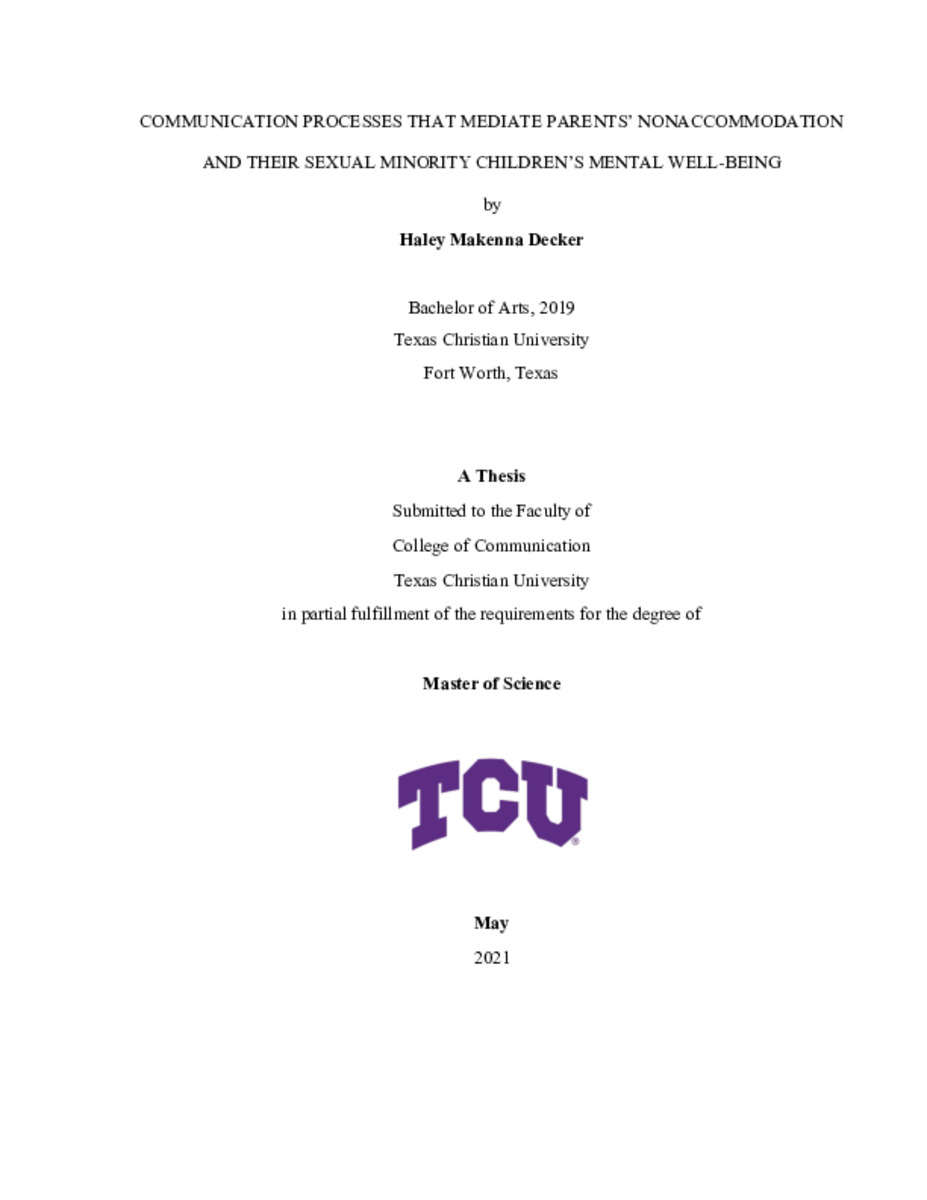 | | |
| --- | --- |
| Title | Communication Processes that Mediate Parents' Nonaccommodation and Their Sexual Minority Children's Mental Well-being |
| Author | Makenna Decker, Haley |
| Date | 2021 |
| Genre | Thesis |
| Degree | Master of Science |
| Abstract | Using communication accommodation theory (CAT) and the communication theory of identity (CTI), this study investigated (a) the degree to which parents' nonaccommodation is associated with sexual minority (SM) adult children's surface acting and topic avoidance, (b) the degree to which these communicative responses are associated with their mental health, (c) the degree to which surface acting and topic avoidance explain the association between parents' nonaccommodation and the SM's mental health, and (d) the degree to which identity gaps moderate these indirect effects. Results from 219 participants who completed online surveys supported most of the reasoning advanced in the study. Parents' nonaccommodation was positively associated with mental health symptoms, surface acting, and topic avoidance, and the results demonstrated a stronger mediation effect for surface acting than for topic avoidance. However, identity gaps did not moderate this mediated process. The results extend CAT and CTI and offer valuable insight into family communication experiences for SMs. |
| Link | https://repository.tcu.edu/handle/116099117/48008 |
| Department | Communication Studies |
| Advisor | Schrodt, Paul |
This item appears in the following Collection(s)
Related items
Showing a few items related by title, author, creator and subject.
This study looked at the impact of communicative openness and structural openness on adoptive families' communication patterns (Koerner and Fitzpatrick, 2002b) and relational maintenance behaviors (Oswald, Clark, and Kelly, ...

Clark, Rachel

(

2023-05-19

)

Communication skills are vital for children to learn, grow, build relationships, and solve problems. Autistic children have unique communication challenges. There is very little research on communication in families with ...