Inclusive Design and Web Accessibility for Autism and Cognitive DisabilitiesShow full item record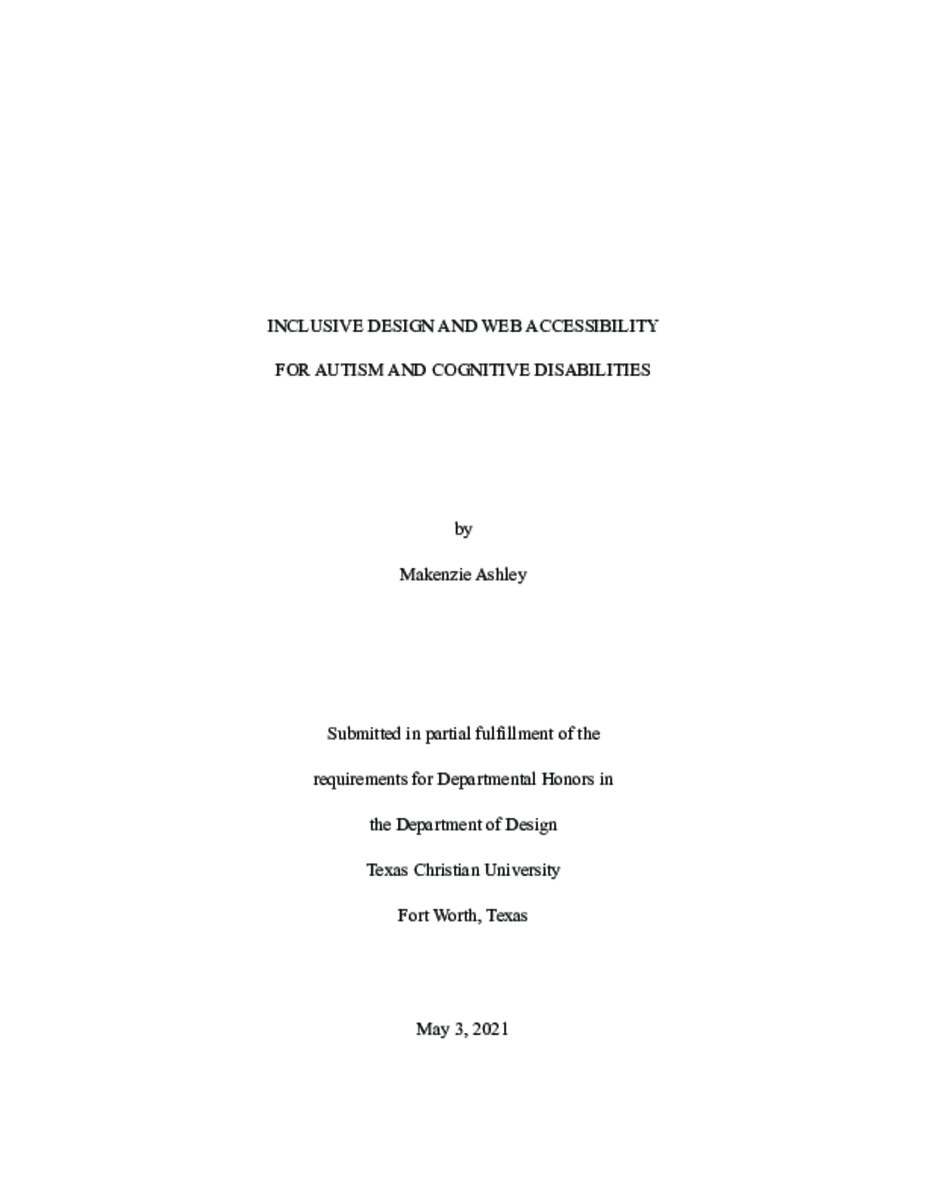 | | |
| --- | --- |
| Title | Inclusive Design and Web Accessibility for Autism and Cognitive Disabilities |
| Author | Ashley, Kenzie |
| Date | 2021 |
| Abstract | There are 23.2 million individuals in the United States with a Cognitive Disability. More specifically, an estimated 5.5 million individuals in the United States are diagnosed with Autism Spectrum Disorder. Current web accessibility standards enforced assist in creating equal opportunities for individuals with most disabilities. However, a large population of individuals with cognitive disabilities are not considered within these guidelines. Technology is increasingly relied on within the workplace and school environments creating a barrier for individuals with cognition deficits. Web accessibility cannot be accurately described as inclusive unless it is universally inclusive of all disabilities, including neurodevelopmental disabilities. IDAC, Inclusive Design for Autism and Cognition, aims to close this gap and create a web experience that is accessible to everyone allowing for equal opportunities regardless of cognitive level. This project's objective was to create web accessibility standards to be adopted and enforced alongside current ADA Section 508 requirements. This was accomplished through extensive research and identification of common symptoms of Autism Spectrum Disorder and Related Cognitive Disorders and current web accessibility guidelines. The final deliverables included the branding and creation of IDAC. The IDAC Standards for Accessible Design covered over thirteen topics of User Interface Design which can act as visual stimulants to individuals with ASD or Related Cognitive Disabilities. Further, a digital and print reference guide was created alongside promotional collateral to raise awareness of IDAC's cause. |
| Link | https://repository.tcu.edu/handle/116099117/49063 |
| Department | Graphic Design |
| Additional Date(s) | 2021-05-19 |
This item appears in the following Collection(s)
Related items
Showing a few items related by title, author, creator and subject.
Hull, Michael V.; Jagim, Andrew R.; Oliver, Jonathan M.; Greenwood, Michael; Busteed, Deanna R.; Jones, Margaret T.

(

2016-10-18

)

Limited research exists on the effect of a sports dietitian (SD) on athletes' dietary habits and nutrient periodization, which is the deliberate manipulation of macronutrient intake to match training goals. Further, the ...

Zhang, Fan; Jing, Tao; Huo, Yan; Ma, Liran

(

2018-01-01

)

In this paper, we introduce energy harvesting into a cognitive radio sensor network to power the network with renewable energy sources so as to achieve self-sustainability of energy-limited sensors. In our work, the cognitive ...

Walker, Kyle E.

(

2016-08-11

)

TIGER/Line shapefiles from the United States Census Bureau are commonly used for the mapping and analysis of US demographic trends. The tigris package provides a uniform interface for R users to download and work with these ...