Analysis of Vietnam's Development Using the Human Development Index and InstitutionalismShow full item record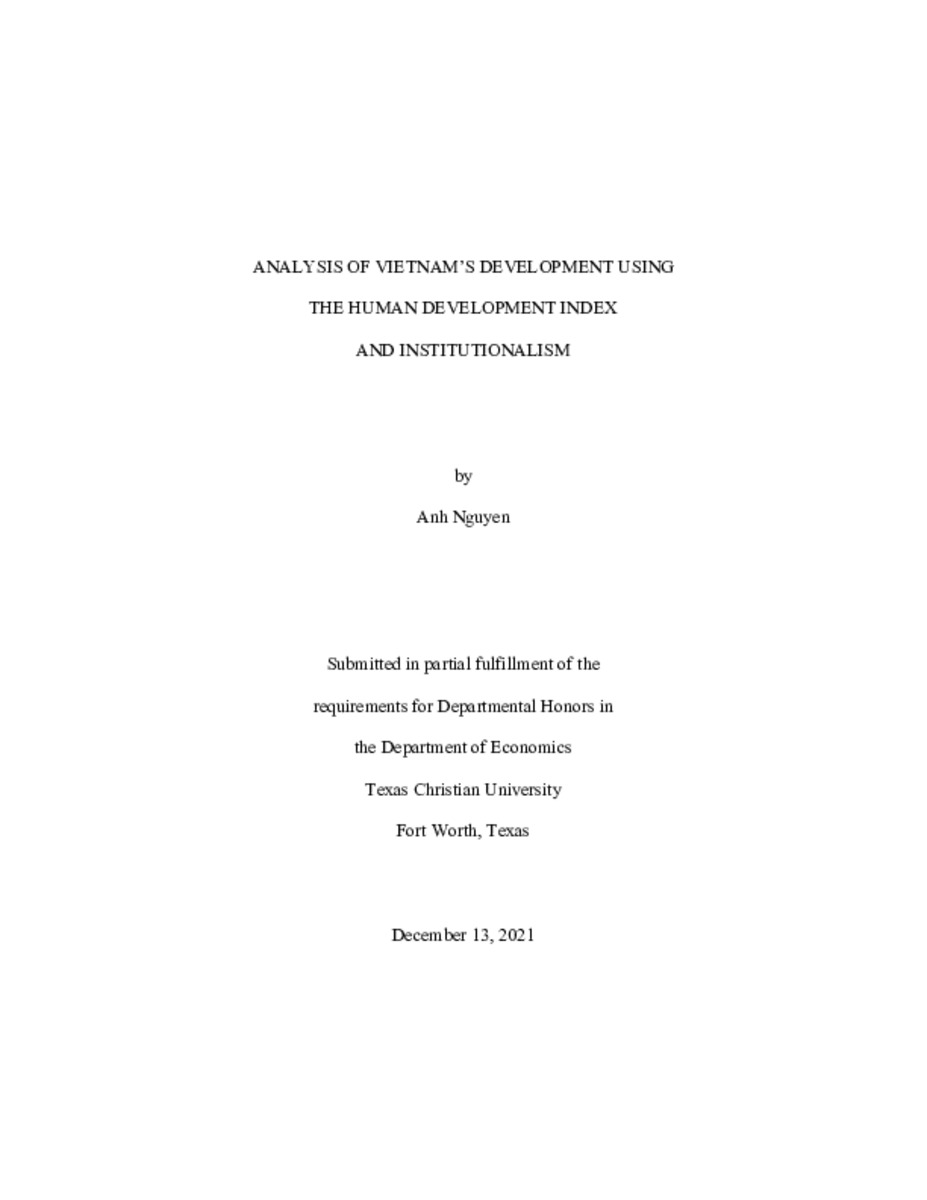 | | |
| --- | --- |
| Title | Analysis of Vietnam's Development Using the Human Development Index and Institutionalism |
| Author | Nguyen, Anh |
| Date | 2021 |
| Abstract | The world has been changing and developing rapidly with advanced technology and the enhancement of humans' living standards. Economics is one of the disciplines that works to define "development," determine nations' current stage of development, and design policies to work effectively and efficiently in the long term. There are many definitions and approaches to determining economic development, depending on different perspectives and context. In this paper, I will take the specific case of Vietnam's development, which has changed remarkably over the past 30 years. In order to analyze my research comprehensively, I will examine three school of thoughts: Neoclassical Economics, Marxism, and Institutionalism. After evaluating their perspectives on development concept, I apply one - Institutionalism - to Vietnam. In this research, what I discover is that the Institutionalist approach suggests that Vietnam's emphasis on instrumental rather than ceremonial valuing in developing policy has been a key factor. As evidence, I use the Human Development Index's three categories of health, education, and income. While a great deal of progress has been made, I still offer my own suggestions for future policies to enhance the quality of life of the Vietnamese people and improve Vietnamese reputation from other nations in the world. |
| Link | https://repository.tcu.edu/handle/116099117/49869 |
| Department | Economics |
| Additional Date(s) | 2021-12-18 |
This item appears in the following Collection(s)
Related items
Showing a few items related by title, author, creator and subject.
Golin, Carol E.; Knight, Kevin; Carda-Auten, Jessica; Gould, Michele; Groves, Jennifer; White, Becky L.; Bradley-Bull, Steve; Amola, Kemi; Fray, Niasha; Rosen, David L.; Mugavaro, Michael J.; Pence, Brian W.; Flynn, Patrick M.; Wohl, David

(

2016-09-06

)

Background: Policy-makers promote a seek, test, treat and retain (STTR) strategy to expand HIV testing, support linkage and engagement in care, and enhance the continuous use of antiretroviral therapy for those HIV-infected. ...