The relationship between dietary intake and sleep quality in endurance athletesShow full item record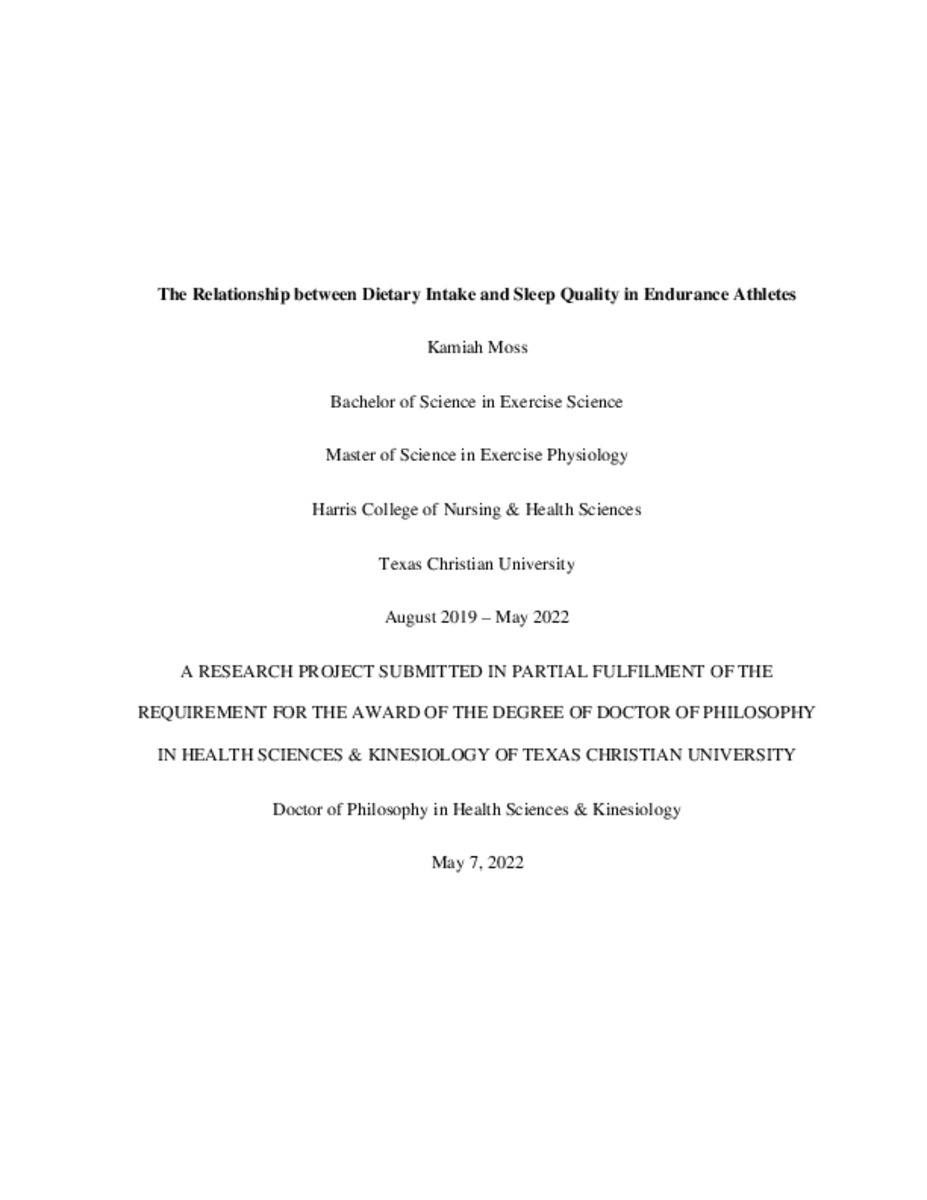 | | |
| --- | --- |
| Title | The relationship between dietary intake and sleep quality in endurance athletes |
| Author | Moss, Kamiah |
| Date | 5/3/2022 |
| Genre | Dissertation |
| Degree | Doctor of Philosophy |
| Abstract | Many endurance athletes have reported experiencing poor sleep quality. Adequate sleep is critical for optimal performance and recovery. It is also needed to reduce the susceptibility for injury, illness, impaired mood, and enhanced pain perception in this population. One potential strategy to mitigate sleep issues is proper nutrition. More specifically, dietary intakes of certain foods, macronutrients, and micronutrients may improve sleep quality. However, much of the previous research has been performed in non-athletes. In this dissertation, we examined nutrient adequacy and the relationship between consumption of specific foods and nutrient intakes and sleep quality in endurance athletes. Adequate nutrition is a key factor for performance, recovery, and health and wellbeing among endurance athletes. A majority of the previous studies on nutrient adequacy among endurance athletes only examined a handful of nutrients. The goal of our first study was to examine if endurance athletes are meeting their needs for a comprehensive set of nutrients. We also assessed if there were any differences by gender. We found that many endurance athletes reported consuming less than the required amount for protein, carbohydrates, linoleic acid, ALA, EPA, DHA, vitamins D and E, pantothenic acid, biotin, manganese, chromium, zinc, molybdenum, choline, and potassium. Vitamin K, magnesium, dietary fiber, and total water were not met by more than 50% of males, and vitamin B12 and thiamine needs by more than 50% of females. Additionally, they also reported overconsuming total fat, saturated fat, dietary cholesterol, and sodium. There were very few differences in nutrient adequacy by gender. It is unclear how dietary intake affects sleep quality in endurance athletes. Therefore, in our second study we evaluated if sleep quality in endurance athletes is influenced by consumption of fruit, vegetables, whole grains, dairy milk, and caffeinated beverages. We found that higher whole grain intake was related to more morning chronotype which indicates a reduced risk for sleep issues. In addition, higher caffeinated beverage intake was associated with poorer sleep quality and increased risk for disordered breathing while sleeping. There were no relationships between dairy milk, fruit, and vegetable consumption and sleep quality. In our final study, we further advanced our line of inquiry on how diet affects sleep by examining the relationship between many macronutrient and micronutrient intakes and sleep quality among endurance athletes. The results revealed that increased intakes of omega-3 fatty acids such as ALA and EPA were associated with better sleep quality. However, no other nutrients predicted sleep quality. In conclusion, endurance athletes do not meet the needs for many nutrients and their dietary intake has some influence on sleep quality. Whole grain intake is related to better sleep quality whereas caffeinated beverage intake worsens it. Higher intakes of ALA and EPA also predict better sleep quality in this population. Endurance athletes should seek help from dieticians to achieve adequate nutrient intakes and to include more plant-based foods and omega-3 fats rich sources in their diet. Our results on how diet affects sleep quality in endurance athletes need to be confirmed by randomized controlled studies with objective measures of sleep. |
| Link | https://repository.tcu.edu/handle/116099117/52833 |
| Department | Kinesiology |
| Advisor | Shah, Meena |
Files in this item
Name:

MossKamiah_dissertation.pdf

Size:

1.029Mb

Format:

PDF
This item appears in the following Collection(s)
Related items
Showing a few items related by title, author, creator and subject.
Three experiments designed to investigate running as a form of major energy expenditure or energy regulation in relation to food intake are reported. The first and second experiments examined whether running wheel activity ...

Background: Cravings traditionally have been considered psychological or hormonal. Limited data exist regarding the physiological relationship between food cravings and nutrient intakes. Objective: The purpose was to ...

Moss K.; Zhang Y.; Kreutzer A.; Graybeal A.J.; Porter R.R.; Braun-Trocchio R.; Shah M.

(

2022

)

Many endurance athletes have poor sleep quality which may affect performance and health. It is unclear how dietary intake affects sleep quality among athletes. We examined if sleep quality in endurance athletes is associated ...