Black alumnae perspectives on identity and interactions: the intersectionality of race and gender in all-girls schoolsShow full item record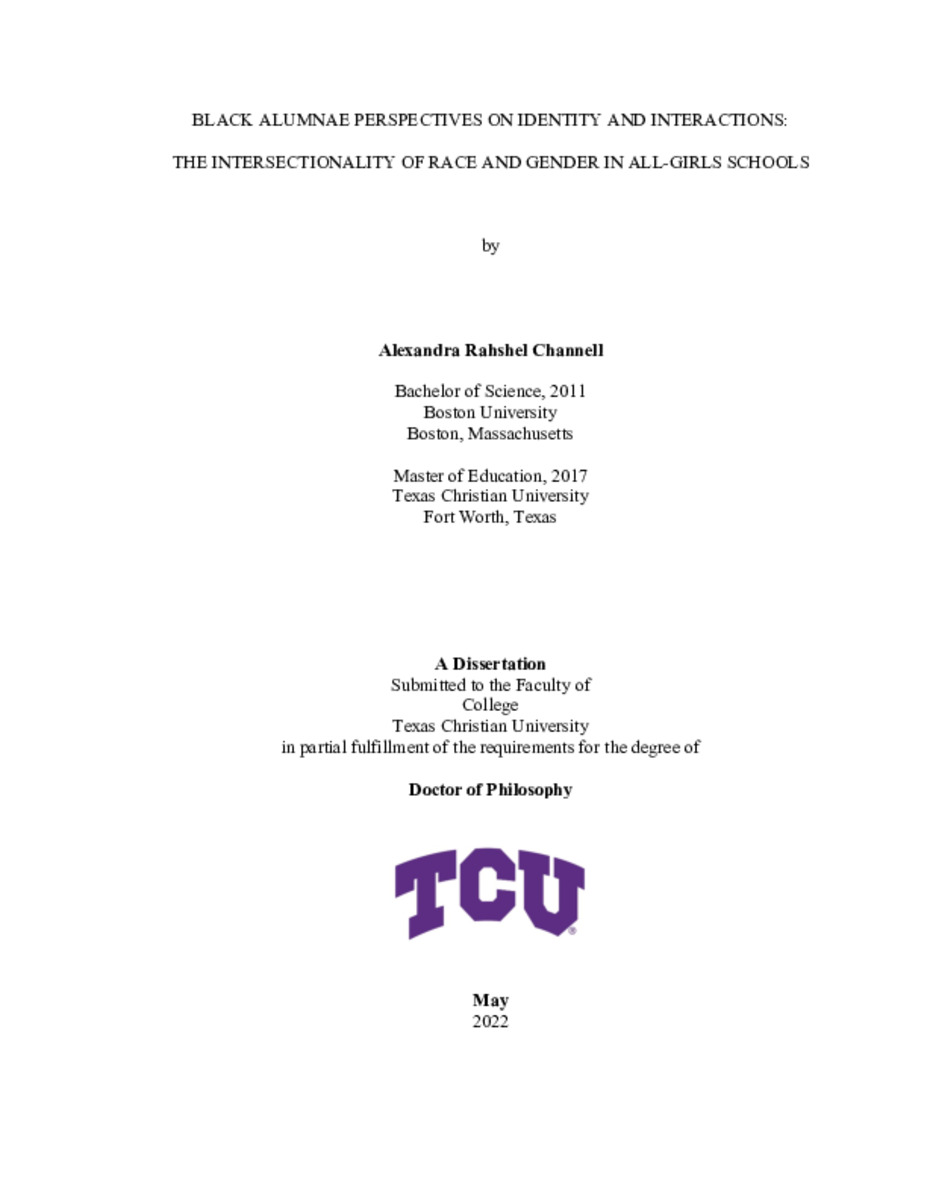 | | |
| --- | --- |
| Title | Black alumnae perspectives on identity and interactions: the intersectionality of race and gender in all-girls schools |
| Author | Channell, Alexandra |
| Date | 5/5/2022 |
| Genre | Dissertation |
| Degree | Doctor of Philosophy |
| Abstract | Using Intersectionality as a critical framework, this qualitative study analyzes the perspectives of Black alumnae who graduated from all-girls schools in order to better understand the influence of single-sex schooling on race and gender identity development. Further, this study explores the role of gendered education on cross-racial and cross-gendered interactions. Findings contribute to the literature surrounding the experiences of Black girls in schools and specifically address their unique experiences in all-girls settings. This study offers implications for practice and future research to further support the holistic development of Black students. |
| Link | https://repository.tcu.edu/handle/116099117/52846 |
| Department | Education |
| Advisor | Atwood, Erin D. |
Files in this item

Name:

ChannellAlexandra_disertation.pdf

Size:

817.0Kb

Format:

PDF
This item appears in the following Collection(s)
Related items
Showing a few items related by title, author, creator and subject.
This article delves into Michaela Coel's Chewing Gum, examining how the cultural text builds upon Black feminist media discourse, and intimately grapples with the nuances of Black women's sexuality while explicitly challenging ...

Jones, Avery Erratt

(

2012

)

My thesis shows how J. M. Barrie's Peter and Wendy uses nineteenth-century gender norms discussed in children's periodicals but undercuts these norms through the interjections of his conflicted narrator. My first chapter ...

Separating the Women from the Girls: Girls and Girlhood in Nineteenth-Century Woman's Fiction, revises the notions presented in scholarship on popular nineteenth-century woman's fiction (studied primarily for what it reveals ...