A Beautiful Failure: The Tragic—And Luminous—Life of Jim Harvey (An Experiment in Narrative Theology)Show full item record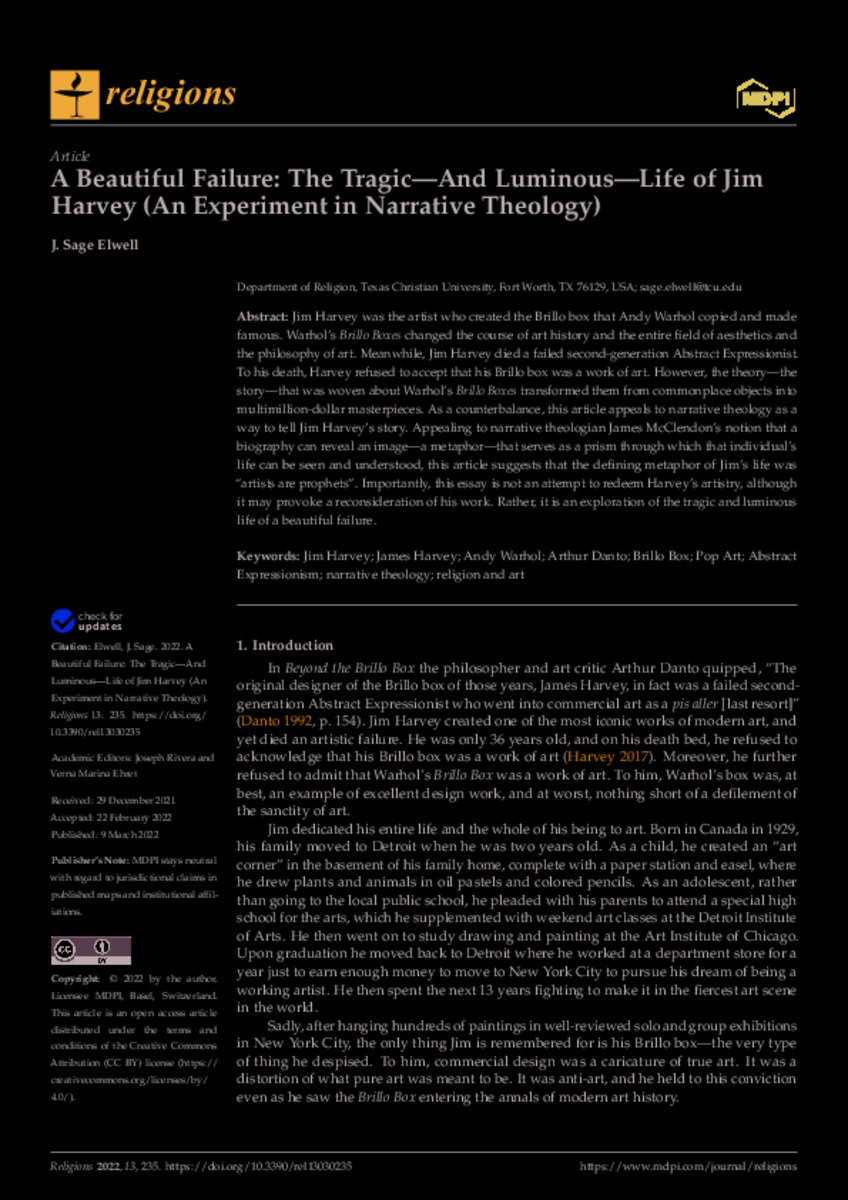 Title
A Beautiful Failure: The Tragic—And Luminous—Life of Jim Harvey (An Experiment in Narrative Theology)
Author
Elwell J.S.
Date
2022
Abstract
Jim Harvey was the artist who created the Brillo box that Andy Warhol copied and made famous. Warhol's Brillo Boxes changed the course of art history and the entire field of aesthetics and the philosophy of art. Meanwhile, Jim Harvey died a failed second-generation Abstract Expressionist. To his death, Harvey refused to accept that his Brillo box was a work of art. However, the theory—the story—that was woven about Warhol's Brillo Boxes transformed them from commonplace objects into multimillion-dollar masterpieces. As a counterbalance, this article appeals to narrative theology as a way to tell Jim Harvey's story. Appealing to narrative theologian James McClendon's notion that a biography can reveal an image—a metaphor—that serves as a prism through which that individual's life can be seen and understood, this article suggests that the defining metaphor of Jim's life was "artists are prophets". Importantly, this essay is not an attempt to redeem Harvey's artistry, although it may provoke a reconsideration of his work. Rather, it is an exploration of the tragic and luminous life of a beautiful failure. © 2022 by the author. Licensee MDPI, Basel, Switzerland.
Link
https://doi.org/10.3390/rel13030235
https://repository.tcu.edu/handle/116099117/55747
Department
Religion
Subject
Abstract Expressionism

---

Andy Warhol

---

Arthur Danto

---

Brillo Box

---

James Harvey

---

Jim Harvey

---

Narrative theology

---

Pop Art

---

Religion and art
This item appears in the following Collection(s)
Related items
Showing a few items related by title, author, creator and subject.
Harrell, Ernest Harvey

(

1972

)

The purpose of the present investigation was to determine the relationship between food intake, serum glucose, lipolysis attributable to epinephrine, and carcass composition in rats with ventromedial hypothalamic (VMH) ...

From 1965 to 1996, Texas farmers, as well as farmers across the United States, experienced a range of problems that would eventually place them in a severe economic situation. No one in agriculture expects to escape the ...