Broader and safer clinically-relevant activities of pentadecanoic acid compared to omega-3: Evaluation of an emerging essential fatty acid across twelve primary human cell-based disease systemsShow full item record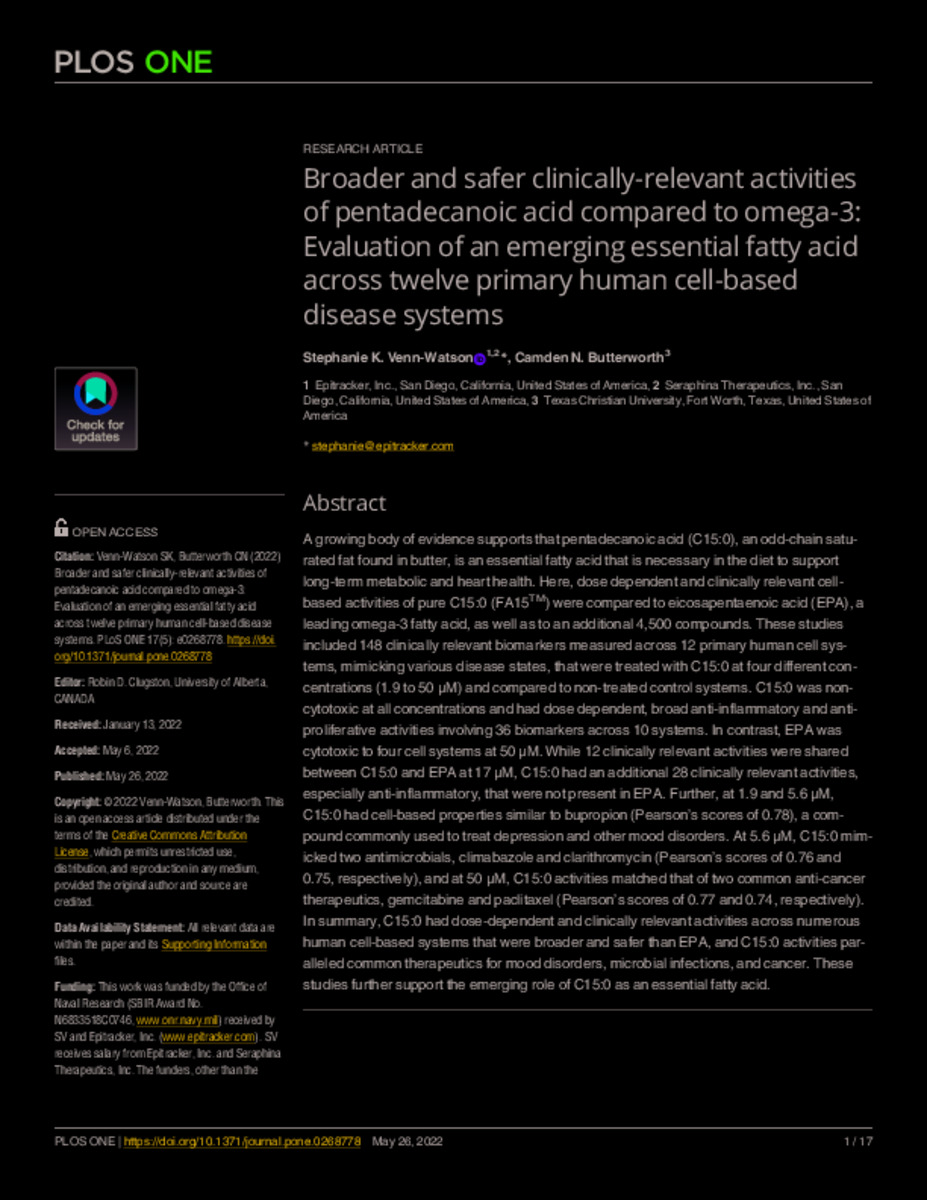 Title
Broader and safer clinically-relevant activities of pentadecanoic acid compared to omega-3: Evaluation of an emerging essential fatty acid across twelve primary human cell-based disease systems
Author
Venn-Watson S.K.; Butterworth C.N.
Date
2022
Abstract
A growing body of evidence supports that pentadecanoic acid (C15:0), an odd-chain saturated fat found in butter, is an essential fatty acid that is necessary in the diet to support long-term metabolic and heart health. Here, dose dependent and clinically relevant cell-based activities of pure C15:0 (FA15TM) were compared to eicosapentaenoic acid (EPA), a leading omega-3 fatty acid, as well as to an additional 4,500 compounds. These studies included 148 clinically relevant biomarkers measured across 12 primary human cell systems, mimicking various disease states, that were treated with C15:0 at four different concentrations (1.9 to 50 ?M) and compared to non-treated control systems. C15:0 was non-cytotoxic at all concentrations and had dose dependent, broad anti-inflammatory and antiproliferative activities involving 36 biomarkers across 10 systems. In contrast, EPA was cytotoxic to four cell systems at 50 ?M. While 12 clinically relevant activities were shared between C15:0 and EPA at 17 ?M, C15:0 had an additional 28 clinically relevant activities, especially anti-inflammatory, that were not present in EPA. Further, at 1.9 and 5.6 ?M, C15:0 had cell-based properties similar to bupropion (Pearson's scores of 0.78), a compound commonly used to treat depression and other mood disorders. At 5.6 ?M, C15:0 mimicked two antimicrobials, climabazole and clarithromycin (Pearson's scores of 0.76 and 0.75, respectively), and at 50 ?M, C15:0 activities matched that of two common anti-cancer therapeutics, gemcitabine and paclitaxel (Pearson's scores of 0.77 and 0.74, respectively). In summary, C15:0 had dose-dependent and clinically relevant activities across numerous human cell-based systems that were broader and safer than EPA, and C15:0 activities paralleled common therapeutics for mood disorders, microbial infections, and cancer. These studies further support the emerging role of C15:0 as an essential fatty acid. Copyright: © 2022 Venn-Watson, Butterworth. This is an open access article distributed under the terms of the Creative Commons Attribution License, which permits unrestricted use, distribution, and reproduction in any medium, provided the original author and source are credited.
Link
https://doi.org/10.1371/journal.pone.0268778
https://repository.tcu.edu/handle/116099117/55782
Department
Environmental Sciences
Subject
amfebutamone

---

antiinfective agent

---

clarithromycin

---

climabazole

---

gemcitabine

---

omega 3 fatty acid

---

paclitaxel

---

pentadecanoic acid

---

unclassified drug

---

antiinflammatory agent

---

biological marker

---

docosahexaenoic acid

---

essential fatty acid

---

fatty acid

---

icosapentaenoic acid

---

omega 3 fatty acid

---

pentadecanoic acid

---

antiinflammatory activity

---

antiproliferative activity

---

Article

---

bacterial infection

---

cancer chemotherapy

---

cell activity

---

comparative study

---

concentration (parameter)

---

controlled study

---

cytotoxicity

---

depression

---

disease course

---

dose response

---

drug efficacy

---

drug safety

---

human

---

human cell

---

malignant neoplasm

---

mood disorder

---

metabolism

---

Anti-Inflammatory Agents

---

Biomarkers

---

Docosahexaenoic Acids

---

Eicosapentaenoic Acid

---

Fatty Acids

---

Fatty Acids, Essential

---

Fatty Acids, Omega-3

---

Humans
This item appears in the following Collection(s)
Related items
Showing a few items related by title, author, creator and subject.
Alzheimer's Disease (AD) is a progressive, degenerative disorder, which affects millions of people in the United States. Although it is currently unclear what exactly causes Alzheimer's disease, a link between AD and ...

Richardson, Mollie

(

2015

)

Background: Although results are mixed, some research has suggested that a diet high in omega-3 fatty acids may help reduce the incidence of depression in certain individuals. This study surveyed college students between ...

Heileson, Jeffery L.; Anzalone, Anthony J.; Carbuhn, Aaron F.; Askow, Andrew T.; Stone, Jason D.; Turner, Stephanie M.; Hillyer, Lyn M.; Ma, David W. L.; Luedke, Joel A.; Jagim, Andrew R.; Oliver, Jonathan M.

(

2021

)

Background American-style football (ASF) athletes are at risk for cardiovascular disease (CVD) and exhibit elevated levels of serum neurofilament light (Nf-L), a biomarker of axonal injury that is associated with repetitive ...