Integrated Diagenesis Study of Tight Gas Sandstone: The Permian Lower Shihezi Formation, Northern Ordos Basin, ChinaShow full item record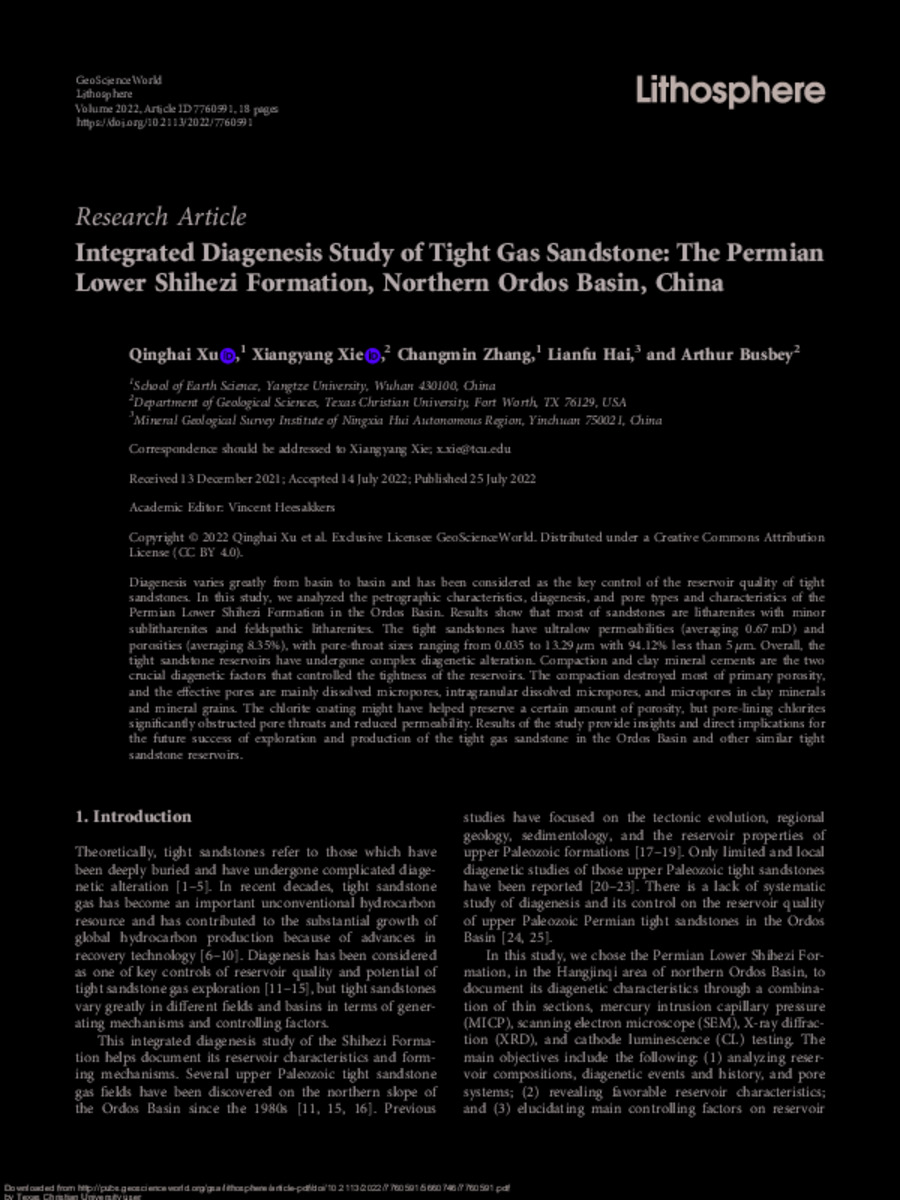 Title
Integrated Diagenesis Study of Tight Gas Sandstone: The Permian Lower Shihezi Formation, Northern Ordos Basin, China
Author
Xu Q.; Xie X.; Zhang C.; Hai L.; Busbey A.
Date
2022
Abstract
Diagenesis varies greatly from basin to basin and has been considered as the key control of the reservoir quality of tight sandstones. In this study, we analyzed the petrographic characteristics, diagenesis, and pore types and characteristics of the Permian Lower Shihezi Formation in the Ordos Basin. Results show that most of sandstones are litharenites with minor sublitharenites and feldspathic litharenites. The tight sandstones have ultralow permeabilities (averaging 0.67 mD) and porosities (averaging 8.35%), with pore-throat sizes ranging from 0.035 to 13.29 ?m with 94.12% less than 5 ?m. Overall, the tight sandstone reservoirs have undergone complex diagenetic alteration. Compaction and clay mineral cements are the two crucial diagenetic factors that controlled the tightness of the reservoirs. The compaction destroyed most of primary porosity, and the effective pores are mainly dissolved micropores, intragranular dissolved micropores, and micropores in clay minerals and mineral grains. The chlorite coating might have helped preserve a certain amount of porosity, but pore-lining chlorites significantly obstructed pore throats and reduced permeability. Results of the study provide insights and direct implications for the future success of exploration and production of the tight gas sandstone in the Ordos Basin and other similar tight sandstone reservoirs © 2022. Qinghai Xu et al. Exclusive Licensee GeoScienceWorld. Distributed under a Creative Commons Attribution License (CC BY 4.0)
Link
https://doi.org/10.2113/2022/7760591
https://repository.tcu.edu/handle/116099117/55784
Department
Geological Sciences
Subject
Clay minerals

---

Compaction

---

Metamorphic rocks

---

Microporosity

---

Petroleum prospecting

---

Quality control

---

Sandstone

---

Sedimentology

---

Tight gas

---

Key control

---

Micropores

---

Northern Ordos Basin

---

Permian

---

Petrographic characteristics

---

Reservoir quality

---

Tight gas sandstones

---

Tight sandstone reservoirs

---

Tight sandstones

---

Chlorine compounds

---

chlorite

---

clay mineral

---

coating

---

diagenesis

---

hydrocarbon reservoir

---

mineral

---

mineral exploration

---

Permian

---

sandstone

---

China

---

Ordos Basin

---

Shihezi

---

Xinjiang Uygur
This item appears in the following Collection(s)
Related items
Showing a few items related by title, author, creator and subject.
The Palo Duro Basin is a northwest-southeast trending cratonic basin in the Texas Panhandle that formed from uplift of the Amarillo/Wichita Mountains during the Pennsylvanian, and subsequent subsidence during the Permian. ...

Garber, Nicole Susanne

(

2010

)

OConnor, Patrick Michael

(

2015

)

The Black Warrior Basin is one of several Carboniferous foreland basins along the Ouachita belt in the southern midcontinent region. Mapping the distribution of siliciclastic rocks and building a depositional model in the ...