Transition to Renewable Energy for Communities: Energy Storage Requirements and DissipationShow full item record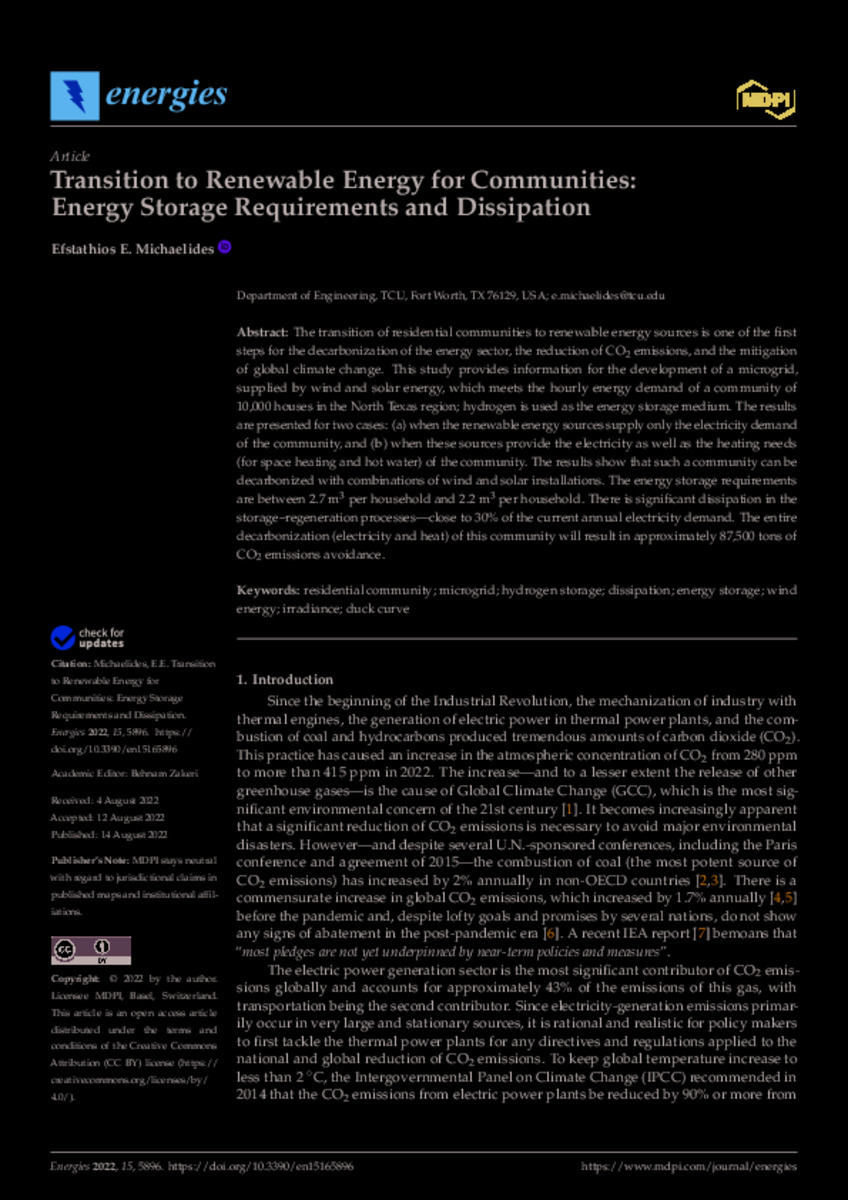 Title
Transition to Renewable Energy for Communities: Energy Storage Requirements and Dissipation
Author
Michaelides E.E.
Abstract
The transition of residential communities to renewable energy sources is one of the first steps for the decarbonization of the energy sector, the reduction of CO2 emissions, and the mitigation of global climate change. This study provides information for the development of a microgrid, supplied by wind and solar energy, which meets the hourly energy demand of a community of 10,000 houses in the North Texas region; hydrogen is used as the energy storage medium. The results are presented for two cases: (a) when the renewable energy sources supply only the electricity demand of the community, and (b) when these sources provide the electricity as well as the heating needs (for space heating and hot water) of the community. The results show that such a community can be decarbonized with combinations of wind and solar installations. The energy storage requirements are between 2.7 m3 per household and 2.2 m3 per household. There is significant dissipation in the storage–regeneration processes—close to 30% of the current annual electricity demand. The entire decarbonization (electricity and heat) of this community will result in approximately 87,500 tons of CO2 emissions avoidance. © 2022 by the author.
Link
https://doi.org/10.3390/en15165896
https://repository.tcu.edu/handle/116099117/55818
Department
Engineering
Additional Date(s)
2022
Subject
dissipation

---

duck curve

---

energy storage

---

hydrogen storage

---

irradiance

---

microgrid

---

residential community

---

wind energy
This item appears in the following Collection(s)
Related items
Showing a few items related by title, author, creator and subject.
Michaelides, Efstathios E.

(

2021

)

The utilization of air conditioning in public and private buildings is continuously increasing globally and is one of the major factors fueling the growth of the global electricity demand. The higher utilization of renewable ...

Michaelides, Efstathios E.

(

2021

)

The path to the mitigation of global climate change and global carbon dioxide emissions avoidance leads to the large-scale substitution of fossil fuels for the generation of electricity with renewable energy sources. The ...

The following paper is based off the research published by Brady Bokelman, Efstathios Michaelides, and Dimitrios Michaelides in the Energies Journal titled A Geothermal-Solar Hybrid Power Plant with Thermal Storage. The ...