Pre-Service Teachers Nature of Science Views After Engaging with COVID-19 as a Socioscientific IssueShow full item record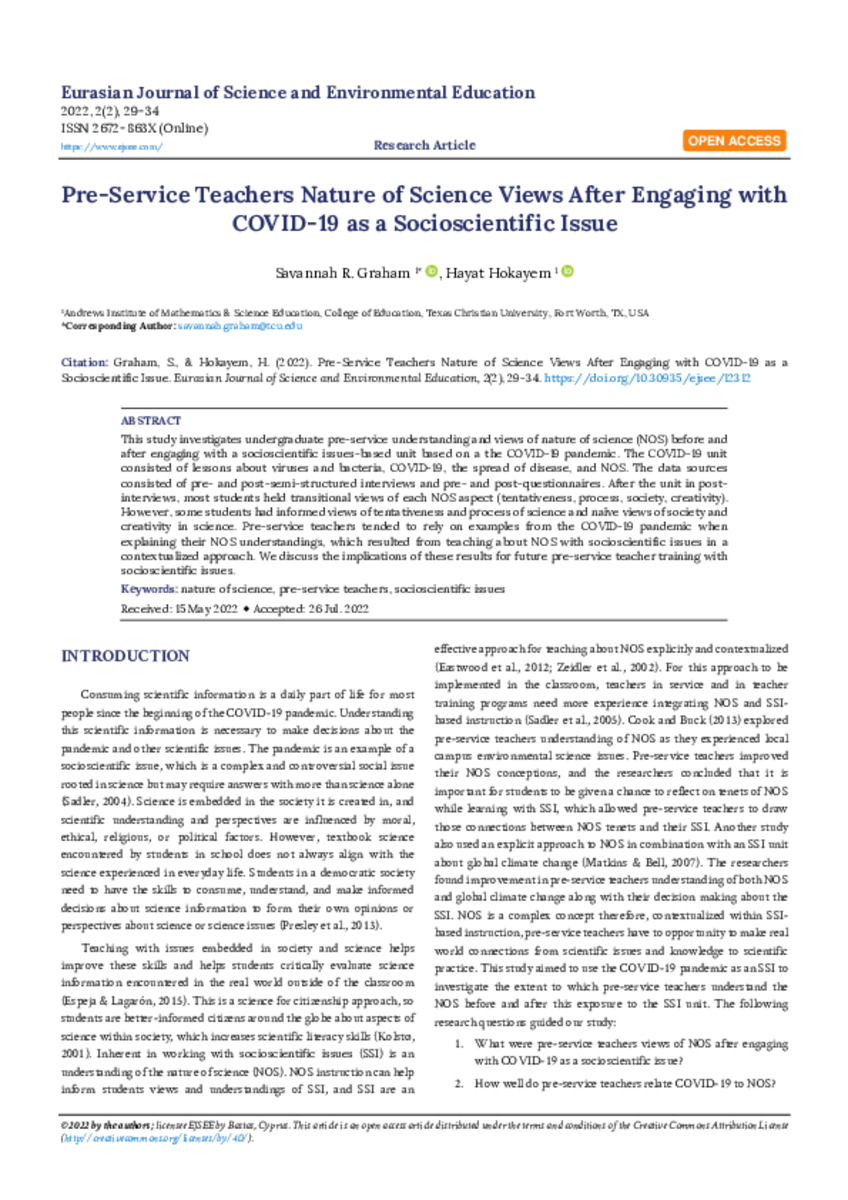 Title
Pre-Service Teachers Nature of Science Views After Engaging with COVID-19 as a Socioscientific Issue
Author
Graham, Savannah R.; Hokayem, Hayat
Date
2022
Abstract
This study investigates undergraduate pre-service understanding and views of nature of science (NOS) before and after engaging with a socioscientific issues-based unit based on a the COVID-19 pandemic. The COVID-19 unit consisted of lessons about viruses and bacteria, COVID-19, the spread of disease, and NOS. The data sources consisted of pre- and post-semi-structured interviews and pre- and post-questionnaires. After the unit in post-interviews, most students held transitional views of each NOS aspect (tentativeness, process, society, creativity). However, some students had informed views of tentativeness and process of science and naïve views of society and creativity in science. Pre-service teachers tended to rely on examples from the COVID-19 pandemic when explaining their NOS understandings, which resulted from teaching about NOS with socioscientific issues in a contextualized approach. We discuss the implications of these results for future pre-service teacher training with socioscientific issues.
Link
https://doi.org/10.30935/ejsee/12312
https://repository.tcu.edu/handle/116099117/56547
Department
Education
Subject
Creativity

---

Coronavirus disease 2019 (COVID-19)

---

Nature of Science

---

Pandemic

---

Unit (ring theory)

---

Service (business)

---

Pedagogy

---

Sociology

---

Science education

---

Mathematics education

---

Psychology

---

Medicine

---

Social psychology

---

Infectious disease (medical specialty)

---

Economy

---

Disease

---

Pathology

---

Economics
This item appears in the following Collection(s)
Related items
Showing a few items related by title, author, creator and subject.
Karr, Jonathan; Malik-Sheriff, Rahuman S.; Osborne, James; Gonzalez-Parra, Gilberto; Forgoston, Eric; Bowness, Ruth; Liu, Yaling; Thompson, Robin; Garira, Winston; Barhak, Jacob; Rice, John; Torres, Marcella; Dobrovolny, Hana M.; Tang,Tingting; Waites, William; Glazier, James A.; Faeder, James R.; Kulesza, Alexander

(

2022

)

During the COVID-19 pandemic, mathematical modeling of disease transmission has become a cornerstone of key state decisions. To advance the state-of-the-art host viral modeling to handle future pandemics, many scientists ...

Introduction: People with Parkinson's disease (PWPD) experience voice difficulties in the form of hypophonia. The dissertation aimed to describe the psychosocial consequences of this disorder in PWPD. More specifically, ...

Alzheimer's disease (AD), a neurodegenerative disorder with no known cure or treatment, is the most prevalent form of age-related dementia. As both the rate and total number of those diagnosed continues to increase, AD has ...