What is the relationship between outdoor play breaks and no play breaks on postural balance?: A systematic reviewShow full item record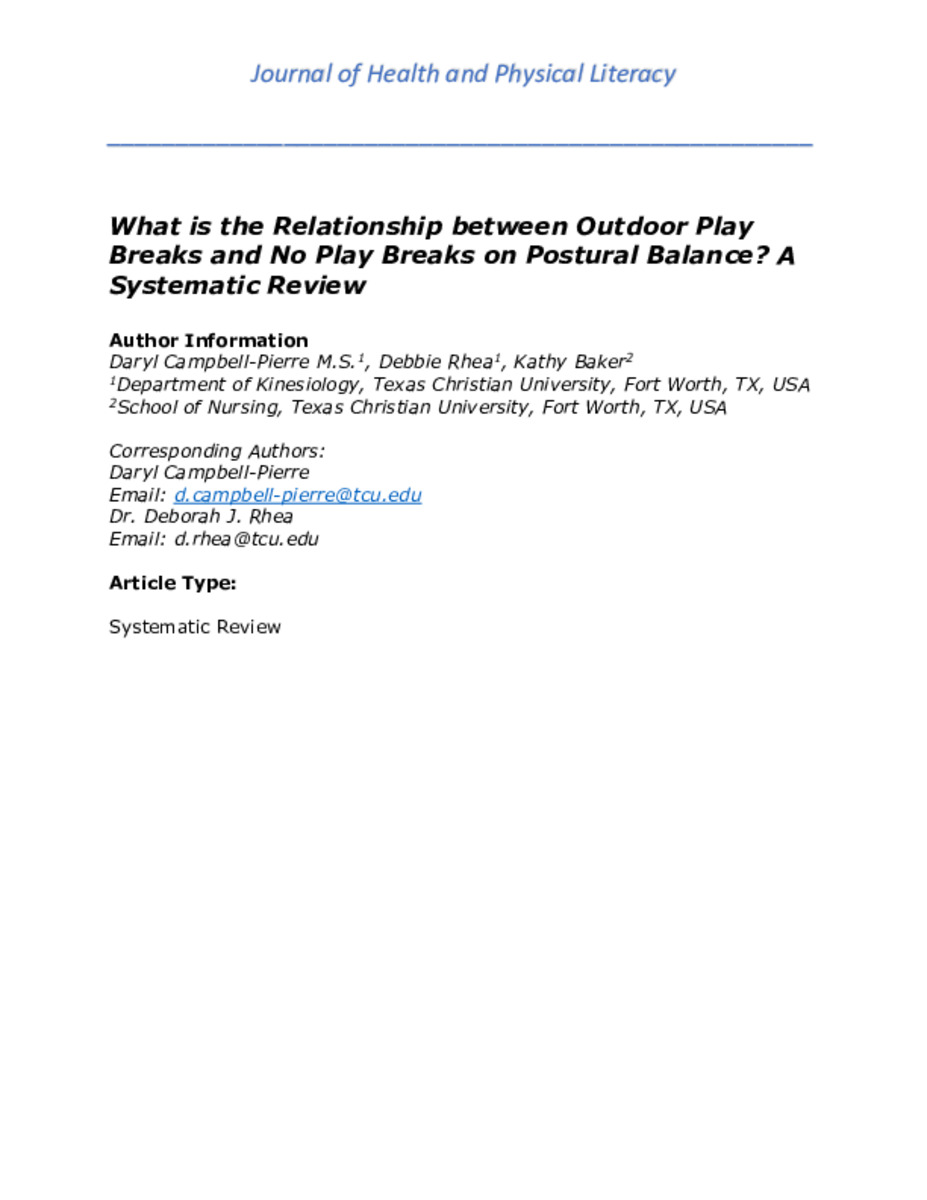 Title
What is the relationship between outdoor play breaks and no play breaks on postural balance?: A systematic review
Author
Campbell-Pierre, Daryl; Rhea, Debbie; Baker, Kathy
Date
2022
Abstract
Background: The growing trend of sedentary behaviors in children has been linked to less play and physical activity opportunities. The rising concern of children moving less daily is the development of postural balance deficiencies. These deficiencies have been shown to decrease motor competence and increase non-fatal falls and injuries at earlier ages. Therefore, a better understanding of play interventions and their impact on a child's postural balance may improve motor competence and decline non-fatal falls. Methods: Three Electronic databases (PubMed, CINHAL & Google Scholar) and trial registers were searched for published and unpublished studies. All articles from the database inception to the present, published in English, were included. Findings: Out of 286 articles identified, two studies met the inclusion criteria. Both articles were cross-sectional studies that evaluated outdoor play breaks versus no play breaks and postural balance among 3–14-year-old children. The outdoor play exposure intervention was described in both studies as outdoor recess, but two different motor coordination measurement tools were used to assess postural balance. Conclusion: Despite the limited evidence, the findings suggested that outdoor physical activity positively impacts postural balance and functional motor skills (FMS).
Link
https://johpl.org/index.php/johpl/article/view/10
https://repository.tcu.edu/handle/116099117/57386
Department
Kinesiology
Nursing
Subject
systematic review

---

play

---

children

---

play breaks

---

motor competence
This item appears in the following Collection(s)
Related items
Showing a few items related by title, author, creator and subject.
Neideffer, Jerry Dean

(

1981

)

The question of what makes games likely to be played was addressed through exploratory multivariate analyses. Undergraduate students played and evaluated ten games on a Likert questionnaire. Five objectives were set forth ...

Weiss, Jonathan Glover,Jr.,author.

(

2017

)

Repeatable, unconventional Barnett Shale completions have been constrained to the gas-rich, eastern portion of the play in Fort Worth Basin due to the presence of fracture barriers protecting the play from unwanted water ...

Williams, Ashlynn Nicole

(

2022

)

The purpose of this exploratory study was to investigate the effectiveness of a multiple recess school intervention on fitness in school-aged children. Students grades 3-5 participating in the LiiNK Project and receiving ...