Currere: a multicultural & social awareness, responsiveness, & advocacy lesson for counselor educationShow full item record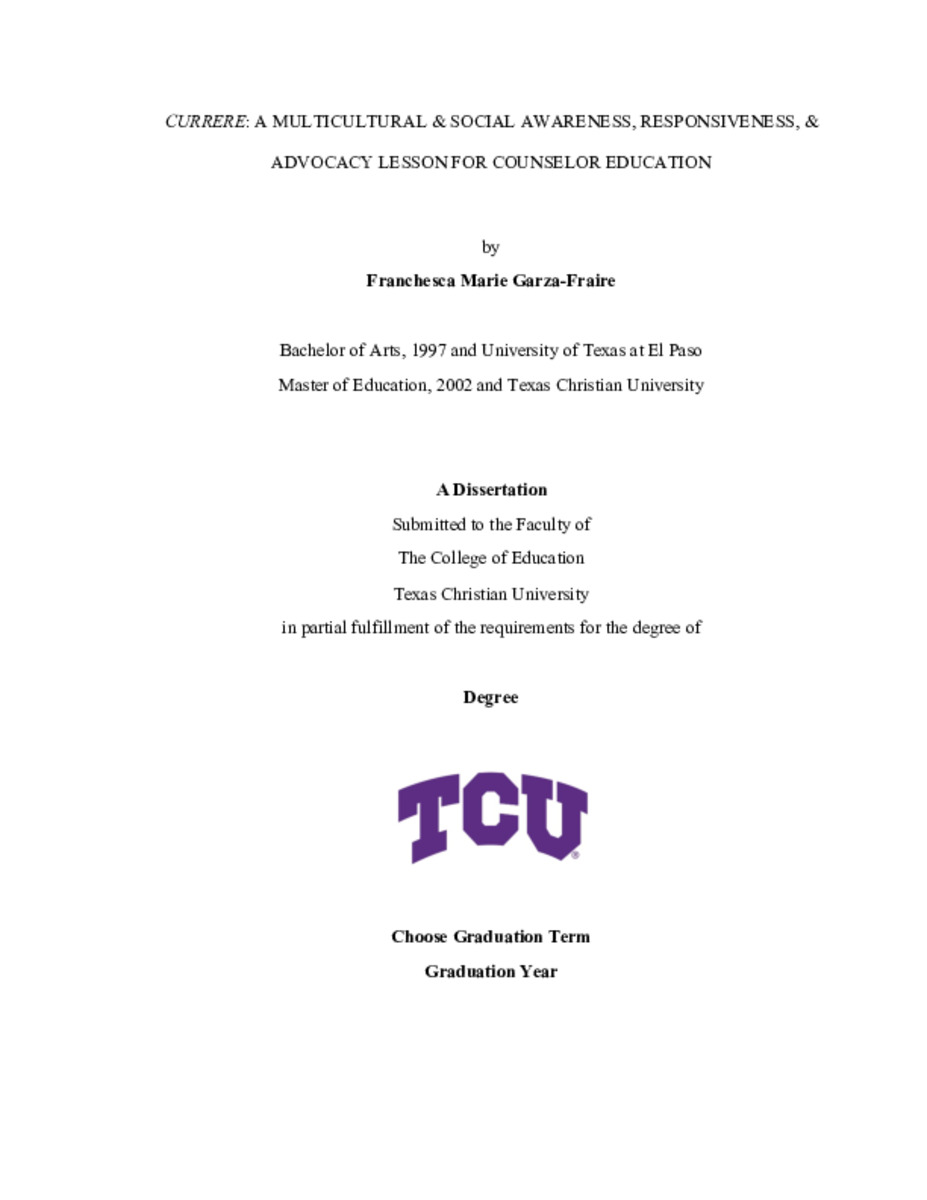 | | |
| --- | --- |
| Title | Currere: a multicultural & social awareness, responsiveness, & advocacy lesson for counselor education |
| Author | Garza-Fraire, Franchesca Marie |
| Date | 2022-11-11 |
| Genre | Dissertation |
| Abstract | Counselor educators are charged with helping students develop skills in multicultural and social awareness, responsiveness, and advocacy (MSARA), but research surrounding the best pedagogical approach for this instruction is lacking. Currre is a reflective tool that, when used as instruction, can help students improve their multicultural awareness, enter complicated conversations about race, and begin to understand positionality in the curriculum in relation to identity and the socio-cultural realities that exist. The currere model also makes formative assessment of students available to instructors, and self-assessments to students by way of observing the developmental stages of knowing in currere artifacts and discussions. Assessment skills for counselors through this reflective practice offer ongoing growth in personal awareness, and professional competency as social and cultural factors influence the therapeutic relationship. |
| Link | https://repository.tcu.edu/handle/116099117/58160 |
| Department | Counseling and Human Services |
| Advisor | Stark, Marcella |
Files in this item
Name:

FraireGarza__Dissertation.pdf

Size:

1.271Mb

Format:

PDF
This item appears in the following Collection(s)
Related items
Showing a few items related by title, author, creator and subject.
Rowley, Jennifer Holder

(

2006

)

The goal of this D.Min. project is to nurture the ability of patient caregivers at Baylor University Medical Center (BUMC) in Dallas to provide emotional and spiritual care to patients, families and co-workers. A ...

Bolin, William Jay

(

1993

)

This study explores the problems of and some possible solutions for the rather exclusive nature of education, especially at the secondary and university levels. The exclusivity of education is particularly evident in writing ...

Said, Shafiq Munther

(

2020

)

This thesis explores Arab-American authorship and the specific literary and authorial strategies that these writers use to navigate and narrativize issues of transnationalism, cultural hybridization, and identities in ...