Following the trace: exploring teachers' study of the currere writing process, teachers' views of students, and teacher collective memory of the data meeting processShow full item record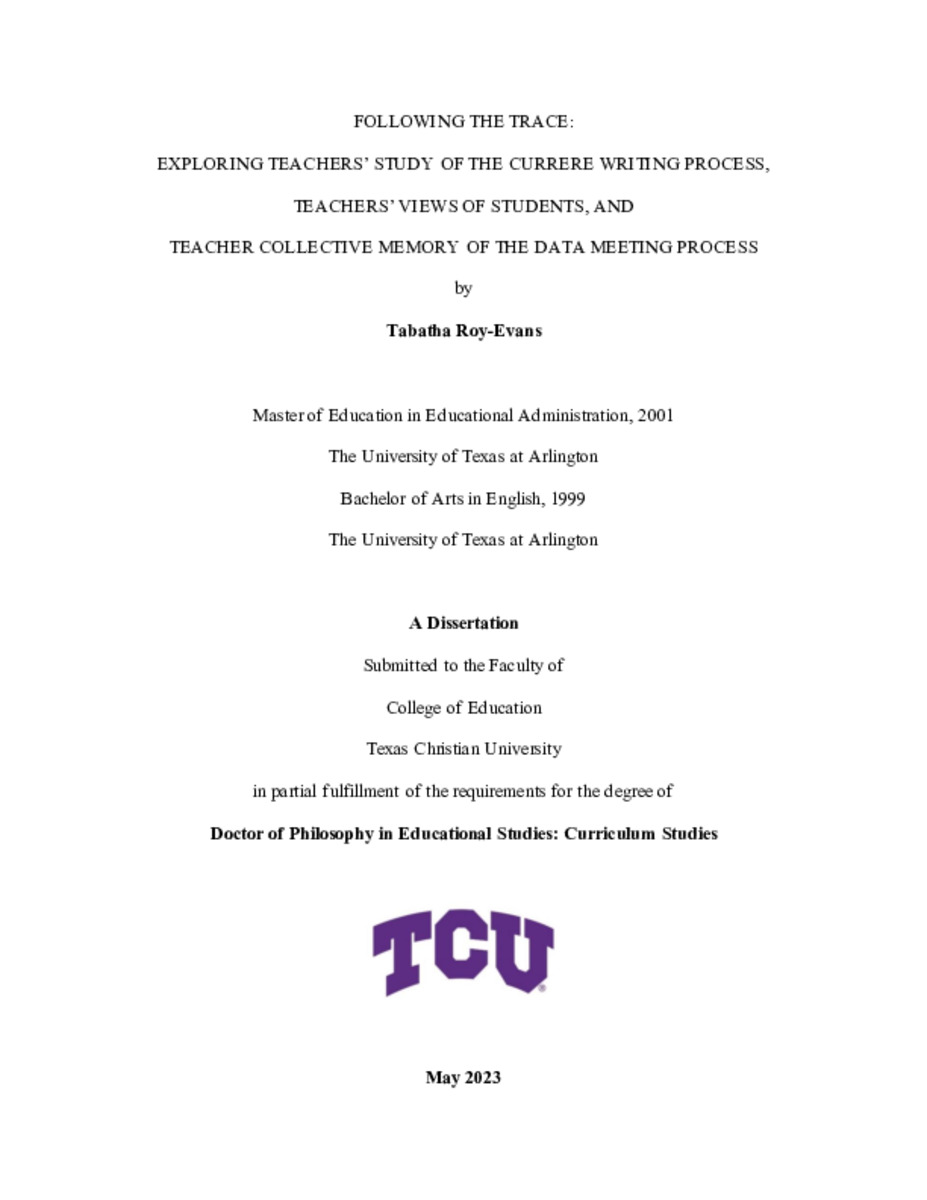 | | |
| --- | --- |
| Title | Following the trace: exploring teachers' study of the currere writing process, teachers' views of students, and teacher collective memory of the data meeting process |
| Author | Roy-Evans, Tabatha |
| Date | 2023-05-04 |
| Genre | Dissertation |
| Abstract | The purpose of this qualitative research study is to examine the effect of teachers' study of the Currere Writing Process on teachers' views of students and teachers' collective memory of the data meeting process. The conceptual framework of this research study is grounded in Jacques Derrida's Theory of Deconstruction and his theory of the trace. This dissertation addresses the two following research questions: (1) will the study of the Currere Writing Process allow teachers to view students in a way contrary to audit culture? and (2) what will teachers' study of the Currere Writing Process open up and produce? In order to answer these questions, this study uses a deconstructive analysis of the traces of audit culture in the current state-level accountability system. Through meticulous readings of teacher responses to Jessica Sierk's (2014) article "Currere and the Beauty of Soulful Classroom Moments" during the Currere Writing Study, a rich, new dialogue is discovered that contrasts the views of standardization, allowing teachers to see students as more than just numbers. Keywords: education, teacher, audit culture, currere, deconstruction |
| Link | https://repository.tcu.edu/handle/116099117/58264 |
| Department | Education |
| Advisor | Huddleston, Gabriel |
This item appears in the following Collection(s)
Related items
Showing a few items related by title, author, creator and subject.
Gravelle, Elizabeth de

(

2015

)

Over the last several decades, teachers have been the subjects of countless American commercial films. Infecting popular culture as box office hits, these teacher-centric movies have a huge influence on public perception ...