Taxonomic re-evaluation of the tropical blueberries (Vaccinium l., ericaceae) of Palawan and Mindanao islands, PhilippinesShow full item record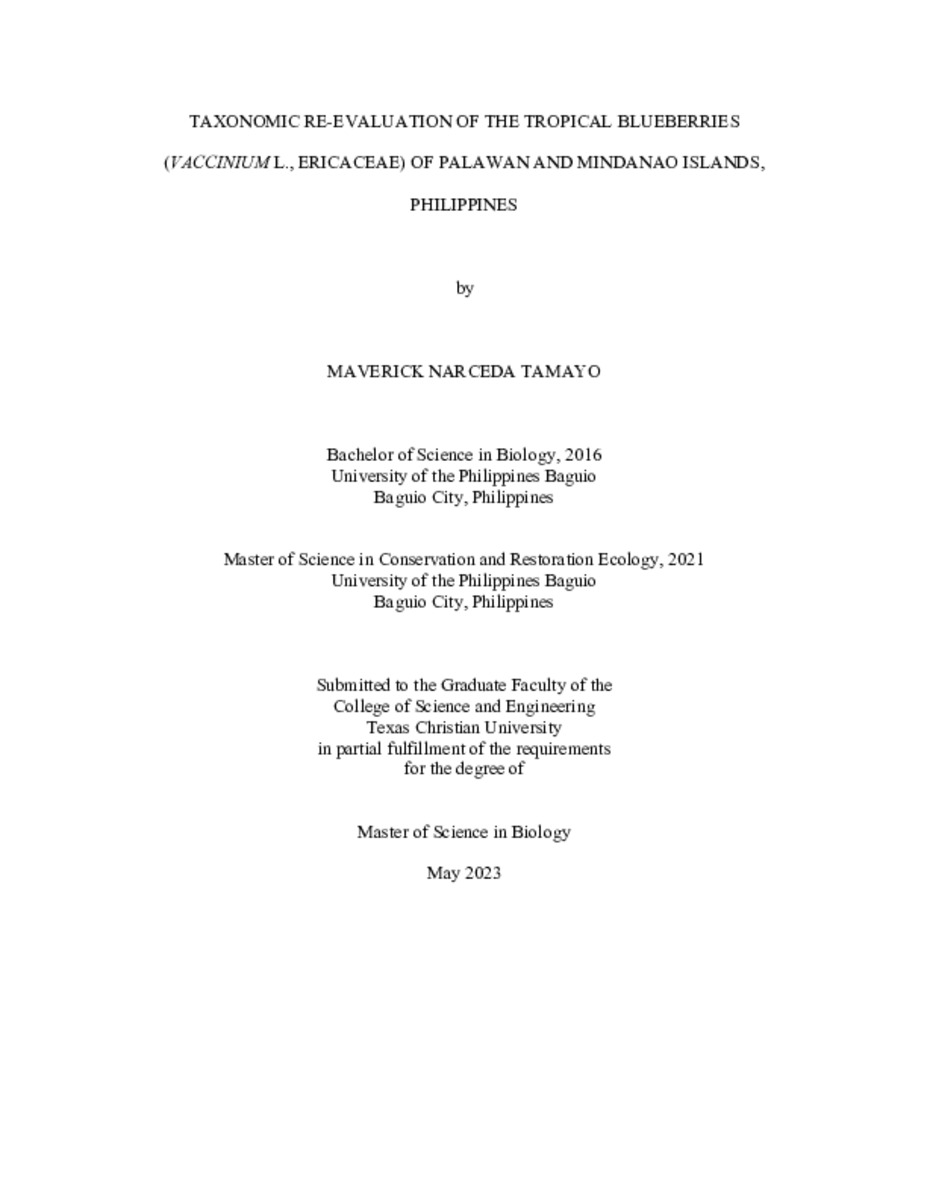 Title
Taxonomic re-evaluation of the tropical blueberries (Vaccinium l., ericaceae) of Palawan and Mindanao islands, Philippines
Author
Tamayo, Maverick Narceda
Date
2023-05-04
Genre
Thesis
Abstract
Biodiversity, which is important to the health of ecosystems, is currently being lost to extinction at an alarming rate. Thus, cataloguing and documenting the biodiversity of the world has never been more critical. In this study, the diversity and taxonomy of the tropical blueberries (Vaccinium L., Ericaceae) of Palawan and Mindanao Islands, Philippines were revisited. A total of 27 species (24 from Mindanao and four from Palawan) were documented and recorded. Six novel species, four new island records, and clarification of three ambiguous species complexes were included. Two of the six novel species (V. jubatum and V. vomicum) were discovered among historical herbarium collections, while the rest (V. carmesinum, V. coarctatum, V. fallax, and V. gamay) were discovered during botanical excursions. Two previously island endemic blueberries, V. cebuense and V. banksii, were documented to have an extended distribution in Mindanao. V. irigaense previously known from Luzon, Biliran, Catanduanes, and Negros Islands is also here recorded for the first time in Mindanao. Likewise, V. pseudocaudatum is here reported as new record for the flora of Palawan. Further, the V. barandanum, V. caudatum, and V. halconense species complexes were taxonomically explained. The nomenclatural status of eight species was stabilized through assigning type specimens following specifications of the International Code of Nomenclature for algae, fungi, and plants (Shenzhen Code). We concluded that Mindanao Island is the center of Philippine Vaccinium diversity. This study underscores the crucial role of herbaria, field excursions, and field collections in understanding the floristic diversity of the world. This study also serves as a basis for taxonomical studies of the other blueberries in the Philippine Islands and Southeast Asia.
Link
https://repository.tcu.edu/handle/116099117/58288
Department
Biology
Advisor
Horner, John

---

Fritsch, Peter W.
Files in this item
Name:

TamayoMaverick_thesis_2023.pdf

Size:

18.54Mb

Format:

PDF
This item appears in the following Collection(s)