The association between motor skills and adaptive behavior skills in individuals with Down syndromeShow full item record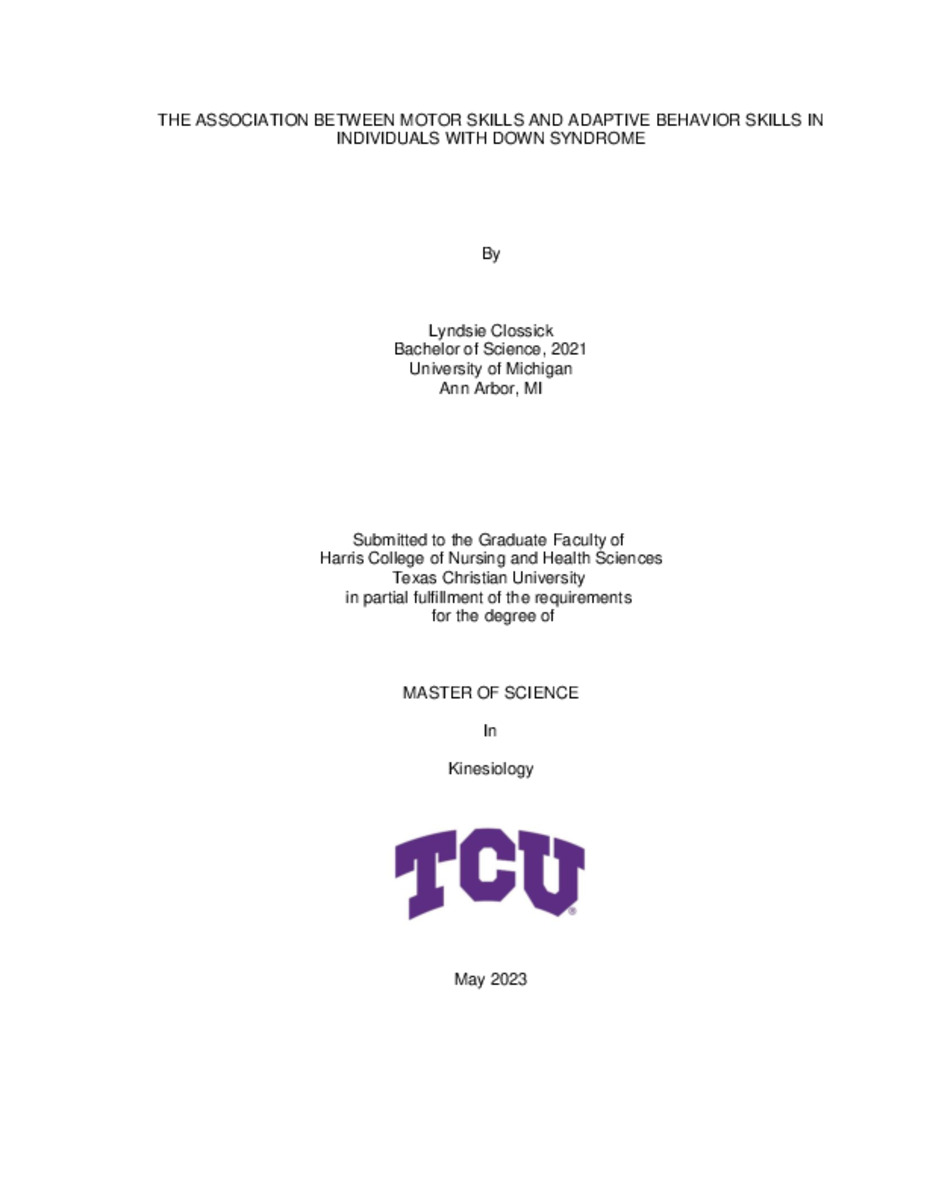 | | |
| --- | --- |
| Title | The association between motor skills and adaptive behavior skills in individuals with Down syndrome |
| Author | Clossick, Lyndsie R |
| Date | 2023-05-08 |
| Genre | Thesis |
| Abstract | Children with Down syndrome (DS) exhibit delayed motor development (Winders et al., 2019). Furthermore, individuals with DS show deficits in adaptive skills necessary to live an independent and high-quality life (Balboni et al., 2020). Researchers consider motor development and behavioral development separate; however, the acquisition of these skills are fundamentally associated (Adolf and Hoch, 2019). There is insufficient research examining how motor skill function affects adaptive skills in individuals with DS. The primary purpose of this study was to examine the associations between motor and adaptive skills in individuals with DS. Twenty-two participants with DS (ages 8 – 32) completed the Bruininks-Oseretsky Test of Motor Proficiency Short Form and The Vineland Adaptative Behavior Scales. Results showed no significant differences between the three adaptive domains: communication, daily living, and social skills (p=.275). There was a positive, moderate, and significant relationship between motor function and overall adaptive behavior composite (r=0.50). Results support that motor development may be a key constraint in the development of communication, daily livings, and social skills. |
| Link | https://repository.tcu.edu/handle/116099117/58329 |
| Department | Kinesiology |
| Advisor | Esposito, Philip |
This item appears in the following Collection(s)
Related items
Showing a few items related by title, author, creator and subject.
Background: Interprofessional collaborative practice and teamwork has become an important practice standard across healthcare professions. In order for students to enter the workplace prepared to effectively contribute to ...

McDonald, Barbara Anne

(

1980

)

Prior research on pair learning has shown the use of pairs of students studying together to be effective in improving performance in academic settings. However, other research findings have shown that this increased ...

Riemenschneider, Tammy McCarty

(

2014

)

Paraeducators provide important supports and services to students, particularly those who struggle academically and/or behaviorally. This study sought to determine the professional development needs of paraeducators in the ...