Contextual Gender Neutrality: A Theory of Gender JusticeShow full item record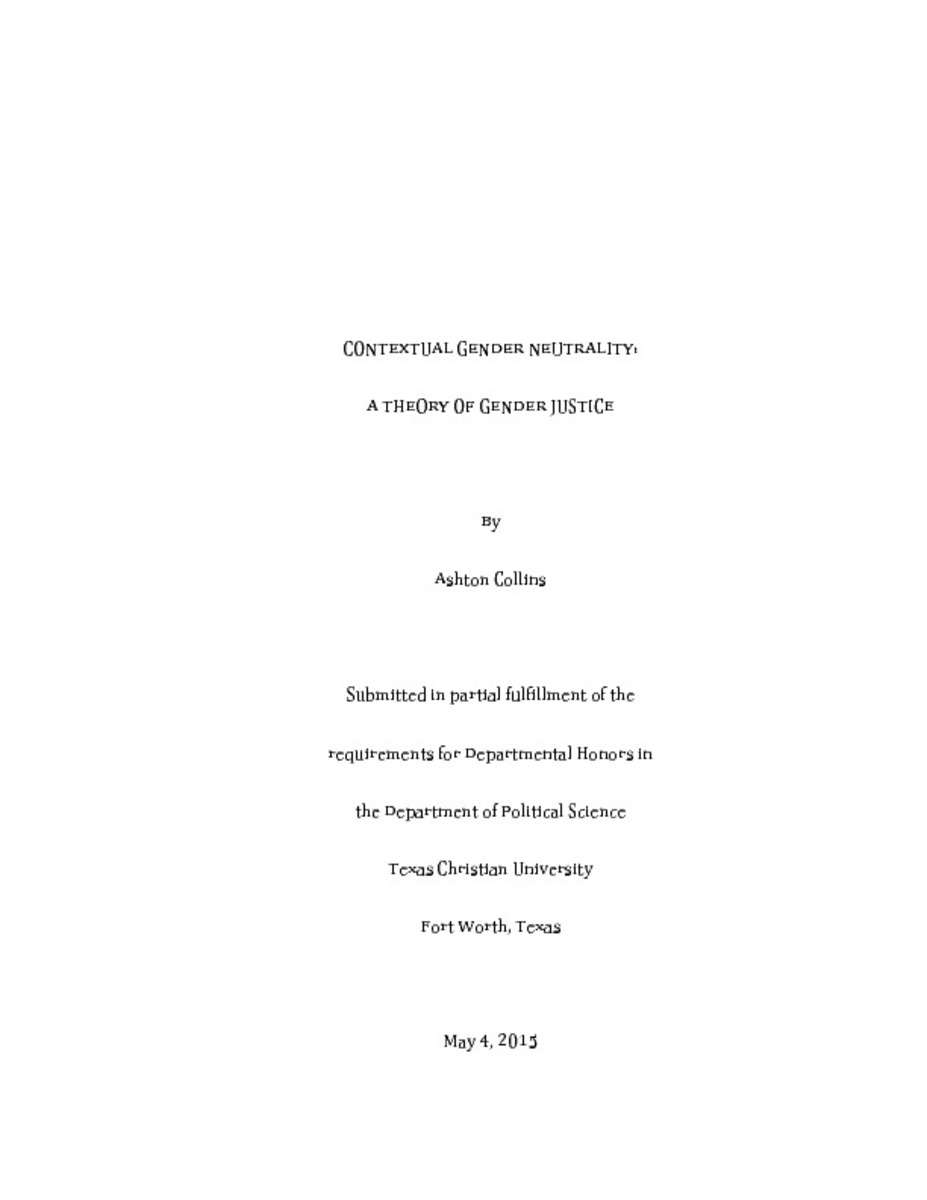 Title
Contextual Gender Neutrality: A Theory of Gender Justice
Author

Collins, Ashton

Abstract
Many political theorists rely on gender neutrality as the standard for a gender just society.  Within such a society, equal opportunities would result in equal outcomes for men and women in all professional and domestic spheres. I find that contextual gender neutrality better characterizes a gender-just society in that it accepts certain unequal outcomes as just if they result from biological sex differences or adaptive and individual preferences, as long as equality of opportunity is recognized. In order to realize equality of opportunity, reinforcements, or those factors that influence peoples' decisions, must only attempt to direct choices, not limit them. Negative reinforcements, which are either forceful or non-forceful, and the use of positive reinforcements with negative intent, and the inculcation of positive reinforcements limit one's opportunities. Legal recourse, better education and societal evolution may be utilized to diminish or eliminate negative reinforcements.  
Link
https://repository.tcu.edu/handle/116099117/10297
Subject
Gender Justice

---

Political Theory
This item appears in the following Collection(s)
Related items
Showing a few items related by title, author, creator and subject.
Andreu, Lauren

(

2016-05-19

)

Significant research has been conducted on how well children understand advertisements and the effect advertisements and television have on a child. However, there is not a large amount of research on the effects of toy ...

Workman, Hallie McClung

(

[Fort Worth, Tex.] : Texas Christian University,

,

2014

)

Using a grounded theory approach (Strauss & Corbin, 1990), this research began with netnographic research exploring the culture of a women's subreddit, TwoXChromosomes, and the motivations 2X members have for participating ...