Gone too Soon: Investigating the Graduation Gap between Black and White High School Students in the United StatesShow full item record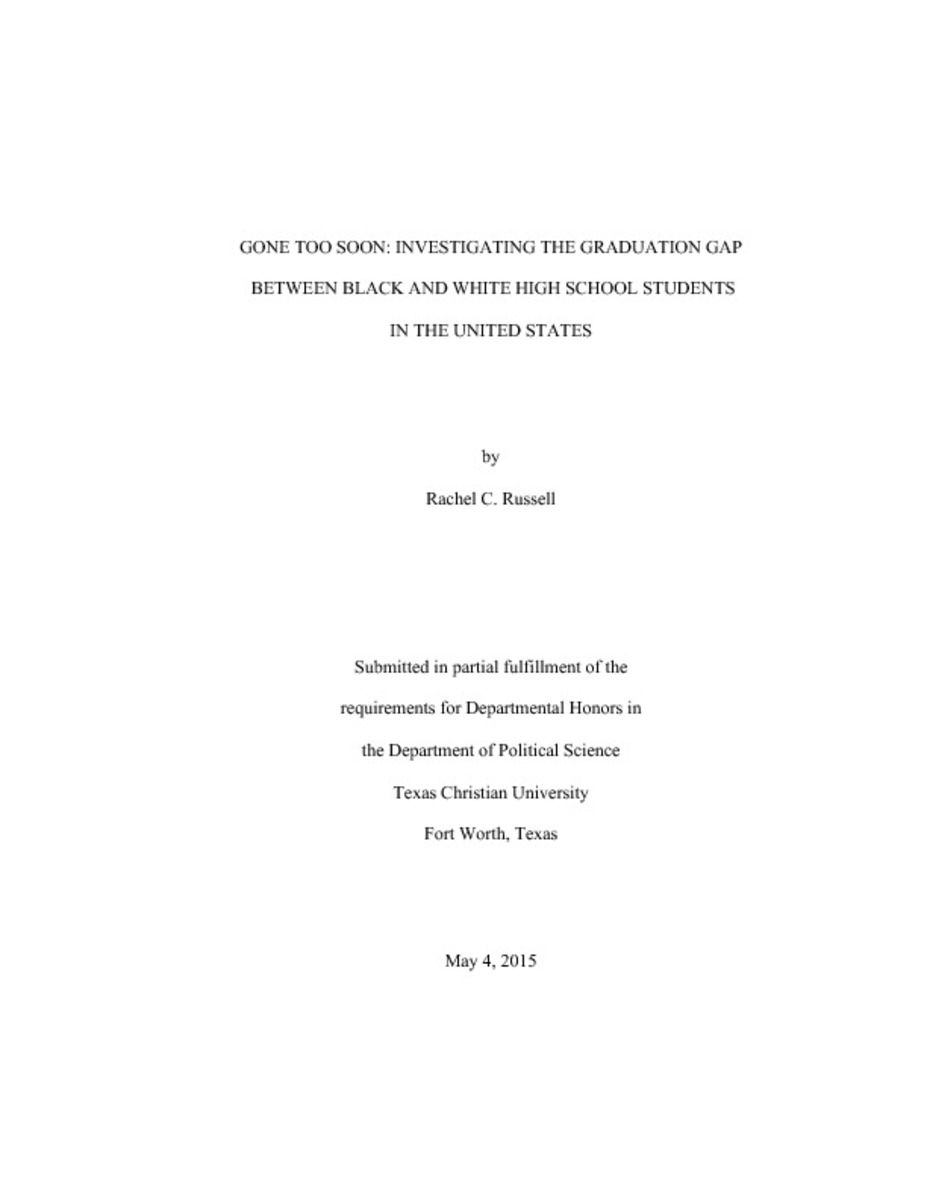 Title
Gone too Soon: Investigating the Graduation Gap between Black and White High School Students in the United States
Author

Russell, Rachel

Abstract
This study sought to find influences on the disparate graduation rates between black and white high school students. Graduation rate is best understood as a composite phenomenon, and I wanted to confirm which factors make to rise and fall. After consulting the literature on trends of zero tolerance disciplinary policies in schools and theoretical frameworks on the black community as a marginalized group in society, I decided to analyze disciplinary measures and community characteristics. What interested me most was the potential for varying impacts of punitive versus non-punitive disciplinary measures on black students, as well as the general condition of the community in which the students live. In this case, I selected for community conditions of poverty, educational attainment, and unemployment in 173 Texas school districts order to gauge how the social and economic disadvantages of adults in a community preclude academic success for its adolescents. Although my findings only partially supported one of my hypotheses, there are limitations in the data that make this kind of research difficult. There are also trends present outside of correlation and regression analysis that expose issues with how disciplinary measures affect black students overall, and the negative impact of poverty and educational attainment on graduation.
Link
https://repository.tcu.edu/handle/116099117/10429
Subject
graduation rate

---

high school

---

disciplinary measures

---

race

---

high school students
This item appears in the following Collection(s)
Related items
Showing a few items related by title, author, creator and subject.
Catholic high schools have a reputation for providing quality education, and preparing students to go to college. However, are Catholic high schools doing an effective job in teaching Catholic theology? This research ...

  A learned motto of the American school system has been No Child Left Behind, yet so many are. We've noticed many students who have fallen through the cracks of the public school system have found a place in ...