A Historical Study of I. M. Terrell High School: Its Legacy and Implications for Improved Education of Black StudentsShow full item record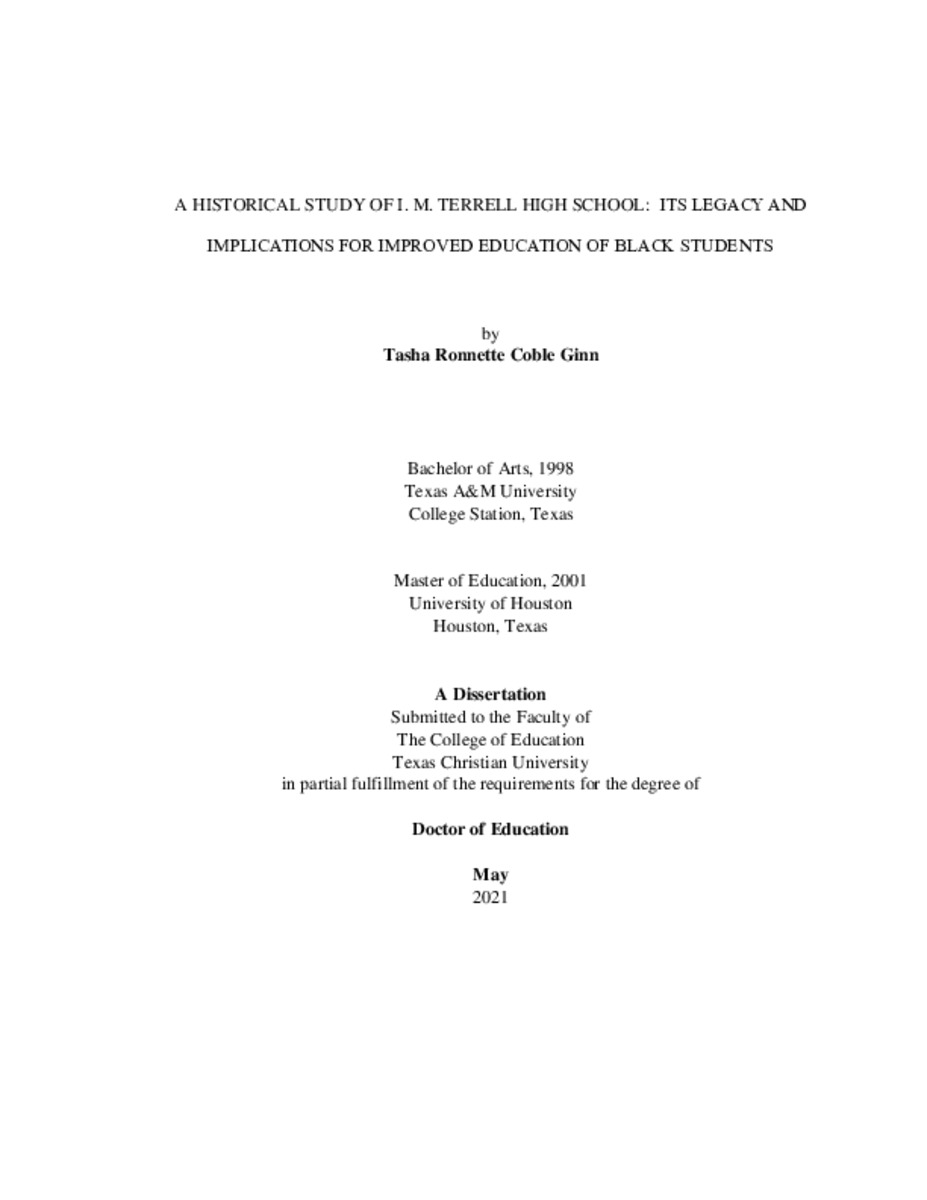 | | |
| --- | --- |
| Title | A Historical Study of I. M. Terrell High School: Its Legacy and Implications for Improved Education of Black Students |
| Author | Ginn, Tasha Coble |
| Date | 4/30/2021 |
| Genre | Dissertation |
| Degree | Doctor of Education |
| Abstract | The ongoing educational attainment gap between Black and white students is daunting to educational researchers and practitioners. Simultaneously, many have unrest about the promises of Brown v. Board compared to the actual outcomes for Black students following mandated school integration. This study directly focuses on examining the educational experience of Black students at I. M. Terrell High School in Fort Worth before the school system's desegregation plan that required its closure. The research aims to examine the experience to inform possibilities for addressing the Black-white achievement gap. Because of the success of I. M. Terrell's graduates in educational attainment, career, and civic leadership, it warranted taking a look back to determine how the school was successful in educating Black students. Interest convergence and counter-story telling tenets of Critical Race Theory are the theoretical frameworks utilized in the qualitative research study. Oral history and archival research were analyzed to unveil seven themes in response to the research questions. The themes, in summary, identified caring teachers, high student expectations, preparation for life beyond high school, a family-like school culture, positive racial identity for students, varied expectations of school integration, and the changing of education for Black students as a result of the school's closure. |
| Link | https://repository.tcu.edu/handle/116099117/47960 |
| Department | Education |
| Advisor | McGhee, Marla Weatherl |
This item appears in the following Collection(s)
Related items
Showing a few items related by title, author, creator and subject.
Patton, Damian

(

4/13/2022

)

To better understand the challenges Black boys face, one needs to understand the obstacles they face. The purpose of this study was to focus on the lived experiences of Black boys in predominantly White elementary schools ...

Channell, Alexandra

(

5/5/2022

)

Using Intersectionality as a critical framework, this qualitative study analyzes the perspectives of Black alumnae who graduated from all-girls schools in order to better understand the influence of single-sex schooling ...

Early college high schools (ECHS)were designed specifically to disrupt the inequities that are present in high schools by focusing on serving students underrepresented in higher education. ECHS students can earn 60 hours ...