Decrease in Behavioral Problems and Trauma Symptoms Among At-Risk Adopted Children Following Trauma-Informed Parent Training InterventionShow full item record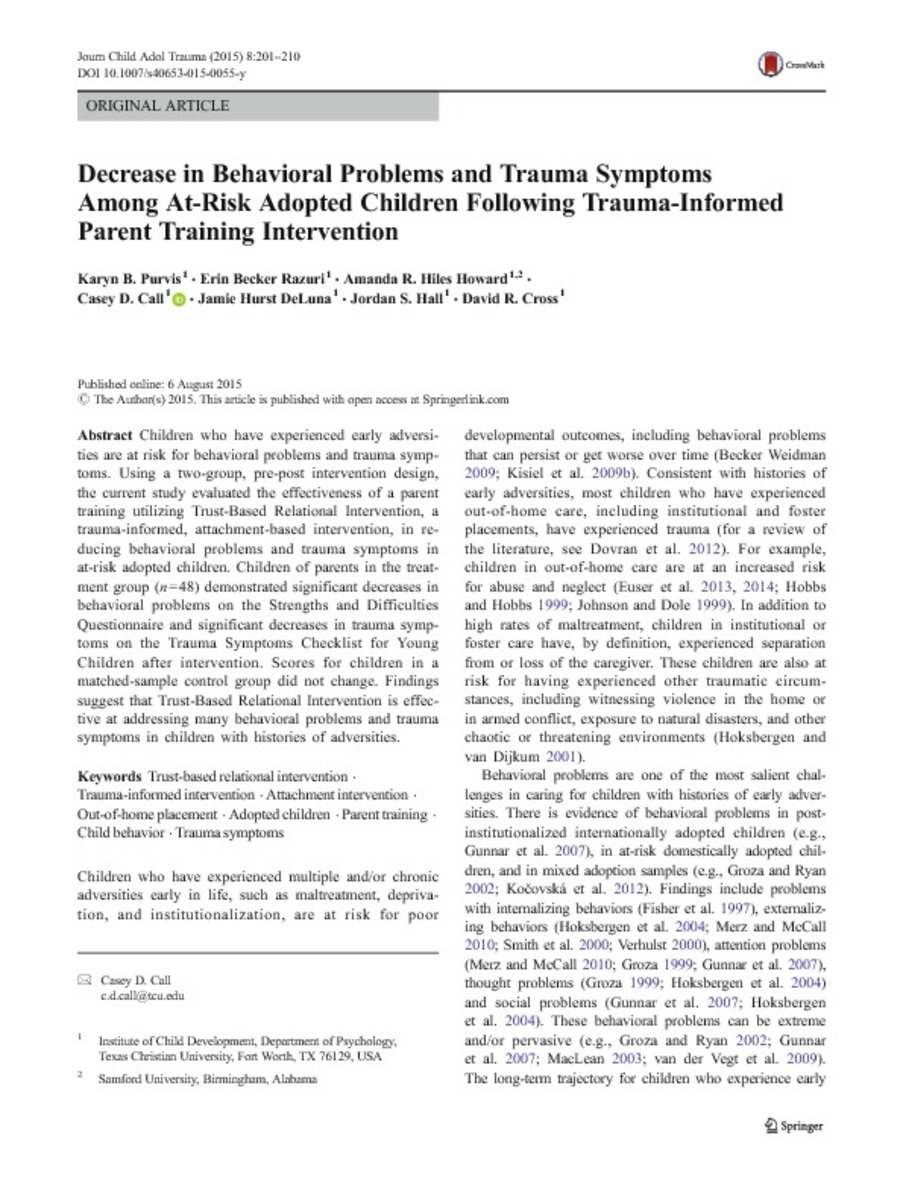 Title
Decrease in Behavioral Problems and Trauma Symptoms Among At-Risk Adopted Children Following Trauma-Informed Parent Training Intervention
Author
Purvis, Karyn B.; Becker Razuri, Erin; Hiles Howard, Amanda R.; Call, Casey D.; Hurst DeLuna, Jamie; Hall, Jordan S.; Cross, David R.
Date
2015-08-06
Abstract
Children who have experienced early adversities are at risk for behavioral problems and trauma symptoms. Using a two-group, pre-post intervention design, the current study evaluated the effectiveness of a parent training utilizing Trust-Based Relational Intervention, a trauma-informed, attachment-based intervention, in reducing behavioral problems and trauma symptoms in at-risk adopted children. Children of parents in the treatment group (n = 48) demonstrated significant decreases in behavioral problems on the Strengths and Difficulties Questionnaire and significant decreases in trauma symptoms on the Trauma Symptoms Checklist for Young Children after intervention. Scores for children in a matched-sample control group did not change. Findings suggest that Trust-Based Relational Intervention is effective at addressing many behavioral problems and trauma symptoms in children with histories of adversities.
Link
https://doi.org/10.1007/s40653-015-0055-y
https://repository.tcu.edu/handle/116099117/11471
https://link.springer.com/article/10.1007/s40653-015-0055-y
Department
Psychology
Institute of Behavioral Research
Subject
Trust-based relational intervention

---

Trauma-informed intervention

---

Attachment intervention

---

Out-of-home placement

---

Adopted children

---

Parent training

---

Child behavior

---

Trauma symptoms
This item appears in the following Collection(s)
Related items
Showing a few items related by title, author, creator and subject.
Razuri, Erin Becker; Hiles Howard, Amanda R.; Parris, Sheri R.; Call, Casey D.; DeLuna, Jamie Hurst; Hall, Jordan S.; Purvis, Karyn B.; Cross, David R.

(

2015-06-14

)

Children who have experienced early adversities are at risk for behavioral problems and trauma symptoms. Using a two-group, pre-post intervention design, the authors evaluated the effectiveness of an online parent training ...

Teichman A. L.; Bonne S.; Rattan R.; Dultz L.; Qurashi F. A.; Goldenberg A.; Polite N.; Liveris A.; Freeman J. J.; Colosimo C.; Chang E.; Choron R. L.; Edwards C.; Arabian S.; Haines K. L.; Joseph D.; Murphy P. B.; Schramm A. T.; Jung H. S.; Lawson E.; Fox K.; Mashbari H. N. A.; Smith R. N.

(

2023

)

Background Intimate partner violence (IPV) is a serious public health issue with a substantial burden on society. Screening and intervention practices vary widely and there are no standard guidelines. Our objective was to ...

Purvis, Karyn B.; Cross, David R.; Dansereau, Donald F.; Parris, Sheri R.

(

2013-12-17

)

Children and youth who have experienced foster care or orphanage-rearing have often experienced complex developmental trauma, demonstrating an interactive set of psychological and behavioral issues. Trust-Based Relational ...