Studies on protein N-terminal acetylation in bacteria [electronic resource] /Show full item record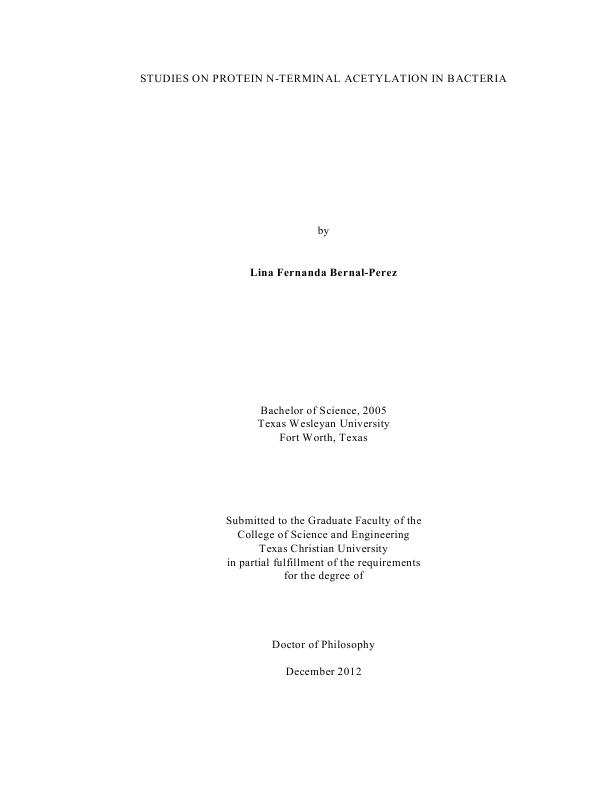 Title
Studies on protein N-terminal acetylation in bacteria [electronic resource] /
Author

Bernal-Perez, Lina Fernanda

Abstract
"N-terminal (Na) protein acetylation, one of the most common post-translational modifications in eukaryotes, plays a pivotal role in the stability, activity and targeting of certain proteins (Chapter 1). This protein modification is significantly less frequent in prokaryotes. In Escherichia coli, the only Na-acetyltransferases identified are RimI, RimJ, and RimL, which acetylate the ribosomal proteins S18, S5 and L7/L12, respectively. Although most eukaryotic proteins are not acetylated when ectopically expressed in E. coli, partial or complete Na-acetylation has been reported for several recombinant proteins. Just recently, it was demonstrated that Na-acetylation of the thymosin a1 fusion proteins is catalyzed by RimJ. For most other proteins, however, the underlying mechanism of Na-acetylation remains unknown. We recently observed that the Z-domain protein, a small three-helix bundle protein derived from the Staphylococcal protein A, is Na-acetylated only under certain conditions. We decided to use the Z-domain as a model protein to study the Na-acetylation in E. coli. We revealed that the Na-acetylation of the Z-domain depends on the E. coli strains, expression vectors and amino acid residues near the N-terminus, and is enhanced by high cellular levels of RimJ (Chapter 2). In order to systematically study the sequence dependence of the N-terminal methionine cleavage and RimJ-mediated Na-acetylation in E. coli, the Z-domain variants differing by the second or third amino acid residue were expressed and analyzed by mass spectrometry (Chapter 3). The initiating methionine residue of the Z-domain was removed only when a small and uncharged amino acid residue was in the second position.

---

Only subsequent to the cleavage of the initiating methionine residue, the RimJ-catalyzed N-terminal acetylation mainly occurred at the N-terminal serine and threonine residues and was significantly enhanced by a hydrophobic or negatively charged residue in the penultimate position. Although primarily used for analysis of N-terminal acetylation, mass spectrometry often requires careful sample preparation and expensive instrumentation. Therefore, in order to find a simple and sensitive method to analyze the acetylation status of proteins, we developed a fluorogenic derivatization method using 4-chloro-7-nitrobenzofurazan (NBD-Cl) (Chapter 4). The unacetylated protein selectively reacted with NBD-Cl at neutral pH to provide high fluorescence. In contrast, the Na-acetylated protein was essentially non-fluorescent under the same conditions despite the presence of many internal lysine residues. This method should be particularly useful for a large scale high-throughput proteomic analysis of protein Na-acetylation"--Abstract.
Description
Title from dissertation title page (viewed Dec. 18, 2012).

---

Includes abstract.

---

Thesis (Ph.D.)--Texas Christian University, 2012.

---

Department of Chemistry; advisor, Youngha Ryu.

---

Includes bibliographical references.

---

Text (electronic thesis) in PDF.
Link
https://repository.tcu.edu:443/handle/116099117/4373
Date
2012
Subject
Proteins.

---

Acetylation.

---

Bacteria.
This item appears in the following Collection(s)