The Role of Diet Composition and Fat-Free Mass on Appetite RegulationShow full item record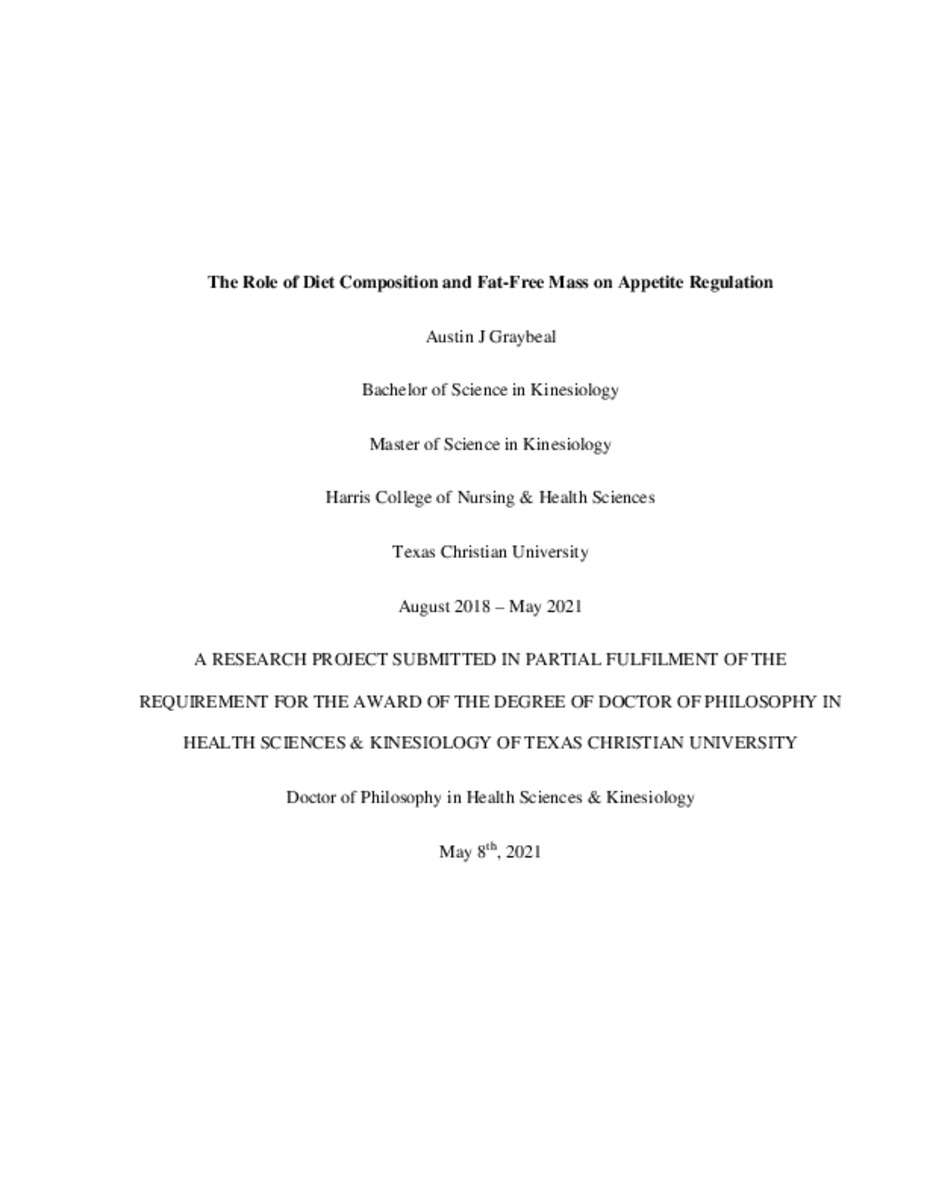 Title
The Role of Diet Composition and Fat-Free Mass on Appetite Regulation
Author

Graybeal, Austin J.

Date
4/28/2021
Genre
Dissertation
Degree
Doctor of Philosophy
Abstract
Appetite is regulated by perceptions of hunger and fullness and gut hormones that are either anorexigenic such as glucagon-like peptide 1 (GLP-1), cholecystokinin, or peptide YY, or orexigenic such as ghrelin. Appetite suppression may lead to a number of negative effects including relative energy deficiency which impairs health and performance in athletes. Appetite stimulation, on the other hand, may lead to a positive energy balance and weight gain which are associated with many chronic diseases. A number of factors affect appetite regulation. In this dissertation, we examined the effects of varying amounts of dietary carbohydrate and fat and the different types of fatty acids on appetite. We also examined the role of fat-free body mass in appetite regulation. It is unclear whether different fatty acids vary in their effects on appetite and eating in the absence of hunger. In our first study, we examined the effects of three high-fat meals rich in either monounsaturated, polyunsaturated, or saturated fatty acids on subjective ratings of appetite and subsequent ad libitum lunch consumption in healthy premenopausal normal-weight women in a randomized cross-over single-blind study. We found that postprandial ratings of hunger, fullness, or desire to eat did not vary across meal conditions. There was also no difference in energy intake during the ad libitum lunch across meal conditions. Many endurance athletes follow a ketogenic diet (KD) (very low in carbohydrate and high in fat) to improve performance. The effect of a KD on appetite remains unclear in this population. In our second study, we examined the effects of a KD on fasting measures of appetite in highly-trained cyclists and triathletes. The participants consumed both a KD and a high-carbohydrate diet (HCD), for two weeks each, in a random order, after their habitual diet (HD). We also assessed postprandial appetite measures in response to a ketogenic meal after the KD, a high-carbohydrate meal after the HCD, and a standard American/Western meal after the HD. The results showed that the KD led to significantly higher fasting GLP-1 and lower ghrelin concentrations compared to the HCD and HD. The ketogenic meal also led to significantly higher postprandial GLP-1 and lower ghrelin levels compared to the high-carbohydrate and standard meals. Results on appetite perceptions did not match the hormonal changes and needs further evaluation. Energy homeostasis is defined as the maintenance of body energy stores over time. To maintain these energy stores, appetite responds to changes in body mass by stimulating or suppressing food intake. It is well known that fat mass possesses a level of physiological regulation over appetite but the influence of fat-free mass in physiological appetite regulation is unclear. In our final manuscript, we discussed in detail the potential relationship between fat-free mass and hunger and satiety hormone production. From this paper, we concluded that there is an association between fat-free mass (FFM) and appetite-related hormones. Specifically, higher FFM may be linked to decreases in the orexigenic hormone, ghrelin. Clinicians and dietary professionals should emphasize strategies that focus on the maintenance or increase of FFM to regulate appetite. In conclusion, a very low-carbohydrate high-fat diet versus diets with more carbohydrate and less fat led to more anorexigenic alterations in the objective measures of appetite. These changes were not matched by the subjective measures of appetite. More research is necessary to determine the reasons for these differences. The type of fat in a high-fat meal did not affect perception of appetite or future energy consumption. Fat-free mass may have a role in appetite regulation but requires further study.
Link
https://repository.tcu.edu/handle/116099117/47949
Department
Kinesiology
Advisor
Shah, Meena

---

Willis, Jada L.
This item appears in the following Collection(s)
Related items
Showing a few items related by title, author, creator and subject.
Every 65 seconds, someone is diagnosed with Alzheimer's Disease (AD). Individuals suffering from AD experience both behavioral and psychological symptoms, such as cognitive decline, memory deficits, and confusion. Two ...

Shah, Meena; Chandalia, Manisha; Adams-Huet, Beverley; Brinkley, Linda J.; Sakhaee, Khashayar; Grundy, Scott M.; Garg, Abhimanyu

(

2009-06-01

)

Objective: High levels of dietary fiber, especially soluble fiber, are recommended to lower serum cholesterol levels and improve glycemic control in patients with type 2 diabetes. It is not clear, however, how high levels ...

Graybeal, Austin J.; Kreutzer, Andreas; Moss, Kamiah; Rack, Petra; Augsburger, Garrett; Braun-Trocchio, Robyn; Willis, Jada L.; Shah, Meena

(

2023

)

Extreme carbohydrate deficits during a ketogenic diet (KD) may result in metabolic adaptations reflective of low energy availability; however, the manifestation of these adaptations outside of exercise have yet to be ...