Burdened with glorious queerness: Loki's queer identity and erasure in comic books and filmShow full item record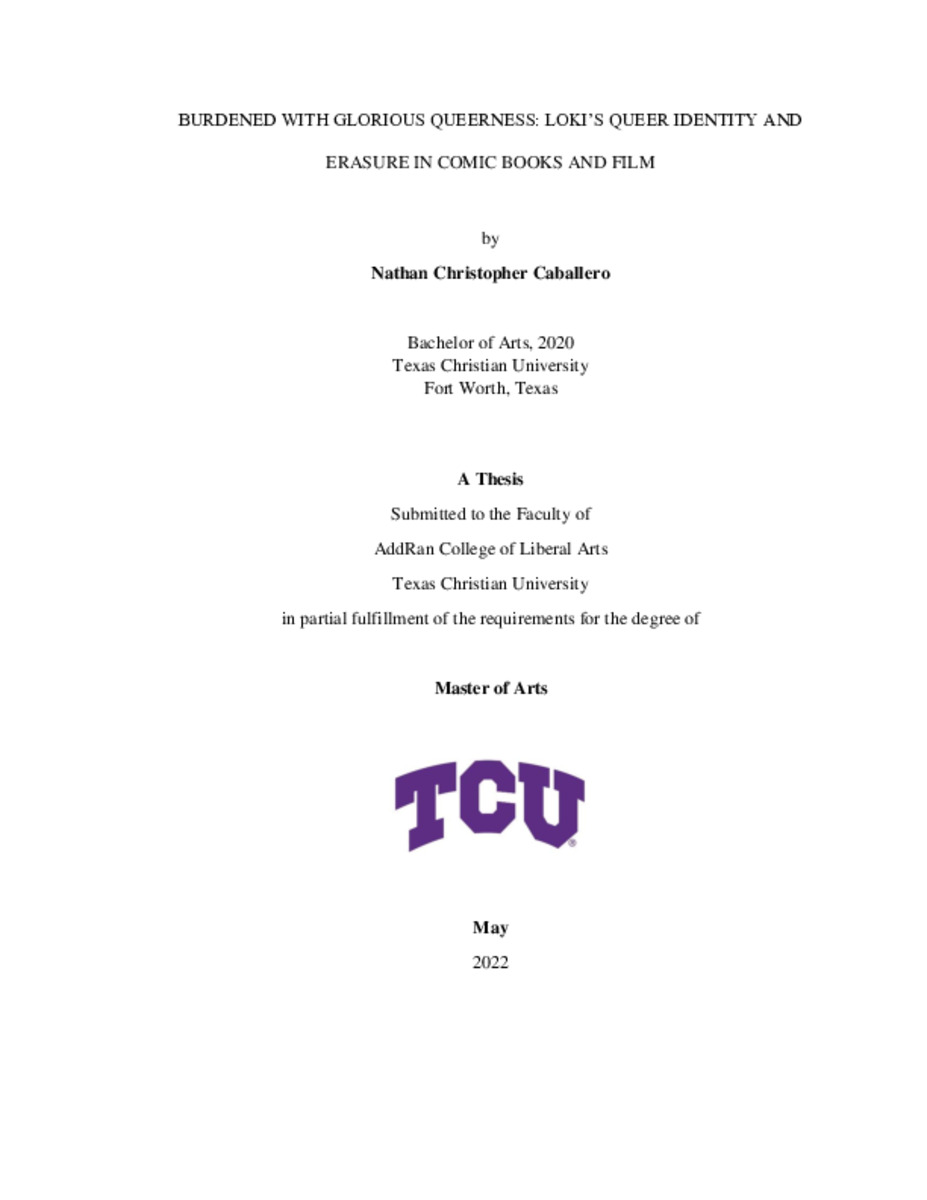 | | |
| --- | --- |
| Title | Burdened with glorious queerness: Loki's queer identity and erasure in comic books and film |
| Author | Caballero, Nathan |
| Date | 2022-04-27 |
| Genre | Thesis |
| Degree | Master of Arts |
| Abstract | Loki is one of the most influential Marvel characters of all time, and his relevance continues to soar as he is continuously included in new comic book storylines and within the Marvel Cinematic Universe. The character's long history within Marvel has allowed for a continuous process of change and development, one of the more recent and prominent changes being the increasingly out identification of Loki as queer. Loki's history displays an always queered identity, but as Loki's queerness became more pertinent to the character's identity, there has been a shift away from harmful queer-coded stereotypes portrayed on the character. Across mediums Loki has frequently practiced a gender non-conforming performance and the explicit inclusion of Loki's queer identity has mediated some of the harmful portrayal written into Loki's character. |
| Link | https://repository.tcu.edu/handle/116099117/52666 |
| Department | English |
| Advisor | Murray, Joddy |
This item appears in the following Collection(s)
Related items
Showing a few items related by title, author, creator and subject.
On June 28, 2009, mere minutes after the 40th anniversary of the Stonewall Rebellion, police in Fort Worth raided a local gay bar know as the Rainbow Lounge. When one of the patrons was critically injured that night, the ...

"Explorations in the Other" is a collection of three short stories. Following different narratives, it explores queer perspectives as written in close third person. In doing so, these stories are not told in the voice of ...

This thesis employs an intersectional framework that considers the interplay between métissage (mixed-race-ness; ethno-cultural syncretism), gender, queerness, and coloniality in L'amant [The Lover] (1984) by Marguerite ...