Critical regionalism and the politics of socially engaged documentary photography in the United States, 2000-2010Show full item record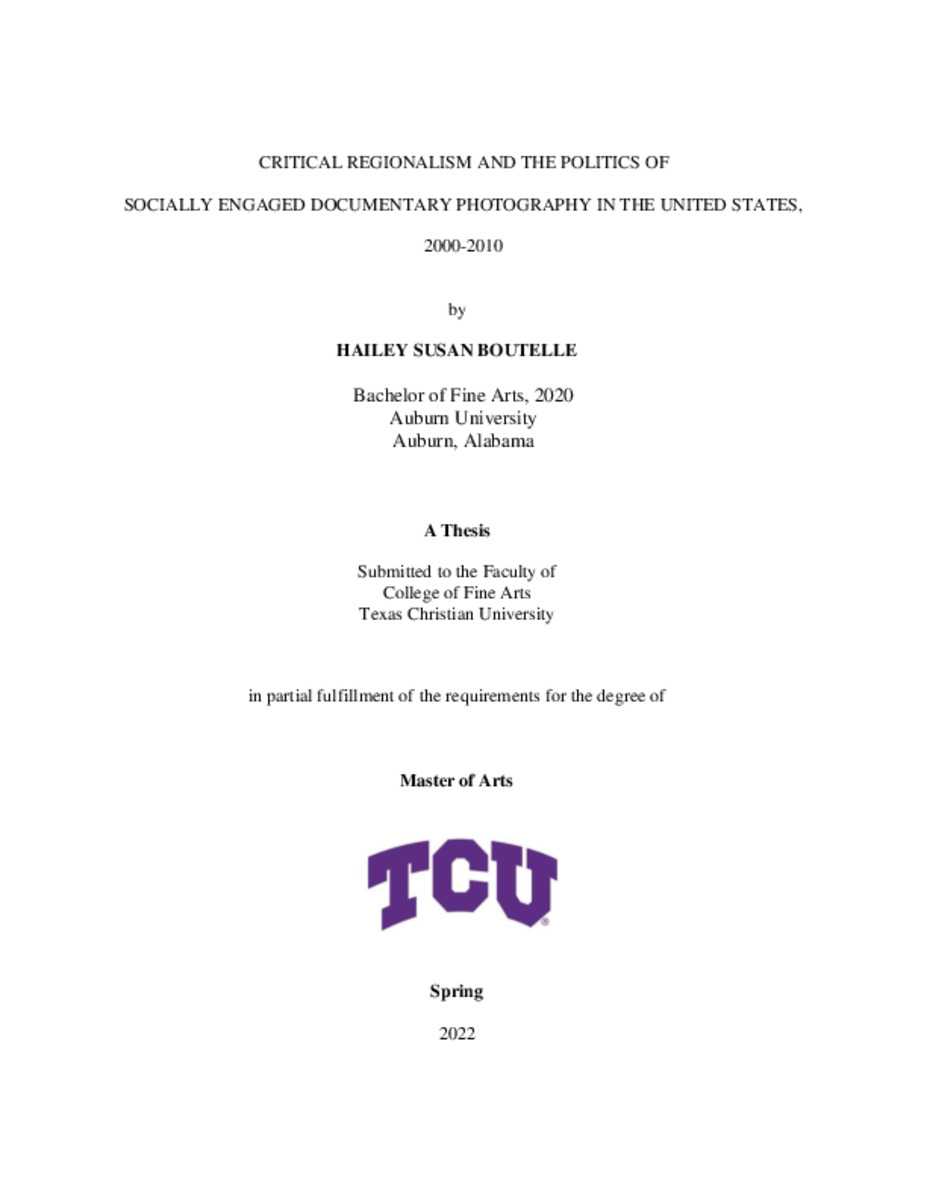 | | |
| --- | --- |
| Title | Critical regionalism and the politics of socially engaged documentary photography in the United States, 2000-2010 |
| Author | Boutelle, Hailey |
| Date | 2022-05-02 |
| Genre | Thesis |
| Degree | Master of Arts |
| Abstract | From 2000-2010, three socially-engaged women photographers spent time documenting lower-class residents of the United States in Appalachia, Louisiana, and Pennsylvania, respectively. These series are reflexive of their historical moment in which locals grapple with the consequences of industry-occupation by the coal, steel, and oil and gas industries. For survival and cultural persistence, most residents face their living conditions with the collective strength of transgenerational fortitude. Each of the projects addresses issues of class, gender, and race, though their experiences differ depending upon their geographic positioning and distinct cultural makeup. In this thesis, I use their projects as case studies for my argument that critical regionalism, a methodology previously used by Douglas Powell in his study of contemporary American culture, is an incredibly useful methodology to implement in contemporary art history studies, as it reconciles the geographic uniqueness of a local culture with broader, more global forces and patterns of history. I demonstrate the efficacy of critical regionalism's art historical application using Hannah Modigh's Hillbilly Heroin, Honey, Kael Alford's Bottom of da Boot, and LaToya Ruby Frazier's The Notion of Family, ultimately finding that this perspective most effectively addresses the issues of deindustrialization and late stage capitalism in American society. |
| Link | https://repository.tcu.edu/handle/116099117/52825 |
| Department | Art |
| Advisor | Diel, Lori |
This item appears in the following Collection(s)
Related items
Showing a few items related by title, author, creator and subject.
A review of Jill Lepore's The Secret History of Wonder Woman . New York: Knopf, 2014. 408 pp. $29.95.

Elder, David Ernest

(

2012

)

My dissertation offers a re-vision and melding of critical pedagogies and epideictic rhetoric in an attempt to show the critical educative function of epideictic and how a critical pedagogy operates rhetorically. I define ...