Photothermal Therapy as An Alternative Cancer Treatment with Top-Down and Bottom-Up Graphene Quantum DotsShow full item record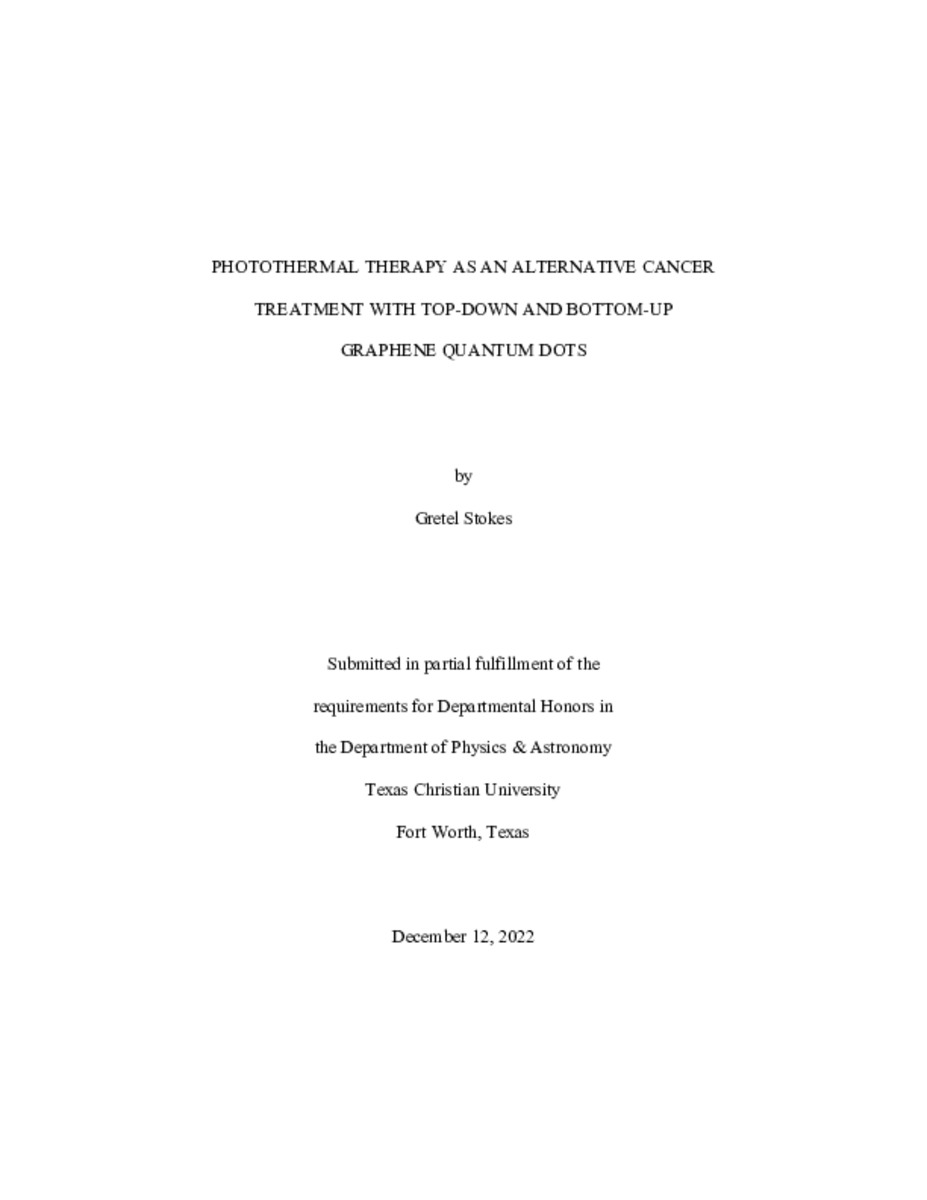 | | |
| --- | --- |
| Title | Photothermal Therapy as An Alternative Cancer Treatment with Top-Down and Bottom-Up Graphene Quantum Dots |
| Author | Jordan, Gretel |
| Date | 2022-12-18 |
| Abstract | Many current cancer treatment options cause various side effects due to the harm they inflict on surrounding healthy tissue. Photothermal therapy provides an alternative form of cancer treatment with reduced side effects. In photothermal therapy, near-infrared light is used to heat up near-infrared absorbing materials that are localized to cancerous tissue to biologically detrimental temperatures. These materials must be biocompatible and able to produce enough heat to kill cancerous tissue when irradiated with infrared light. In this work, two near-infrared-absorbing materials, termed photothermal agents, are synthesized: reduced graphene oxide quantum dots and hyaluronic acid doped graphene quantum dots. These were determined to be relatively biocompatible by MTT assay. Solutions containing these quantum dots were irradiated with near-infrared light for 45 minutes. Both solutions heated from biological temperature (37 °C) to temperatures above 46 °C, while a solution of deionized water, irradiated as a control, had a temperature increase of only 0.5 °C during the 45 minutes. Additionally, in vitro studies of these materials demonstrated their ability to induce hyperthermia in cancer cells upon ten minutes of low-energy laser ablation. HeLa cells treated with solutions of these materials had a reduction in cell viability from above 80% to below 40% following ten minutes of infrared laser irradiation. Overall, reduced graphene quantum dots and hyaluronic acid doped quantum dots were determined to be photothermal agent candidates because of their relative biocompatibilities coupled with efficient production of heat upon irradiation with near-infrared light. |
| Link | https://repository.tcu.edu/handle/116099117/57010 |
| Department | Physics and Astronomy |
This item appears in the following Collection(s)
Related items
Showing a few items related by title, author, creator and subject.
Zhou C.K.; Bennett M.M.; Villa C.H.; Hammonds K.P.; Lu Y.; Ettlinger J.; Priest E.L.; Gottlieb R.L.; Davis S.; Mays E.; Clarke T.C.; Shoaibi A.; Wong H.-L.; Anderson S.A.; Kelly R.J.

(

2022

)

Background Although frequently used in the early pandemic, data on the effectiveness of COVID-19 convalescent plasma (CCP) remain mixed. We investigated the effectiveness and safety of CCP in hospitalized COVID-19 patients ...

Hippotherapy is a rehabilitation treatment using the multidimensional movements of a horse as a therapeutic tool to facilitate active gross motor control. The purpose of this study was to examine the effectiveness of a ...

Moslim, Maitham A.; Jeyarajah, D. Rohan

(

2021

)

The management of colorectal liver metastasis (CRLM) is complicated and benefits from a multidisciplinary team approach. Liver-directed therapy has been emerging as a modality for better progression-free control. In its ...