Responding to Worldview Threats in the Classroom: An Exploratory Study of Preservice TeachersShow full item record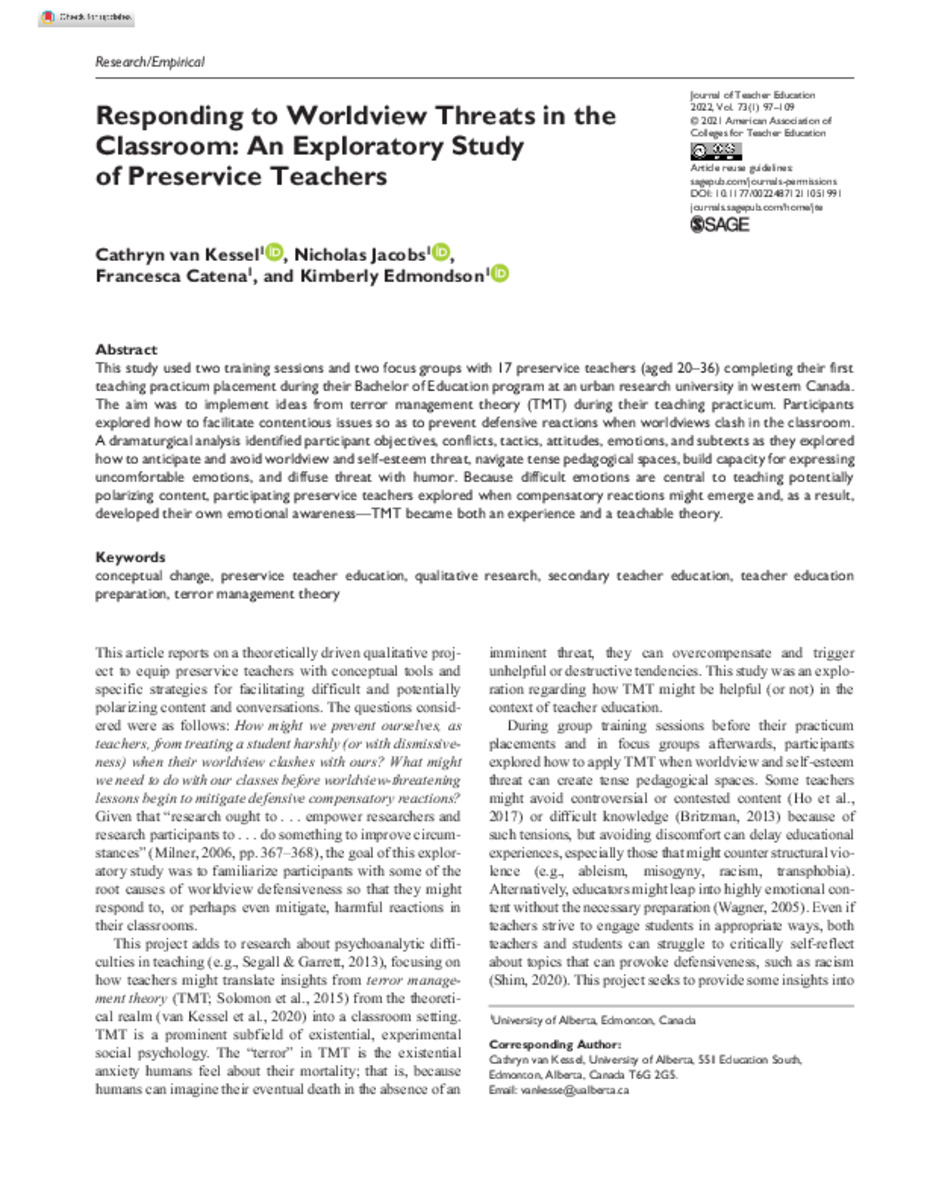 Title
Responding to Worldview Threats in the Classroom: An Exploratory Study of Preservice Teachers
Author
van Kessel, Cathryn; Jacobs, Nicholas; Catena, Francesca; Edmondson, Kimberly
Date
2021
Abstract
This study used two training sessions and two focus groups with 17 preservice teachers (aged 20–36) completing their first teaching practicum placement during their Bachelor of Education program at an urban research university in western Canada. The aim was to implement ideas from terror management theory (TMT) during their teaching practicum. Participants explored how to facilitate contentious issues so as to prevent defensive reactions when worldviews clash in the classroom. A dramaturgical analysis identified participant objectives, conflicts, tactics, attitudes, emotions, and subtexts as they explored how to anticipate and avoid worldview and self-esteem threat, navigate tense pedagogical spaces, build capacity for expressing uncomfortable emotions, and diffuse threat with humor. Because difficult emotions are central to teaching potentially polarizing content, participating preservice teachers explored when compensatory reactions might emerge and, as a result, developed their own emotional awareness—TMT became both an experience and a teachable theory.
Link
https://doi.org/10.1177/00224871211051991
https://repository.tcu.edu/handle/116099117/57380
Department
Education
Subject
conceptual change

---

preservice teacher education

---

qualitative research

---

secondary teacher education

---

teacher education preparation

---

terror management theory
This item appears in the following Collection(s)
Related items
Showing a few items related by title, author, creator and subject.
Roy-Evans, Tabatha

(

2023-05-04

)

The purpose of this qualitative research study is to examine the effect of teachers' study of the Currere Writing Process on teachers' views of students and teachers' collective memory of the data meeting process. The ...

Enugu, Ramya; Hokayem, Hayat

(

2017

)

This study examined the challenges that pre-service teachers faced when implementing inquiry and their perspective on how to overcome them. The data sample was 55 pre-service teachers (PSTs) enrolled into two sections of ...

Graham, Savannah R.; Hokayem, Hayat

(

2022

)

This study investigates undergraduate pre-service understanding and views of nature of science (NOS) before and after engaging with a socioscientific issues-based unit based on a the COVID-19 pandemic. The COVID-19 unit ...