Circulating Tumor DNA in Gastric Adenocarcinoma: Future Clinical Applications and PerspectivesShow full item record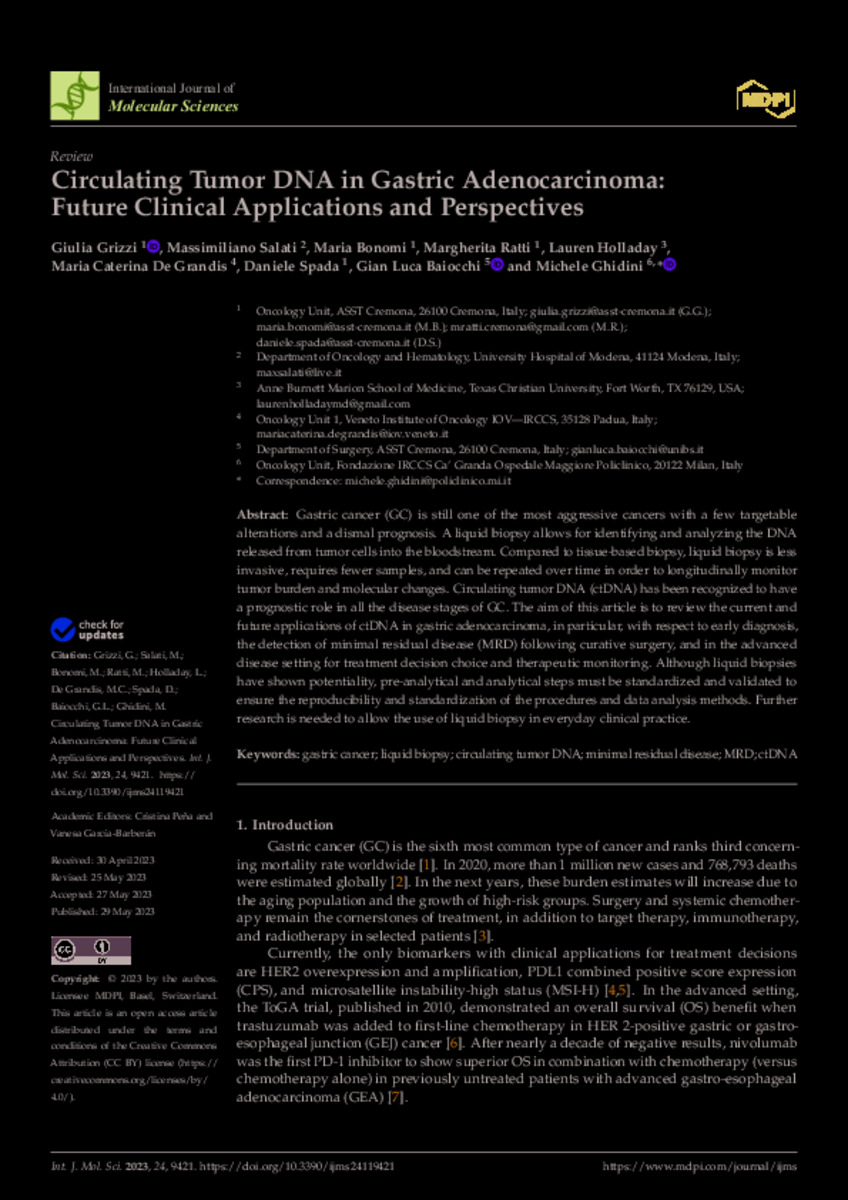 Title
Circulating Tumor DNA in Gastric Adenocarcinoma: Future Clinical Applications and Perspectives
Author
Grizzi G.; Salati M.; Bonomi M.; Ratti M.; Holladay L.; De Grandis M. C.; Spada D.; Baiocchi G. L.; Ghidini M.
Date
2023
Abstract
Gastric cancer (GC) is still one of the most aggressive cancers with a few targetable alterations and a dismal prognosis. A liquid biopsy allows for identifying and analyzing the DNA released from tumor cells into the bloodstream. Compared to tissue-based biopsy, liquid biopsy is less invasive, requires fewer samples, and can be repeated over time in order to longitudinally monitor tumor burden and molecular changes. Circulating tumor DNA (ctDNA) has been recognized to have a prognostic role in all the disease stages of GC. The aim of this article is to review the current and future applications of ctDNA in gastric adenocarcinoma, in particular, with respect to early diagnosis, the detection of minimal residual disease (MRD) following curative surgery, and in the advanced disease setting for treatment decision choice and therapeutic monitoring. Although liquid biopsies have shown potentiality, pre-analytical and analytical steps must be standardized and validated to ensure the reproducibility and standardization of the procedures and data analysis methods. Further research is needed to allow the use of liquid biopsy in everyday clinical practice. ¿ 2023 by the authors.
Link
https://doi.org/10.3390/ijms24119421
https://repository.tcu.edu/handle/116099117/61151
Department
Burnett School of Medicine
Subject
circulating tumor DNA

---

ctDNA

---

gastric cancer

---

liquid biopsy

---

minimal residual disease

---

MRD
This item appears in the following Collection(s)
Related items
Showing a few items related by title, author, creator and subject.
Thapa S.; Luna R.A.; Chumpitazi B.P.; Oezguen N.; Abdel-Rahman S.M.; Garg U.; Musaad S.; Versalovic J.; Kearns G.L.; Shulman R.J.

(

2022

)

Peppermint oil (PMO) is effective in the treatment of functional abdominal pain disorders, but its mechanism of action is unclear. Evidence suggests PMO has microbicidal activity. We investigated the effect of three different ...

The historical genetic variation of a population has been a mystery for a long time. With the advent of new methodologies, scientists now have the unique opportunity to sequence DNA from museum specimens. Past studies have ...

Chelvanambi, Manoj

(

2015

)

Today over 14 million patients fight some form of cancer or another (World Health Organization). In females, breast cancer is the most prevalent cancer with nearly 1.5 million cases diagnosed and 500,000 deaths every year. ...