Women Representation in The Media: Gender Bias and Status ImplicationsShow full item record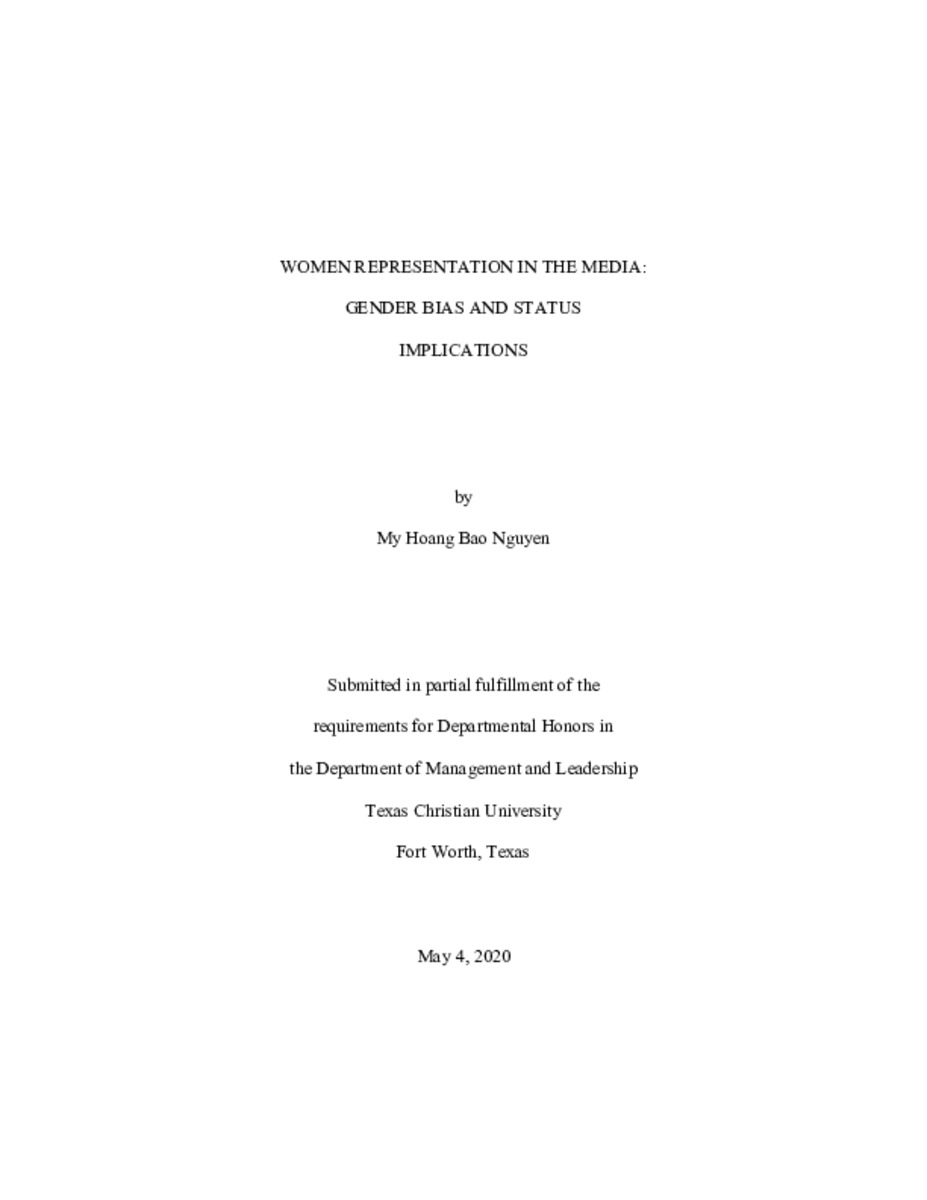 Title
Women Representation in The Media: Gender Bias and Status Implications
Author

Nguyen, My

Abstract
This study seeks to contribute to the existing literature about how women have been consistently represented in the media in a biased and stereotyped manner, especially in comparison with their male counterparts. Using an advanced computational, text-analysis program called Linguistic Inquiry and Word Count (LIWC), it investigates possible differences in use of language and capacity of coverage between articles featuring female figures and articles featuring male figures of three leading business magazines: Entrepreneur, Fast Company, Inc. from January 2018 to March 2020. Categories evaluated include word count, certainty, power, affiliation, and future-focused orientation. Results demonstrate that women are portrayed in less certain, less future-focused language, and especially are given strikingly lower word counts than men. However, there are no significant differences in the use of powerful and affiliative language between the two groups. This study then further discusses what implications these findings have regarding the status of women in public perceptions with assumptions about how women may overcome gender bias that future research can address.
Link
https://repository.tcu.edu/handle/116099117/40267
Date
2020-05-19
Subject
gender

---

gender bias

---

status

---

gender stereotypes

---

LIWC

---

media representation
This item appears in the following Collection(s)
Related items
Showing a few items related by title, author, creator and subject.
Andreu, Lauren

(

2016-05-19

)

Significant research has been conducted on how well children understand advertisements and the effect advertisements and television have on a child. However, there is not a large amount of research on the effects of toy ...

Many political theorists rely on gender neutrality as the standard for a gender just society.  Within such a society, equal opportunities would result in equal outcomes for men and women in all professional and domestic ...

Helf, Marisa

(

2017-12-18

)

Men and women communicate differently. However, existing research has yet to examine if the stereotypical gender communication differences are evident in all groups and settings, in particular the case of Chief Executive ...