FEDERAL LEGISLATION & CHARITABLE GIVING TO HIGHER EDUCATION: THE INFLUENCE OF THE TAX CUT AND JOBS ACT OF 2017Show full item record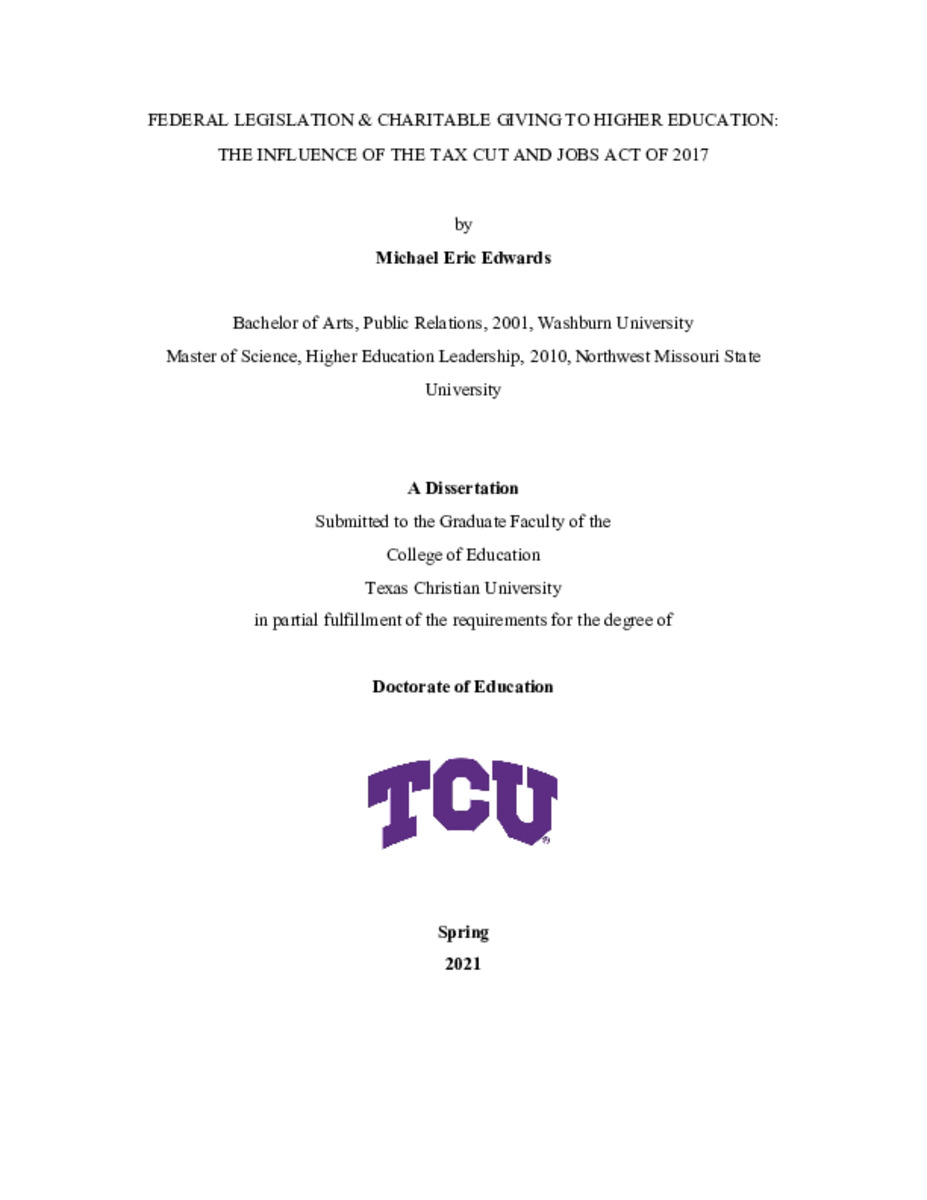 Title
FEDERAL LEGISLATION & CHARITABLE GIVING TO HIGHER EDUCATION: THE INFLUENCE OF THE TAX CUT AND JOBS ACT OF 2017
Author
Edwards, Michael Eric
Abstract
Charitable giving has been a critical resource for higher education dating back to the Academy of Socrates and Plato. It continued through the establishment of Oxford, Cambridge, Harvard, and Yale, and in 2020, American higher education institutions received $49.6 billion of private support to fund scholarship, programs, and facilities (CASE, 2020). As the success of these institutions become more dependent on private support from individual giving, it's worth examining the role federal tax legislation influences charitable giving to American colleges and universities. The Tax Cut and Jobs Act (TCJA) of 2017 was the single most significant federal tax legislation in recent history. This study examines the extent to which individual charitable giving behavior was influenced by the TCJA at a selected private university in Texas the two years before (2016 and 2017) and two years after (2018 and 2019) the legislation was enacted. The research focused on two primary areas: total individual giving behavior and individual giving behavior based on age, ethnicity, gender, and wealth. Participants included 33,088 donors that made a gift to the university. This research used a quantitative, nonexperimental correlation research method design based on grounded theory. Measures of central tendency, including mean and median, were computed to examine cross-sectional patterns for both the number of gifts and the amount of gift. Wilcoxon signed-rank tests were used to analyze the dependent measures because the data did not meet the assumptions for paired-sample t-tests and ANOVA models. This study found that the selected university raised more money after the TCJA was enacted; however, the median number of gifts and mean amount of giving for most groups generally decreased. This is, in part, due to a few very large gifts that skewed the data creating a non-normal distribution of data. Hispanic/Latino, female, and leadership giving–rated donors had the largest median decrease in total giving after the TCJA, while whites, males, and principal giving–rated donors saw a marginal increase in median giving. Higher education leaders and policy makers can use the information to better understand how federal tax legislation influences the giving behavior of donors to American colleges and universities.
Link
https://repository.tcu.edu/handle/116099117/47706
Date
2021-04-20
Subject
Educational leadership

---

Education finance

---

Education policy

---

Philanthropy

---

Tax Cut and Jobs Act
This item appears in the following Collection(s)
Related items
Showing a few items related by title, author, creator and subject.
Gandarilla, Daniel

(

2021-04-11

)

The Corporate University (CU) phenomenon has rapidly proliferated within the field of adult education. Despite this growth in investment, the CU has yet to receive appropriate academic attention as critical component of ...

Ginn, Tasha Coble

(

2021-04-30

)

The ongoing educational attainment gap between Black and white students is daunting to educational researchers and practitioners. Simultaneously, many have unrest about the promises of Brown v. Board compared to the actual ...

Borchers, Lori

(

2021-04-22

)

For more than a decade, food insecurity rates among college students at all kinds of institutions have been higher than that of the general population of the United States. Far from simply being hungry, food insecure ...